Before this, I had imagined my dream home to be a towering, contemporary structure with minimalist features spruced up nicely in the middle of sprawling grassland.
Not anymore, I now have my eyes fixed on this unbelievably impressive dome home. So this is what jealousy feels like.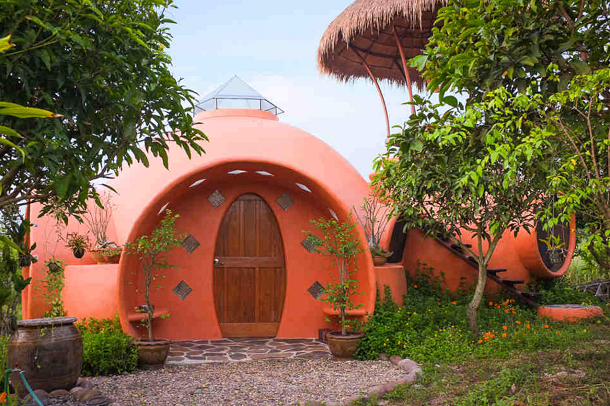 Steve Areen
Traveler and photographer Steve Areen builds his own dome home in a mango farm in Thailand. Inspired by his friend Hajjar Gibran's design ideas, Steve was able to build himself a dome home that's beautiful, comfortable, and structurally strong for less than $10,000.
Let's take a look at how this was built…
"You start by putting stakes in the ground with pivoting arms." Steve said.
Steve Areen
Steve Areen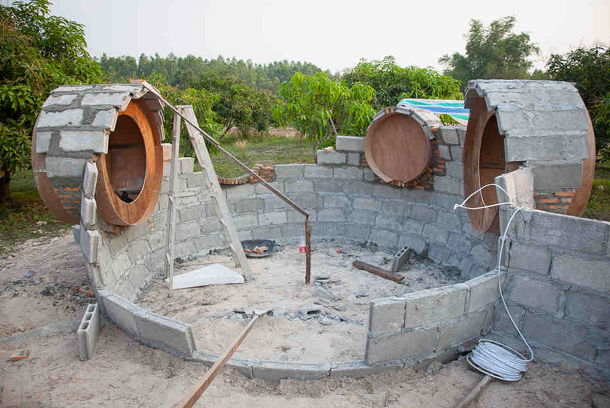 Steve Areen
"Higher up, when the bricks start leaning in, rolling weights hold the bricks in place until a full circle is made. A completed circle cannot fall in."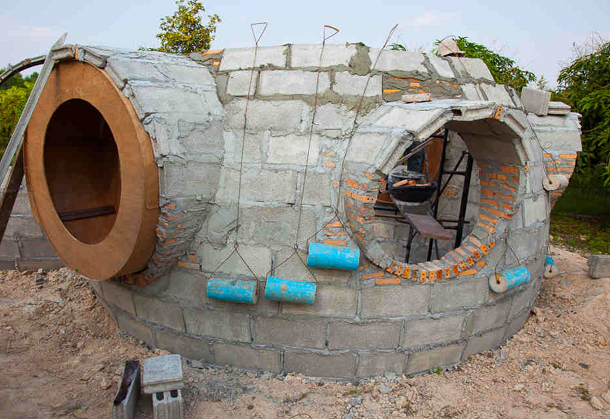 Steve Areen
Steve Areen
"Working on the bedroom dome. We put thick steel wire in between the first four layers of bricks on all three domes…because of the strong outward force that will be present in that part of the domes. Also notice that the lower blocks require sticks to suport them rather than the rolling weights."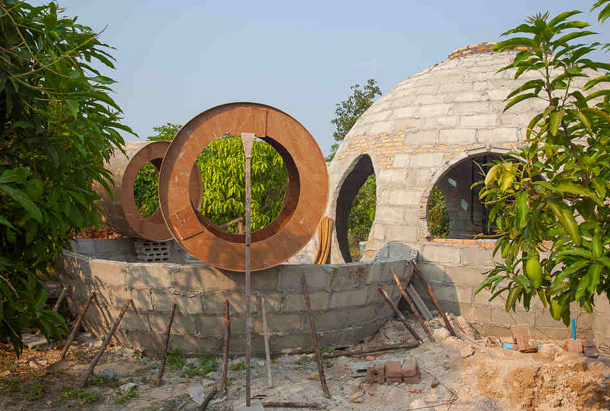 Steve Areen
"Inside the main dome."
Steve Areen
Steve Areen
[wp_ad_camp_2]
"Sand is sifted for the finishing cement mix."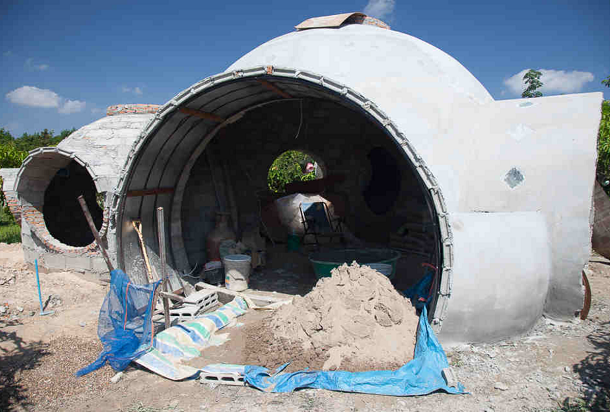 Steve Areen
"For my skylights: I put glass triangles together, flat on the table, using electric tape, leaving a gap for the silicone. The next day after the silicon dried, it was lifted into the pyramid shape and the remaining seam was taped and siliconed. I then added strong fiber tape to the bottom edge for extra strength."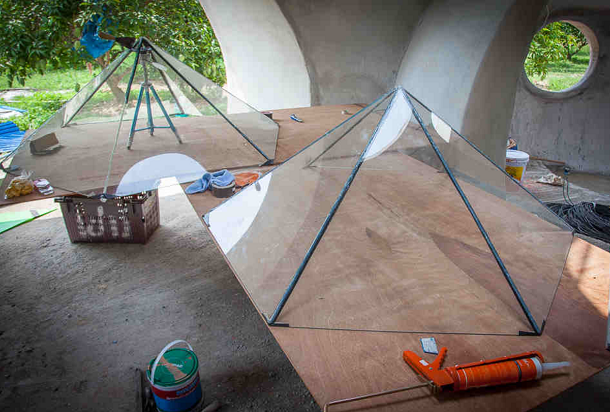 Steve Areen
"Looking forward to beautiful landscaping with tall bamboo for shade and flowering shrubs with amazing smells!"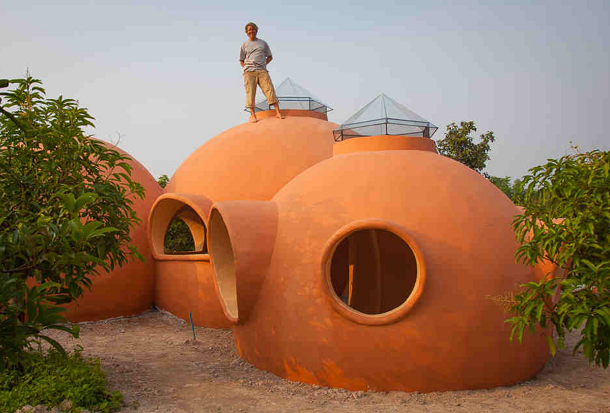 Steve Areen
Laying down the stone work. Yeah, I'm copying that as well.
Steve Areen
"I ended up switching the red glass lights to baskets and the stainless steel bowl to a glass sink."
Steve Areen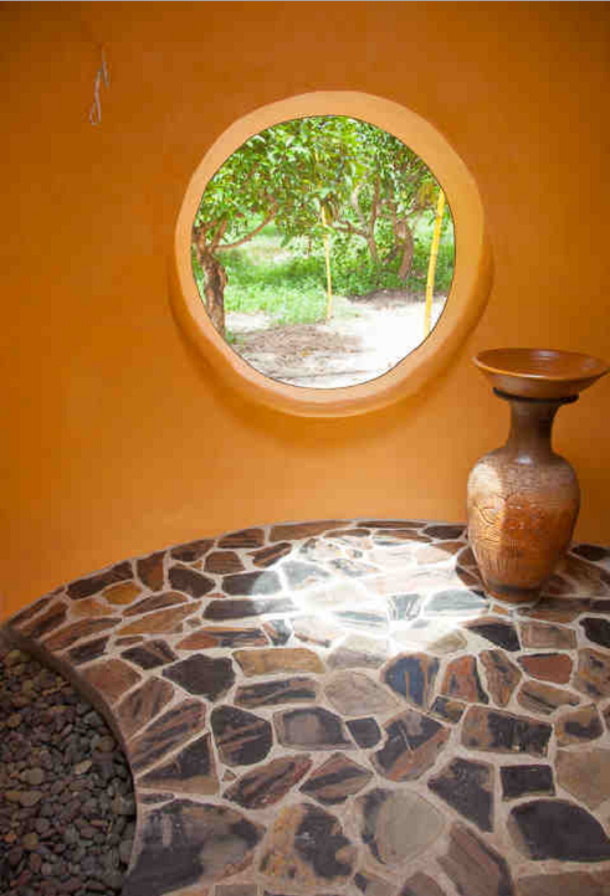 Steve Areen
"Stuffing my home-made mattress with cotton from local trees. Very dusty!"
Steve Areen
A grass roof goes up onto the sala.
Steve Areen
"As much as I love bamboo, I decided to use bent steel poles for my sala (gazebo). I love the shape. And the lightness of the steel made it much easier getting the structure up, and secured to the dome."
Steve Areen
"I used beautiful hardwood reclaimed from an old temple for my stairs."
Steve Areen
That looks done. Let's check out what's inside.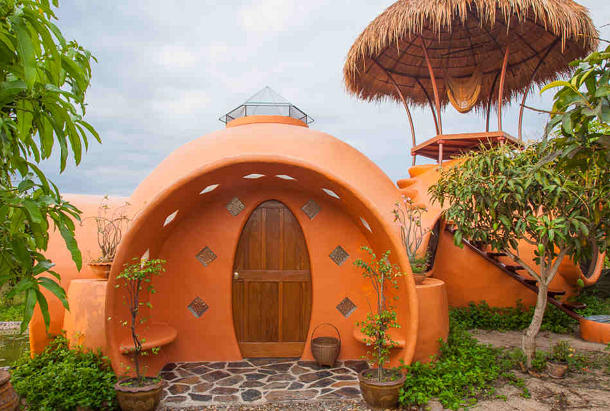 Steve Areen
But first, how adorable is that small pond of lilies?
Steve Areen
Steve Areen
Cozy space. Loving the wide arched window that opens into the pond.
Steve Areen
"I used baskets for my lights with coconut shell bases. Each basket projects a unique light pattern."
Steve Areen
"Entering the bathroom dome"
Steve Areen
"Bad leak = nice pool! I now have a better drainage system, though this was quite refreshing!"
Steve Areen
"I use this bead necklace to hold my shower wand. I can hang it from the lower beads to point the wand at the shower bench."
Steve Areen
"Steve's jungle bathroom!! The round stone work in the center is my shower."
Steve Areen
Steve's view from the shower.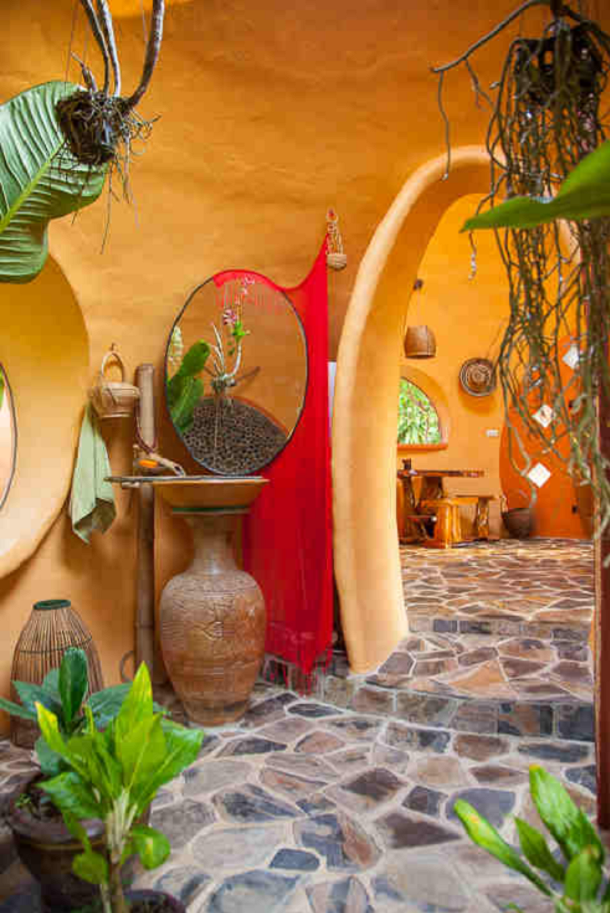 Steve Areen
"I used local pottery to make my bathroom sink."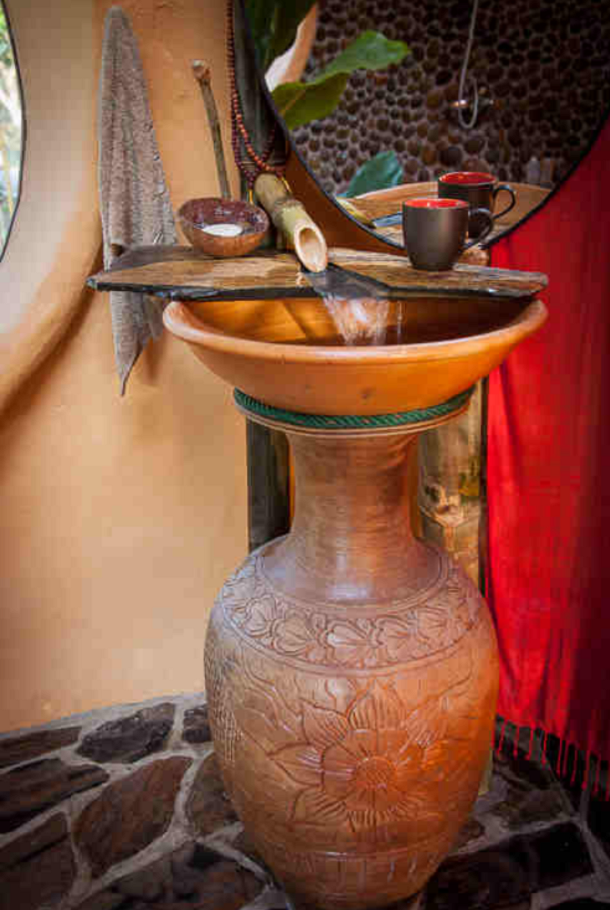 Steve Areen
Yes, that's a bamboo waterfall faucet. There's so many absolutely impressive details in this house.
Steve Areen
"Looking into the bedroom dome."
Steve Areen
"Making shelves is a bit more challenging for dome walls, but sure looks nice!"
Steve Areen
Gorgeous round window seats!
Steve Areen
"I made this light shade from a basket used to put over food to keep bugs off. I attached paper containing leaves to a ring that fits into the bottom. I love the textured pattern the light projects onto the ceiling."
Steve Areen
Steve Areen
Look up and… viola, amazing work on the grass roof.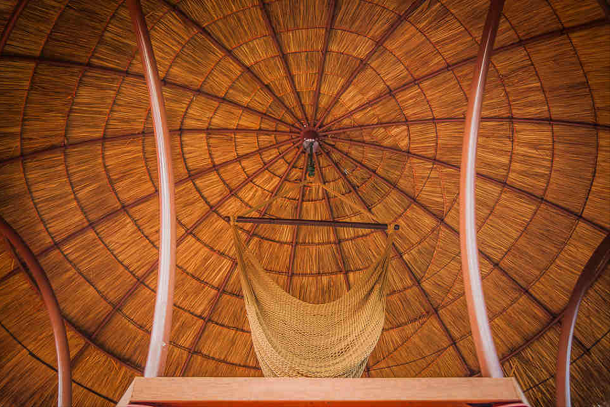 Steve Areen
Steve Areen
Steve's dome home looks warm and cozy especially at night.
The dome home's basic structure costs only under $6,000. Add in $3,000 for the doors, screens, upstairs structure, landscaping, stonewoork, the pond, furnishings, and other details brought the total cost to about $9,000.
Steve Areen
Credit: Steve Areen