80-year-old Eugene Bostick may have retired 15 years ago but it seems his most important work has just began.
Bostick, an 80-year-old Fort Worth, Texas native live on a dead-end street where he and his brother own a horse barn. For years, they've seen people coming by to dump dogs out and leaving them to starve. Taking pity on the abandoned pets, they knew they had to do something.
"We started feeding them, letting them in, taking them to the vet to get them spayed and neutered. We made a place for them to live.", Bostick told The Dodo.
Bostick says he never planned on spending his years of retirement taking care of unloved dogs. Instead, it was a duty thrust upon him by heartless, irresponsible pet owners. But more than just providing the countless dogs he's rescued over the years a safe home, he's found an adorable way to keep them happy as well. His new (sort of) career path? A train conductor for rescued stray dogs. Take a look!
Imgur
Though Bostick's farm provides plenty of room for the dogs to run and play around, he thought it would be nice to be able to take them on little trips to other places as well. That inspired him to build a canine-specific form of transportation just for them. And with that, the dog train was born.
"One day I was out and I seen this guy with a tractor who attached these carts to pull rocks. I thought, 'Dang, that would do for a dog train,'" said Bostick. "I'm a pretty good welder, so I took these plastic barrels with holes cut in them, and put wheels under them and tied them together."
Imgur
[wp_ad_camp_2]
Bostick takes his nine rescue babies out for a fun train ride once or twice a week down quiet streets around town or through the forest near their home, sometimes stopping by a local creek for some fresh air.
"Whenever they hear me hooking the tractor up to it, man, they get so excited," said Bostick. "They all come running and jump in on their own. They're ready to go."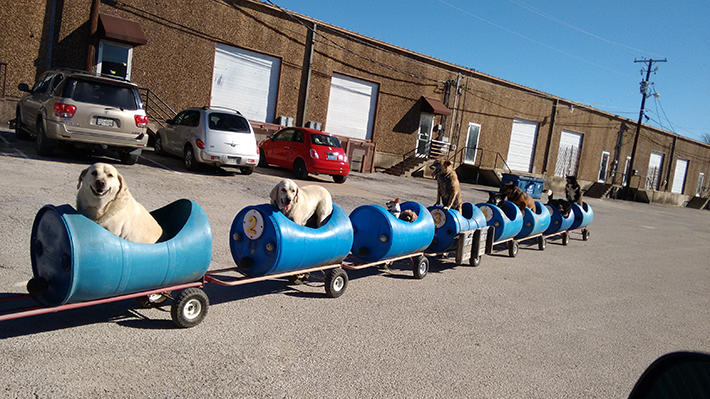 Imgur
Check out Bostick and his furry, cheerful passengers, formerly unloved dogs, loving a ride in their custom dog train!

Credit: Texas Famous