Dogs are family, but sadly not everyone treats them that way. Some suffer a life of neglect and abuse. Some are homeless, and some are abandoned.
Thankfully, there are always people who care enough to ensure every unloved and uncared for pooch gets a chance at a life full of hugs and kisses, and treats. Below are 11 glorious photos that capture the exact moment these beautiful animals were freed from their misery by kind-hearted rescuers.
1. Khaleesi the Pit Bull in the arms of Passion 4 Pits volunteer after she showed up on a Good Samaritan's front lawn after being tortured and abused in Florida.
via Dog Heirs
2. Homeless Bethany was rescued off the streets by Eldad Hagar from Hope For Paws and Bill Foundation. She was covered from head to foot with mange and badly dehydrated. On her trip to hospital insisted on being close to her rescuer.
via Dog Heirs
3. Animal Rescue Corps (ARC), working with the Humphreys County Sheriff's Office cuts the chain off of one of 12 dogs seized from dog fighting operation in Isola, MS during Operation Delta Dogs.
Animal Rescue Corps
4. Claire was one of 23 dogs rescued from a hoarder in Kentucky by Saving the Animals of Rowan and was suffering from severe mange.
via Dog Heirs
5. Livingston County Animal Control and the Humane Society of the United States (HSUS) made a raid and rescued nearly 100 dogs from a Michigan puppy mill.
via Dog Heirs
6. Pam Perry from Hillsborough County Animal Services in Florida holds one of the 26 Pit Bulls they rescued from a backyard dog fighting operation.
via Dog Heirs
7. Mama Jade wandered onto Christianna's porch in 2014 on "Death's Door" after being used as a breeding dog/bait dog in dog fighting. Christianna's Craigslist letter to the dog's heartless owners went viral.
via Dog Heirs
8. An animal welfare officer in Nashville cradling a dog seized during a dog fighting raid.
via Dog Heirs
9. American Neil Dreher was working at the Sochi Olympics in Russia when he fell in love with a stray dog and could not leave her behind. He named her Fisht and raised enough money to help bring her home and help other stray dogs like her.
via Dog Heirs
10. A Beagle puppy rescued from an animal testing facility by animal welfare activists in Italy.
via Dog Heirs
11. Benny rescued by Austin Humane Society and HSUS form a hoarder in Central, Texas.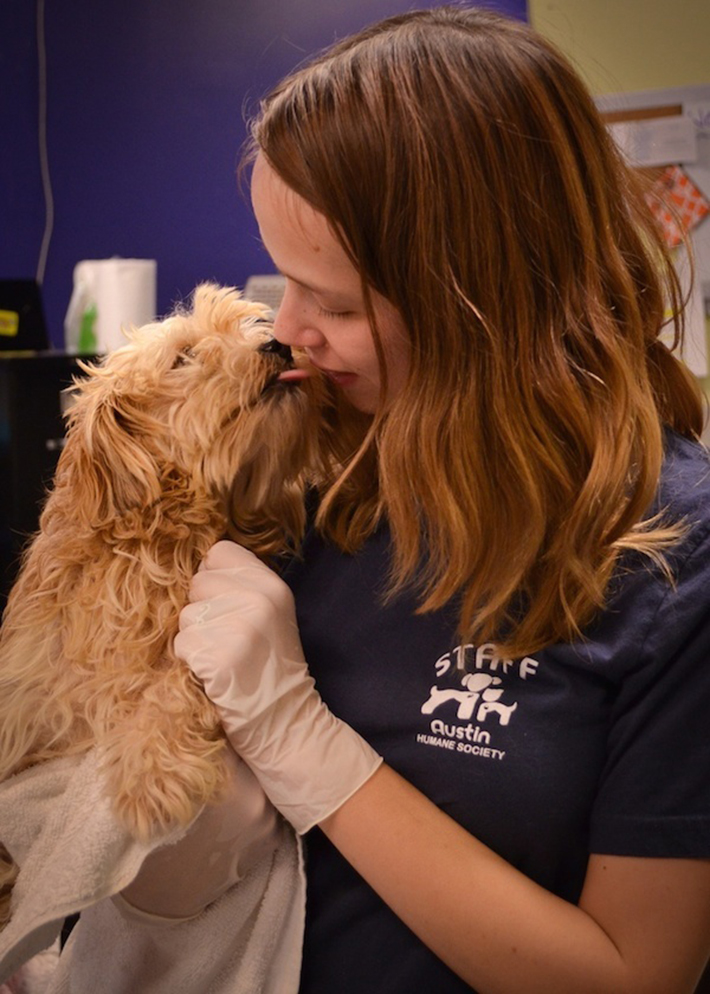 via Dog Heirs
H/t Dog Heirs