Interchangeably, we call them a dove or a pigeon, though both belong to the same bird class, Columbidae, which includes 310 species.
In general, the term Pigeon is a French word coming from the Latin word, pipio, for "peeping chick," while Dove is a Germanic word that refers to the bird's "diving flight."
Ornithologically, "dove" refers to the smaller species and "pigeon" for the larger ones. But even then, this is not applied consistently.
For you and I, the bird, pigeon or dove, simply provides good amusement at parks, not caring what species they are.
But do you know that they are "rock pigeons," – the species with the most uncanny ability to find its way back to its roost, between great distances?
Yes, they are. And this ability has been known to Man since pre-historic times that they have been used as "homing pigeons," or "carrier pigeons."
During times of war, they are given a more romantic name, "War Pigeons."
Their services as message couriers between frontline troops to headquarters and vice-versa proved to be invaluable that the U.S. Army set up the United States Army Pigeon Service at Fort Monmouth (1917 – 1943 and 1946 – 1957), in New Jersey, U.S.A. to train them.
Both Allies and Axis forces had training facilities for pigeons and these facilities produced the following:
1. G.I. Joe
In WWII, British Forces were set to attack the German-occupied village of Calvi Vechia, Italy on Oct. 18, 1943 after a heavy aerial bombing by the U.S. Airforce.
Before all these things happened however, the German forces withdrew, leaving behind civilians and British forces in grave danger from the aerial bombing.
A timely message carried by G.I. Joe to the American air base 20 miles away averted the possibility of killing more than a thousand people.
2. Cher Ami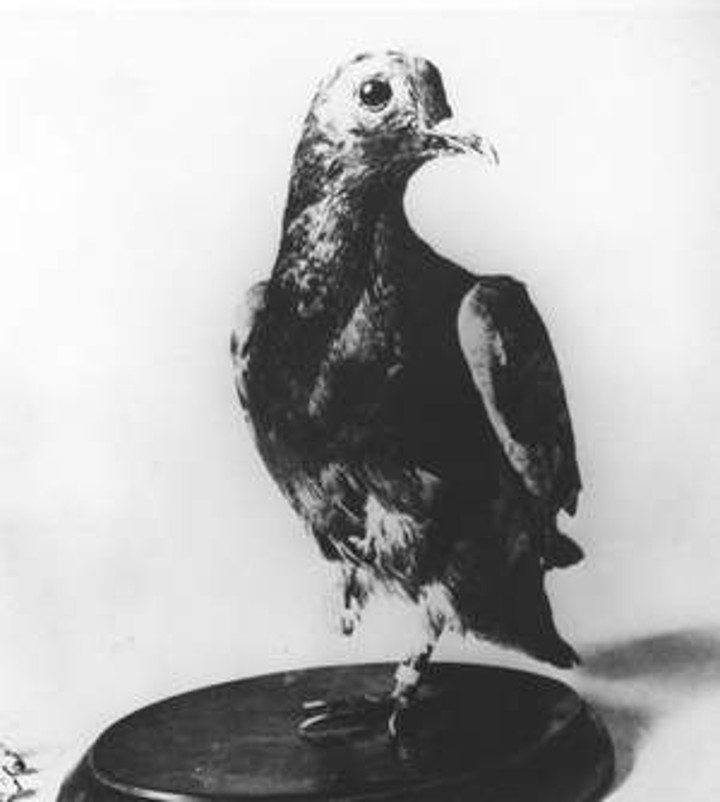 Cher Ami is a French word for "dear friend" and she lived up to her name.
Cher Ami was a female pigeon donated by French pigeon fanciers to Britain for use in the U.S. Army Signal Corps in France during WWI.
After being trained, she was put to use and helped save the Lost Battalion of the 77th Division in the Battle of Argonne, in October 1918.
3. Commando
Commando was a British war pigeon during WWII which carried crucial intelligence information.
It carried more than 90 missions, including three particularly crucial ones in 1042.
4. Gimpy
Was a son of Kaiser (featured next) bred in captivity.
From the moment it was born, it was given to M/Sgt. Clifford Algy, the lead pigeon trainer at Fort Monmouth, N.J.
Gimpy was trained to train younger pigeons to fly back to their lofts "as straight as a crow."
Gimpy was responsible in producing 52 new and younger war pigeons.
5. Kaiser:
Kaiser was a German war pigeon captured by the American forces in the battle of Meuse in WWI.
He was used in the breeding program of Signal Corp producing over 100 offsprings.
He died in 1949 at age 33, making him not only the oldest Pigeon in recorded history but also the only Pigeon to have served both world wars.
6. Long John Silver "Stumpy"
Stumpy served in the U.S. Army during WWI with distinction.
He was knocked out of the air twice by cannon flak, but got up both times to complete the mission.
Because of his war injuries he lost an eye and a leg. The Army gave him an eye patch and a wooden leg.
As of 2010, Stumpy was still on display at the National Museum of the United States Air Force.
7. Mary of Exeter
Was a British war pigeon which flew several mission with the National Pigeon Service during WWII.
She flew several missions across the English Channel and back to her loft in Exeter, England.
She was given honor in 1945 for showing endurance during the war despite being injured on three occasions and coming out unharmed after her loft was bombed.
8. The Mocker
The Mocker was born in 1917 and served during WWI and was wounded on his 52nd mission that damaged his left eye and part of his skull.
He was awarded the Distinguished Service Cross as well as the French Croix de Guere.
The Mocker died on June 15, 1937 making him the last Pigeon hero to die.
9. Paddy of Ireland
Paddy was the fastest pigeon to reach England with a coded message from the battle-front in Normandy on D-Day.
The bird brought back vital information about the Allies' progress in 50 minutes, across 250 miles – the fastest time recorded for any war pigeon.
10. Spike
Spike was born in January 1918 and flew 50 missions during WWI, never suffering any injury. He died on April 11, 1935.
The Dickens Award
The Dickin's Award was instituted in 1943 in the United Kingdom by Maria Dickin to honor the work of animals in war.
All these war pigeons were given the Dickin's Award, the animal's equivalent to the "Victoria Cross."