In November 2014, the Netherlands hit the headlines when the country announced that the world's first solar bike lane is set to open for the public. It seemed to be an exciting albeit outlandish idea at the time, but six months into the trial, the solar road is working even better than expected.
Peter Dejong/AP
Today, SolaRoad's (a project of TNO, Provence of Noord-Holland, Imtech Traffic&Infra and Ooms Civiel) unique innovation, which costs €3m, is paying off very quickly. In a recent update, Sten de Wit, spokesman of SolaRoad said:
We did not expect a yield as high as this so quickly. The bike road opened half a year ago and already generated over 3,000 kWh. This can provide a single-person household with electricity for a year, or power an electric scooter to drive of 2.5 times around the world. If we translate this to an annual yield, we expect more than the 70 kWh per square meter per year, which we predicted as an upper limit in the laboratory stage. We can therefore conclude that it was a successful first half year.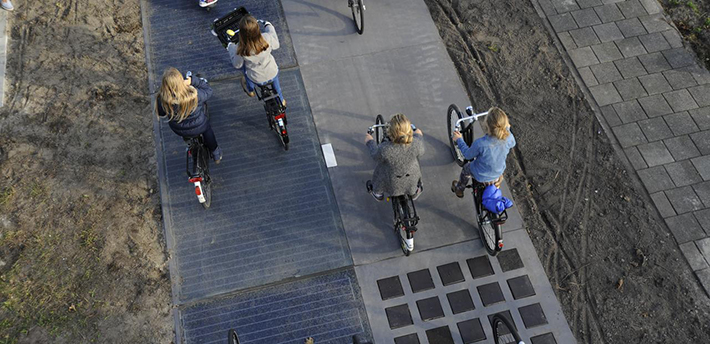 SolaRoad
The solar road, which opened for traffic on November 12, 2014, is made of "cheap, mass-produced solar panels that are protected with multiple layers of glass, silicon rubber and concrete before being covered with a coating that prevents slippage on the smooth upper surface", according to a report by Al Jazeera.
Pre-fabricated concrete slabs
SolaRoad
As amazing as this project is, there is a setback. Due to weather changes, the coating on the solar cell's protective glass tends to peel off, suggesting that the technology is pricey and maintenance could be expensive. However, SolaRoad believes that there is plenty of time to iron out the problem as the project is going to last for another two and a half years.
Rows of crystalline silicon solar cells are embedded into the concrete of the path and covered with a translucent layer of tempered glass.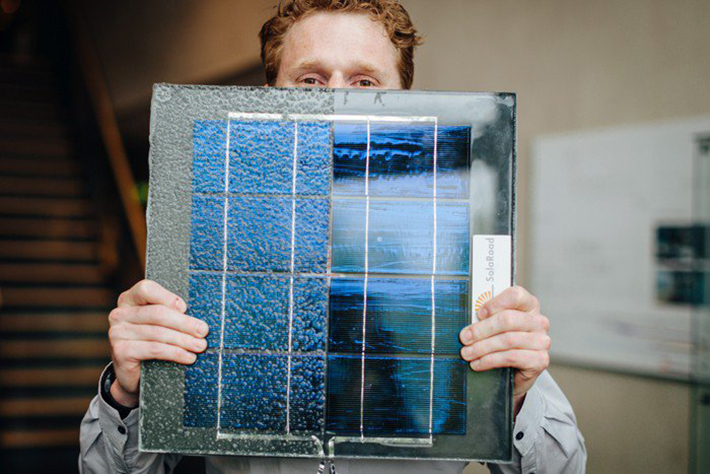 SolaRoad
To keep dust and dirt from accumulating and obscuring the solar cells, the road itself was built to sit at a slight tilt. Compared to roof panels, the placement only allows the panels to generate approximately 30% less energy. Its creators expect to generate more energy come 2016 as local government hopes to extend the path by 100 meters.
SolaRoad
[wp_ad_camp_2]
Currently, the path only covers a 230-foot stretch that connects the Amsterdam suburbs of Krommenie and Wormerveer. It is not yet ready for use with heavy vehicles such as buses and cargo trucks, but can support support vehicles of up to 12 metric tons (the average U.S. car is just under 2 tons).
School children and commuters see the bike road as very useful and a cool part of their daily commute, with approximately 2,000 cyclists expected to use it on an average day.
SolaRoad
The Netherlands solar bike road project is looking at incredible potentials, and that includes amazing light opportunities. In fact, just last year, a solar road designed by Studio Roosegaarde was also installed. Harnessing the sun's power, the half-mile path (in the Dutch town of Eindhoven), which was inspired by Vincent Van Gogh's Starry Starry Night, use LED lights to guide cyclists. It's especially beautiful and magical at night.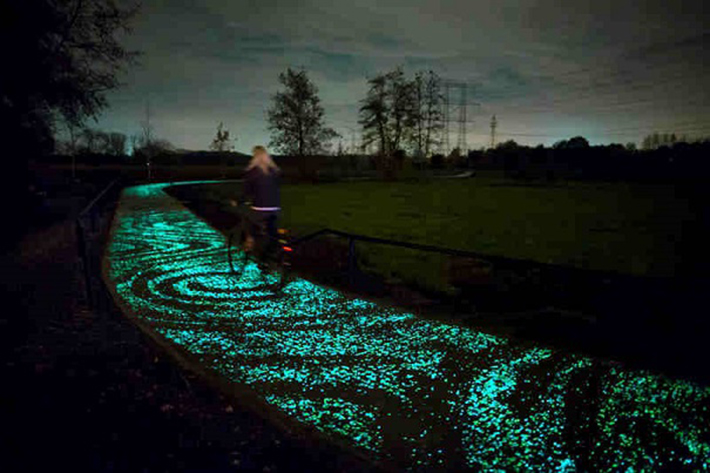 Studio Roosegaarde
SolaRoad is now working with local councils around the Netherlands in hopes of rolling the technology out in other provinces. Moving forward, the country intends to power everything from traffic lights to electric cars using solar panels. That's sustainable, clean energy all the way.
SolaRoad
Other countries, such as the US, are also working on similar projects. An American effort raised over $2 million on Indiegogo to fund the Solar Roadways project that could one day turn U.S roads and parking lots into energy-harvesting surfaces. The video below will tell you more. Watch!
Credit: Scott Brusaw
Solar-powered roads might have been a thing reserved for the future 5 minutes ago, but now, it's safe to say the future is here. Here's to hoping many more countries will soon follow.

Sources: SolaRoad, Collective Evolution, Science Alert