This was the Eastern Front in pictures. Soviet photographers took these harrowing images capturing the bloody horrors of World War II.
A Russian anti-tank gun crew advances towards the German positions under cover of a smoke screen, somewhere in Russia, on July 23, 1943
Leningrad, 1942
1941
In February of 1943, a Soviet soldier stands guard behind a captured German soldier.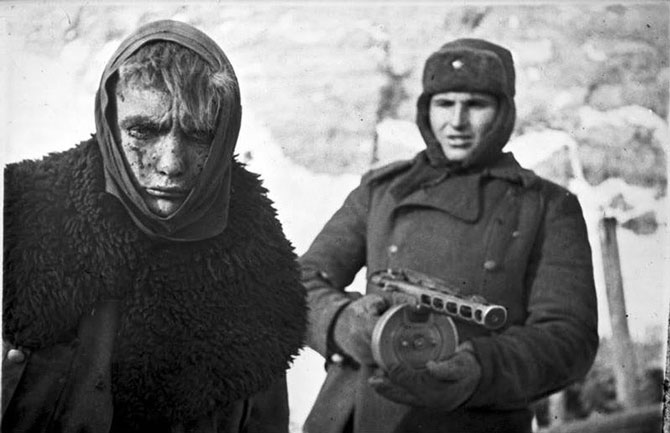 Red Army soldiers in camouflage gear on a snow-covered battlefield, somewhere along the German-Russian war front, as they advance against German positions on March 3, 1943.
[wp_ad_camp_1]
Russian soldiers celebrate the retaking of Sevastopol, 1944
Soldiers carrying a wounded soldier. The Leningrad Front.
Recruits leaving for the front during mobilization, Moscow.
Soviet soldiers line up along the roof of a house in Stalingrad, 1943.
Soviet soldiers lead house-to-house fighting in the outskirts of Konigsberg, East Prussia, Germany, in April of 1945.
A Soviet machine gun crew crosses a river along the second Baltic front, in January of 1945.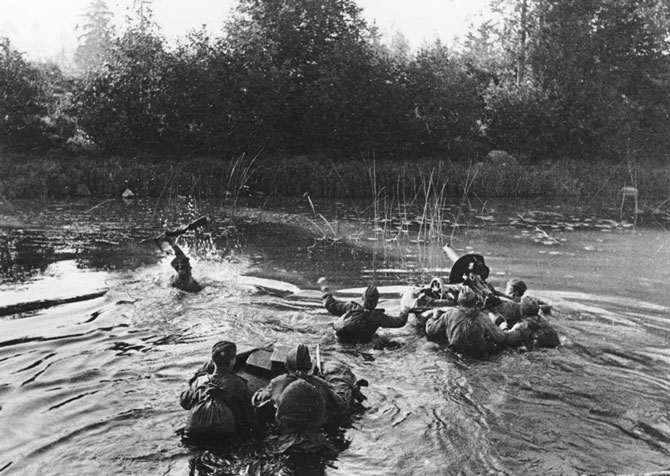 Red Army soldiers examine war trophies captured in battles with invading Germans, somewhere in Russia, on September 19, 1941.
A soviet army medic bandages the hand of a wounded soldier in the ruins of a building during the First Battle of Voronezh, July 1942.
A boy reports about the location of the Germans, 1943.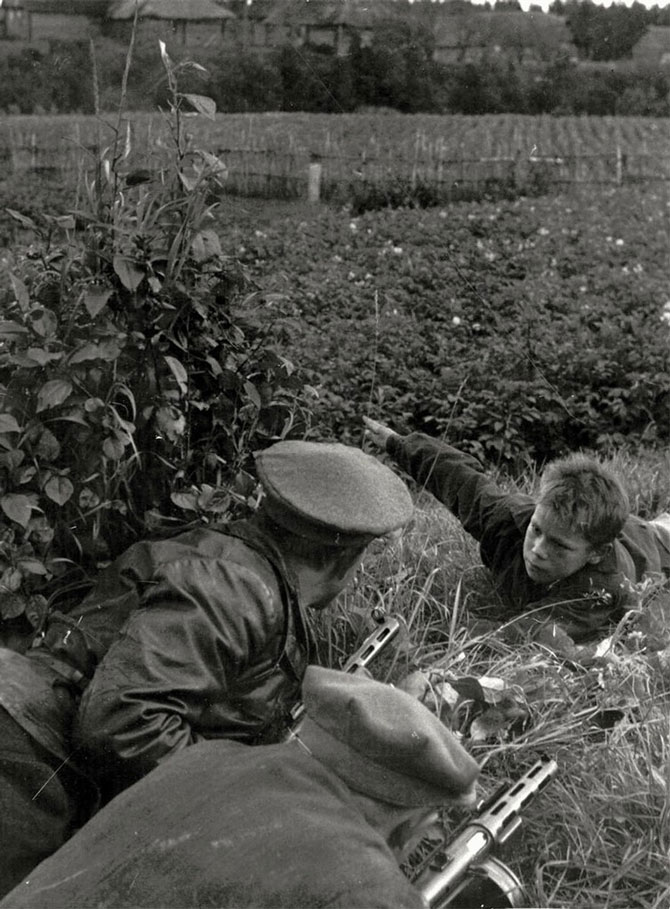 Red army soldier dragging a wounded comrade from the battlefield during the battle of Stalingrad.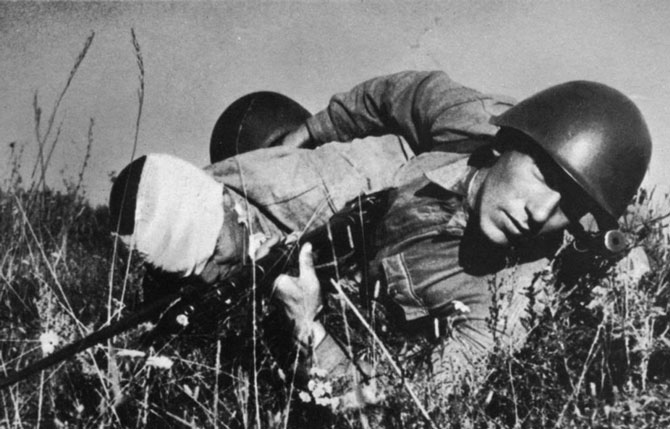 Soviet officers and U.S. soldiers during a friendly meeting on the Elbe River in April of 1945.
Soviet soldiers find cover in piles of rubble from blasted buildings while engaging German forces in street fighting on the outskirts of Stalingrad in early 1943.
Woman soldier traffic controller, Berlin, May 1, 1945.
1941
Russian troops approach Moscow with German prisoners on February 10, 1942.
Stalingrad in October of 1942, Soviet soldiers fighting in the ruins of the factory Red October.
Sometime in the Autumn of 1942, Soviet soldiers advance through the rubble of Stalingrad.
Standing in the backyard of an abandoned house in the outskirts of the besieged city of Leningrad, a rifleman of the Red Army aims and fires his machine gun at German positions on December 16, 1942.