In 2006, developers planning to construct a shopping mall in the Ballard neighborhood offered Edith Macefield one million dollar for her property. But she refused the seemingly impossible to deny offer because she did not want to uproot and relocate.
The mall was still constructed, but carefully so as not to disturb her home and small yard. If the story rings a bell, that's because Pixar's film "Up" was actually modeled after Edith's home. Take a look!

The adorable little house (often adorned with balloons) with yard in tact is literally tucked between corporate buildings.
Inhabitat
Not long after Edith's resilience against corporate dominance, her house became a symbol of inspiration. Sadly, she passed away in 2008 at 87-years-old. She left her now famous home to Barry Martin, a construction chief at an adjacent building site who took care of her (driving her to doctor appointments, looking after her) after Edith was diagnosed with pancreatic cancer.
Inhabitat
Barry Martin's original plan was to turn Edith's home into a memorial, but instead he sold it to a real estate coaching firm known as Reach Returns, now known as Cor Company.
The firm fixed the property and collected a lot of investor money under the premise they would lift the house 30-feet up in the air. The few restorations they actually completed abruptly came to a halt, the scheme collapsed and a lot of investors watched their money fly up, up and away.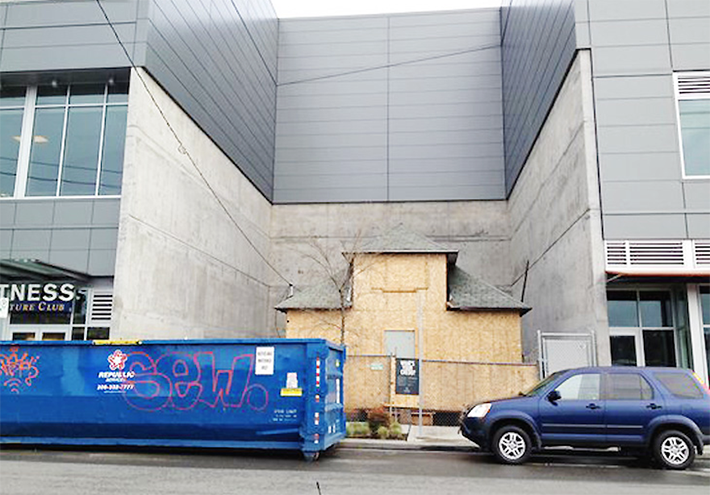 Inhabitat
In March 2015, lenders took possession of the house through foreclosure and it was listed for sale by auction. But the "Up" house never sold because the $170,000 price tag paled in comparison to the $300,000 owed in lien taxes. It has been re-listed without any tax lien and is currently up for grabs to the highest bidder.
Inhabitat
[wp_ad_camp_2]
Check out this video to see what the "Up" house looks like inside.
Credit: The No BS Broker
H/t: Earth Porm