In a project that will delight the book lover in all of us, photographer Ellen Cantor artistically expresses how books are the source of her favorite memories.
"My current project, entitled Prior Pleasures, is deeply influenced by my love of literature. This series explores memory and preservation of the past while ensuring the creation of a visual legacy for the next generation. The books photographed for this series are the ones I have carried with me since childhood. My mother read them to me and, in turn, I read them to my children, carrying on a tradition of the written and spoken word."
Cantor photographed a total of 25 classic childhood books including Alice In Wonderland, Black Beauty, and Little Women. She created stunning composites of individual photos of different pages. By using multiple exposure technique (without Photoshop), the brilliant artist was able to produce images that "show the excitement of a book fluttering open and coming to life for readers of all generations."
It's as magical as it sounds, take a look!
Alice in Wonderland
Ellen Cantor
Black Beauty
Ellen Cantor
Eight Cousins
Ellen Cantor
Little Women
Ellen Cantor
Nancy Drew
Ellen Cantor
A Child's Garden of Verses
Ellen Cantor
Hajji Baba
Ellen Cantor
Hans Brinker and the Silver Skates
Ellen Cantor
Five Little Peppers and How They Grew
Ellen Cantor
Heidi
Ellen Cantor
Up One Flight of Stairs
Ellen Cantor
Raggedy Andy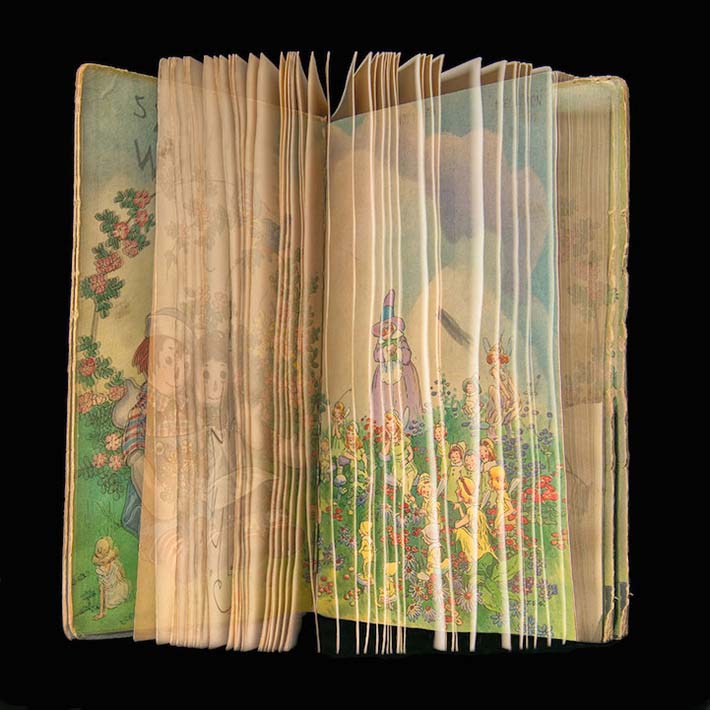 Ellen Cantor
The Campfire Girls
Ellen Cantor
Credit: Ellen Cantor │ Via My Modern Met