In the world of business, there's always plenty of room for imagination. This applies whether you're seeking fun ways to use a logo or organizing a corporate event. The latter involves careful planning, budgeting and execution, all of which require time and energy. This article's a how-to guide providing practical tips on easily organizing a successful corporate event.
Define Your Goals
It's essential to establish clear and measurable objectives that align with your company's mission and values. Your event goals should be specific, measurable, achievable, relevant, and time-bound (SMART). If your aim is to increase brand awareness among potential customers in a new market segment, host a product launch or networking conference. If you want to improve employee morale through team-building activities, workshops or training sessions could be ideal.
By clearly defining your event goals from the outset, you can ensure that all stakeholders are on board. It'll also make it easier to gain buy-in from the attendees.
Involve Professional Event Planners
These experts have years of experience and know what needs to be done to make your corporate event a success. They can help you with everything from choosing a venue and catering options to arranging guest transportation. They can also help you create a comprehensive timeline, ensuring that everything runs on schedule. This can save you time and money, while ensuring high-quality services and an unforgettable experience for the attendees.
Professional event planners have established relationships with suppliers and vendors in the industry. This means they can secure better rates, or extra perks on services. An online search for corporate event management services will enable you to access live chats or send requests online. You can get help with audio-visual and multi-media installation, as well as professional lighting and advertising materials.
Create A Budget
Identify how much money you have available to spend on the event, then estimate the total cost by breaking down each component. This includes venue rental, catering, entertainment, decorations, and marketing expenses. Spending more on high-quality food and beverages can create a positive impression on attendees, compared to having extravagant decorations but mediocre refreshments. Additionally, always leave room in your budget for unforeseen expenses or emergencies.
Try to stick to your budget as much as possible throughout the planning process. It's easy to get carried away, but remember that expenses can add up quickly. Keep track of all outgoings so you stay within your allotted amount, without overspending or ending up in debt.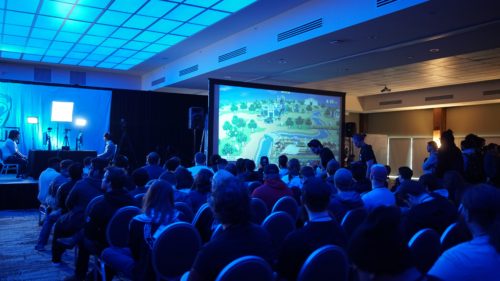 Create A Timeline
This will help you keep track of all the tasks that need to be completed before, during and after the event. Establish a specific date for the event and work backward from there. Include deadlines for things like booking venues, catering, hiring entertainment, sending out invitations, and marketing. It's important to allocate enough time for each task, so that everything runs smoothly on the day.
You can create a visual timeline using project management software, which will allow you to easily adjust dates and times as needed. This will keep everyone involved in the planning process informed about what needs to be done and when. Finally, stay flexible with your timeline as unforeseen circumstances may arise that could delay certain tasks or require additional work.
Create An Invitation List
Draw up a master list that includes everyone who should receive an invite. Make sure that no one critical is left off, since this could lead to an awkward situation later on. Next, segment your guests based on their role in the company, or their relationship with it. Separate guests into categories like employees, clients, vendors, or contractors.
Consider sending out save-the-date emails before the official invitations. This will give potential attendees ample time to make arrangements to attend, whilst avoiding any scheduling conflicts with other events at that time.
Choose a Venue
Consider factors such as proximity to public transportation, availability of parking spaces, and wheelchair access. If some attendees are traveling from out of town, choose a venue that's close to hotels or other accommodations. Another important factor is the size and layout of the space. Make sure it can comfortably accommodate all attendees, and any equipment or displays you plan on using.
It's also worth considering if there are separate areas for breakout sessions or smaller groups within the larger event space. Finally, don't forget about technology needs such as Wi-Fi and audio-visual equipment. Make sure the venue has what you need or is willing for you to bring it with you.
Plan Your Activities And Speakers
These are the things that will keep your guests engaged and entertained throughout the event. Start by determining what type of activities would be best suited for your audience. Are they more interested in team-building exercises or would they prefer a keynote speaker? Next, start researching potential speakers or vendors who can help facilitate those activities.
When selecting speakers, consider their expertise in the industry or topic at hand. Also, consider their ability to engage and captivate an audience. It's also key that your chosen speaker aligns with your company's values and messaging.
Consider Food And Beverage Options
As we said earlier, the type of food and drink served can have a significant impact on how guests perceive the event. Firstly, determine the nature of the occasion, the expected number of attendees, and their dietary restrictions. Consider hiring professional caterers who have experience in serving events similar to yours. They'll help you create a menu that suits your guests' preferences, while adhering to your budget. When deciding on drinks, it's crucial to offer non-alcoholic beverages for those who don't consume alcohol (or are designated drivers).
Finally, ensure that there are enough refreshments throughout the event. You don't want your guests feeling thirsty or hungry during speeches or presentations, as this could disrupt their concentration.
Thanks to these helpful tips you'll be on top of things from start to finish. You'll know what kind of event to organize, and how to bring it all together. In return for your hard work, the event will be a success, and achieve all that you desire.