Finding a box, just like this one, in a dumpster is not something entirely puzzling. Oftentimes, it just turns out to be something its owner no longer wants or needs. But what sets this box apart are the mysterious bits and pieces contained within.
Few photos down and you'll start to be completely mystified.

This box was handmade from wood, fit with hinges, a handle and a pair of locks.
gosocial
Based on these texts, it appears that the author had an otherworldly experience.
gosocial
Also inside was a hand-drawn table of elements.
gosocial
This patent is not filed with the U.S. Patent Office. The drawings however, are remarkably detailed.
gosocial
And it's dated 1939, begging the question – why would anyone throw this away?
gosocial
A map showing air travel routes
gosocial
Most of the maps inside the box are hand-drawn with a "center" noted on them.
gosocial
The maps represent aerial patterns and or routes of some sort.
gosocial
There were quite a few of these maps inside.
gosocial
All of which looks mysterious.
gosocial
Looks like a note from the previous owner.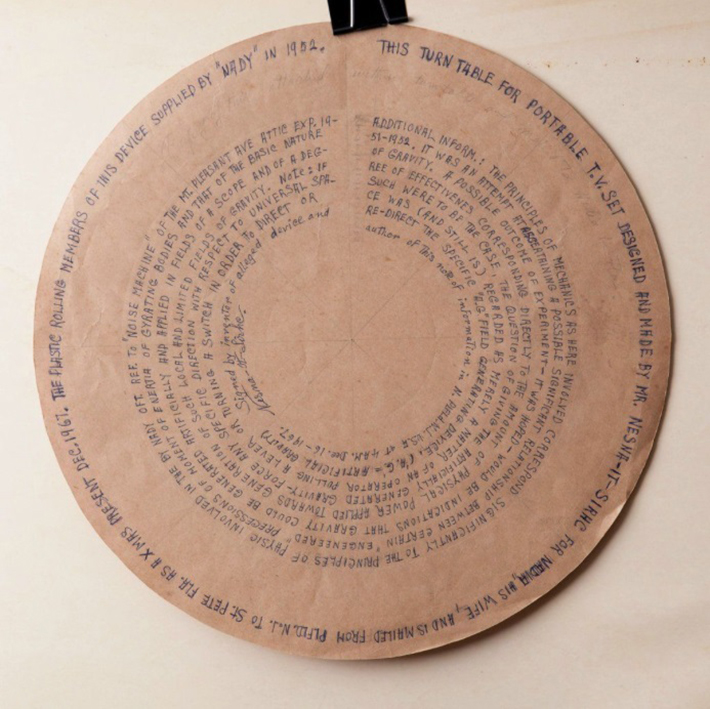 gosocial
[wp_ad_camp_2]
Yet another map with a "center" on it.
gosocial
A note from a very old Veterans Affairs office.
gosocial
An artist's depiction of an event from Tampa, Florida in 1977. He notes it to be extraterrestrial in nature.
gosocial
Well this is quite odd. A drawing of extraterrestrial UFO on the same page with what looks like angelic creatures.
gosocial
Drawing of an entity.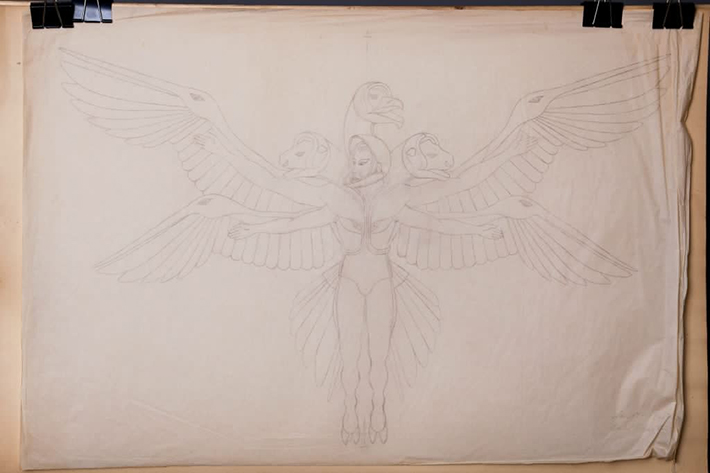 gosocial
Summary of events
gosocial
Geometric shapes
gosocial
Another drawing of one of the entities. This looks strangely like something out of the Bible's book of Ezekiel.
gosocial
Another sketch
gosocial
Sketch of the beings' side view. That looks creepy.
gosocial
The artist seems to be fixated on these creatures.
gosocial
Which makes you wonder – was it a dream, or did it really happen?
gosocial
"One might say this looks like wheels within wheels, wings full of eyes and creatures with 4 heads (man, ox, eagle and lion) from the book of Ezekiel."

gosocial
These drawings feature a mix of biblical and extraterrestrial visions.
gosocial
Seems to be a signature and date
gosocial
This drawing has details similar to the patent drawings seen earlier.
gosocial
Another one of the patent drawings.
gosocial
These new train wheels appear to have come from the train he sketched earlier.
gosocial
People will definitely have different views and opinions on this find. To be fair, this could either be a genuine UFO sighting chronicled in the various sketches, notes, and maps shown above or simply a product of the artist's imagination.
gosocial
Unfortunately, we cannot ask the artist and hence the truth is something beyond our reach. But for a dumpster find, this is completely amazing!
gosocial
Via GoSocial