The history of film began in the 1890s. Since then actors and actresses have been pushing the limits to insane lengths to transform their physical image for movie roles.
If you're an actor or actress in Hollywood, being asked to gain or lose a ridiculous amount of weight in a short period of time (basically putting health on the line) is just part of the job.

1. Christian Bale drastically dropped down to 121 pounds for his role in The Machinist. He was losing 63 pounds in 4 months before doctors told him to stop because they thought he was near death.
Movie Pilot
2. Natalie Portman lost 20 pounds to play a ballerina in Black Swan. She trained 5-8 hours a day and ate next to nothing. She was quoted saying she "literally thought she was going to die".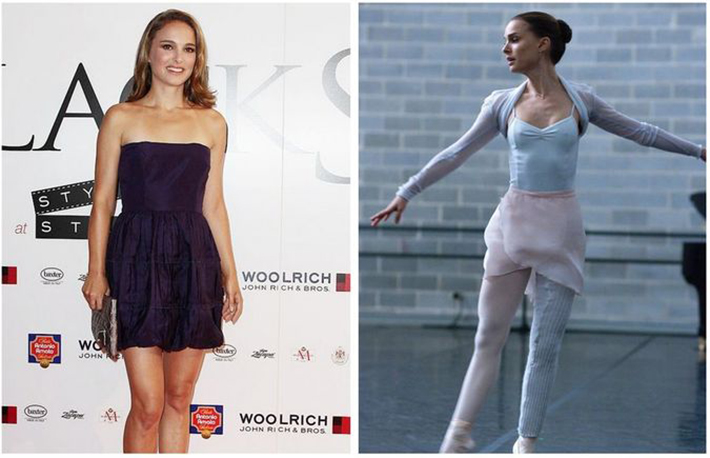 Movie Pilot
3. Before losing more than 50 pounds for his role in Dallas Buyers Club, Jared Leto went on to gain nearly 70 pounds to play a mentally ill killer in Chapter 27.
Movie Pilot
4. Matt Damon lost 40 pounds to play a drug-addicted veteran in Courage Under Fire. He was placed on medical supervision for 7 months after filming as a result of such a dramatic loss.
EMGN
[wp_ad_camp_1]
5. To be convincing as a man dying of AIDS in Dallas Buyers Club, Matthew McConaughey lost 47 pounds in about 6 months.
Movie Pilot
6. Mila Kunis lost 20 pounds for her role as a ballerina in the Oscar-winning movie Black Swan.
Toks Dam
7. Rapper 50 Cent went from 214 pounds down to 160 pounds by running for three hours a day and existing on a purely liquid diet. All that to play the role of a football player who succumbs to cancer in Things Fall Apart.
Movie Pilot
8. For her role as a starving prostitute in Les Miserables, the already slim Anne Hathaway had to drop an additional 25 pounds. She was quoted saying she "feared she would collapse".
Movie Pilot
9. Charlize Theron had to pack on 30 additional pounds to convincingly play the serial killer Aileen Wuornos in Monster – a role that won her an Oscar.
Movie Pilot
10. After having to drop from 215 pounds (from his Avengers frame) to 185 pounds for his role in Rush in four months, Chris Hemsworth had just months to bulk back up with an additional 35 pounds for his role as Thor.
Top.me
11. Over the course of filming Raging Bull, Robert De Niro got ripped to play Jake La Motta before stacking on 60 pounds to follow his character's bloating and decline.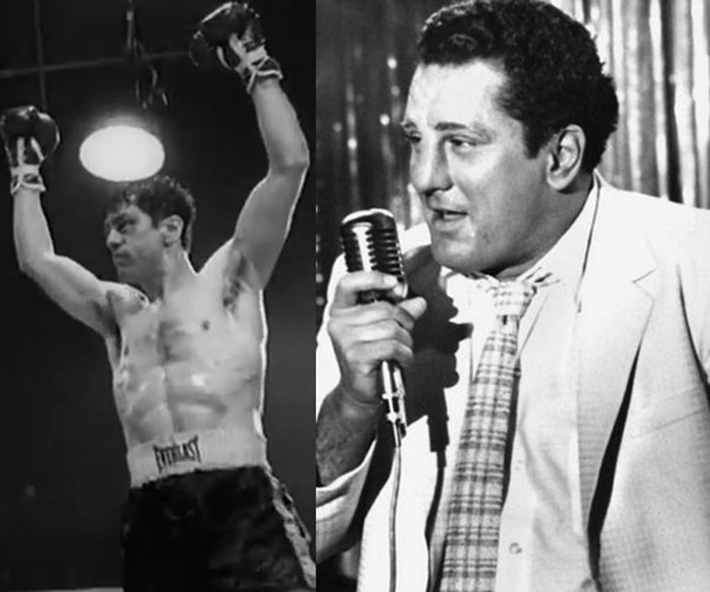 EMGN
12. For his role in The Five Year Engagement, Jason Segel was told he had to drop 35 pounds so it would be convincing that Emily Blunt's character would find him attractive.
Starcasm
13. After spending years as the cuddly Andy on Parks and Recreation, Chris Pratt lost 60 pounds and gained some serious muscle for Guardians of the Galaxy.
Movie Pilot
14. Jonah Hill dropped 40 pounds in 2012 to prepare for his role opposite Channing Tatum in 21 Jump Street.
Toks Dam
15. For his role in 300, Gerard Butler gained 20 pounds of solid muscle mass to play the role of a warrior.
Pulsed Up
16. To bulk up for the cuddly Bridget Jones, Renee Zellweger "gorged" herself to gain 30 pounds and refrained from all physical activity.
Movie Pilot
17. George Clooney ate bowl after bowl of pasta for 30 days to gain 30 pounds for his Oscar-winning role as a CIA agent in Syriana.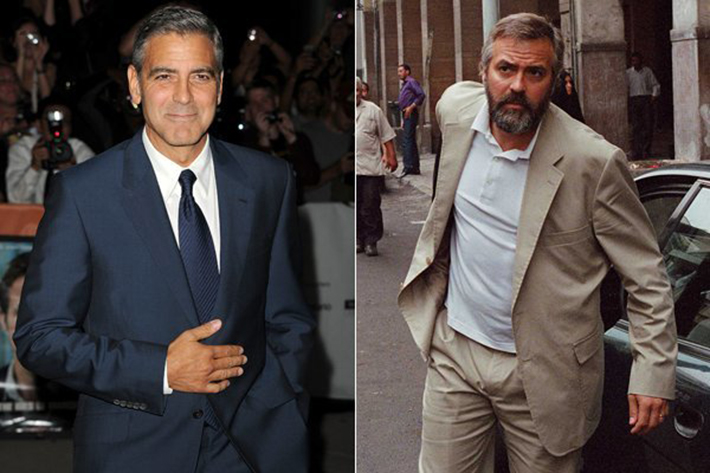 The Daily Beast
18. Tom Hanks didn't exercise and allowed himself to grow pudgy to make himself an average, out-of-shape, middle-aged man. Production was then halted for a year so he could lose 50 pounds and grow out his hair for his time spent on the deserted island for the movie Castaway.
Toks Dam
19. By training for five months with the same trainer Daniel Craig used for the Bond movies, Matthew Fox lost 40 pounds and got ripped to play a killer in Alex Cross.
E Online
20. Russell Crowe gained a whopping 63 pounds for his role as a CIA agent who let himself go in Body of Lies.
Softpedia
21. Hillary Swank gained nearly 20 pounds of muscle and totally changed physically to play her award-winning role as boxer Maggie in Million Dollar Baby.
Toks Dam
22. To become the violent British prisoner Charles Bronson in Bronson, Tom Hardy packed on 43 pounds in just over five weeks by eating massive quantities of food and training with an ex-U.S. Marine.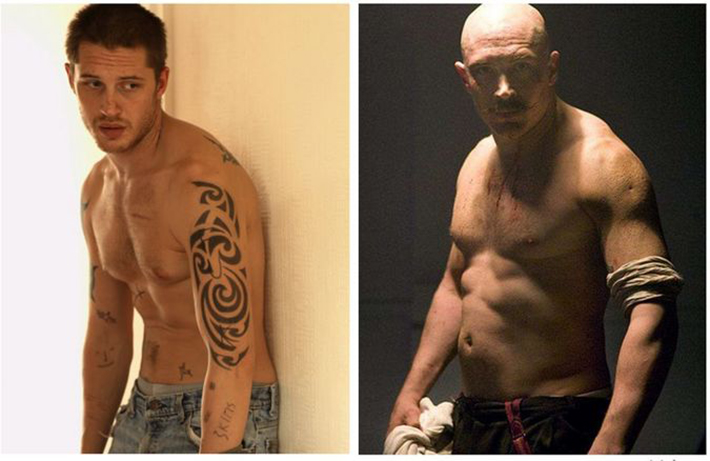 EMGN
23. After dropping 30 pounds for his role in Nightcrawler, Jake Gyllenhaal went beyond buff for his role in Southpaw by gaining all that weight back (plus 15 more pounds of muscle). He did that by spending six months in the gym training just like a prize-winning boxer.
Pixshark
24. Bradley Cooper gained 40 pounds of muscle (by bulking up in the gym) to prepare for his role as real-life Navy SEAL Chris Kyle in American Sniper.
The Mirror
25. Ryan Gosling prepared for a role in The Lovely Bones by gaining 60 pounds only to be told that he looked terrible and they had a "different idea of how the character should look." He was eventually replaced in the film by Mark Wahlberg.
Cha Cha