In Britain, tanks were first referred to as landships. The Landships Committee was set up in 1915 by Winston Churchill to develop designs. To conceal their true purpose from possible spies, they were called tanks, to give the impression of simple water tanks. The name stuck.
The tank was developed independently by Britain and France during World War I. It was first used in 1916 by the British army during the Battle of the Somme. The French and British armies built thousands of tanks, but the German army was unconvinced of their potential and built only 20.
After WWI tank design improved, their role on the battlefield was reassessed. In the lead-up to World War II and during the war itself, tanks were built by both the Allies and the Axis powers in great numbers. Factories switched from their usual products to making tanks and other armaments. Women joined the war effort and were involved at many levels.
The tanks deployed by Germany during WWII were inferior in terms of armaments and armor, but had one key advantage: they all carried radios, enabling better tactical coordination and flexible use as rapid attack forces.
The British 79th Armoured Division under Major General Percy Hobart had a variety of tanks adapted for different tasks, from amphibious actions to mine-clearing. The strange appearance of some of these earned them the nickname "Hobart's Funnies."
The U.S. even equipped Britain with American tanks under the lend-lease agreement; these played a significant part in the Normandy landings of D-Day.
After WWII ended, most tank factories returned to manufacturing their original products.
Renault tanks built for combat in World War I in a factory in France (1916)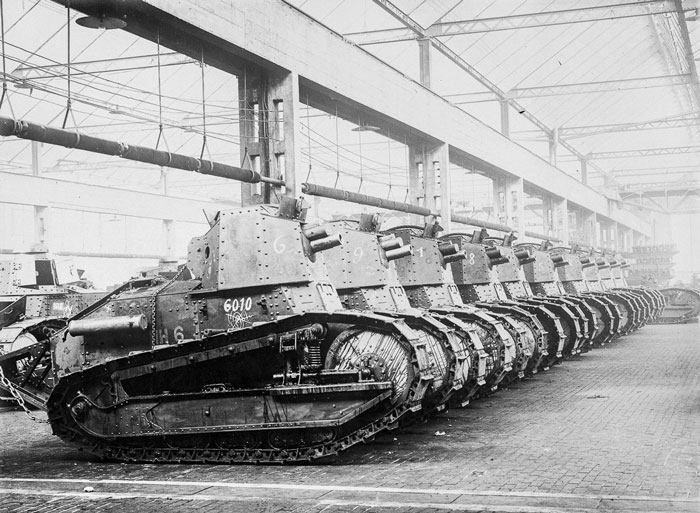 IMAGE: JACQUES BOYER/ROGER VIOLLET/GETTY IMAGES
A factory for the repair of German tanks (1916)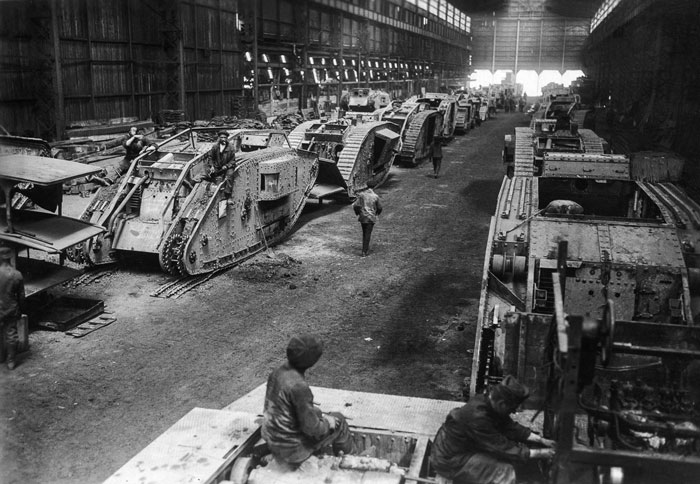 IMAGE: MONDADORI/GETTY IMAGES
Today we are crushed by the sheer weight of the mechanized forces hurled against us, but we can still look to the future in which even greater mechanized forces will bring us victory. Therein lies the destiny of the world. — FRENCH GENERAL CHARLES DE GAULLE
A German tank factory (1940)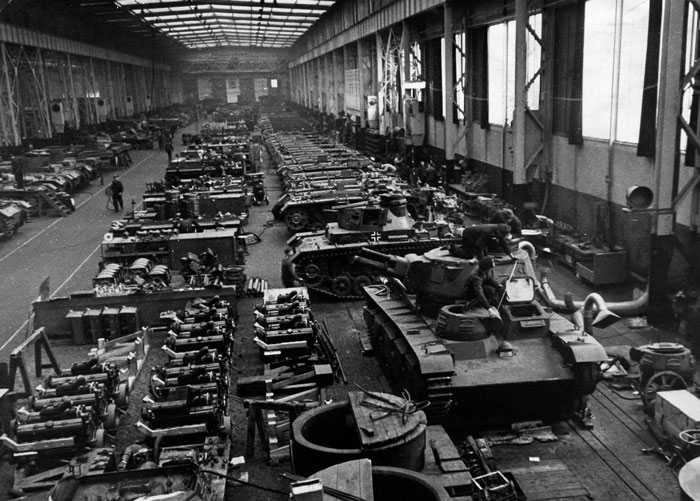 HEINRICH HOFFMANN/ULLSTEIN BILD VIA GETTY IMAGES
[wp_ad_camp_1]
A German tank factory (May 15, 1940)
IMAGE: HEINRICH HOFFMANN/ULLSTEIN BILD/GETTY IMAGES
British tanks on an assembly line. Some of the tanks are being repaired following the evacuation of Dunkirk (Aug. 18, 1940)
IMAGE: POPPERFOTO/GETTY IMAGES
A Ministry of Supply tank factory in Britain (1940)
IMAGE: TUNBRIDGE-SEDGWICK PICTORIAL PRESS/GETTY IMAGES
A tank assembly line is a flurry of activity during the "great speed up" of mass production in preparation for the invasion of Europe (July 14, 1941)
IMAGE: POPPERFOTO/GETTY IMAGES
"When all is said and done, a tank is a small steel box crammed with inflammable or explosive substances which is easily converted into a mobile crematorium for its highly skilled crew." — BRIGADIER SHELFORD BIDWELL
Workers in a Ministry of Supply factory making a turret for a "Matilda" tank (Dec. 29, 1941)
IMAGE: HARRY TODD/FOX PHOTOS/GETTY IMAGES
British factory workers leave a message for their adversary (Dec. 22, 1941)
IMAGE: HARRY TODD/FOX PHOTOS/GETTY IMAGES
A British propaganda poster urges women to take up manufacturing jobs to help the war effort (1941)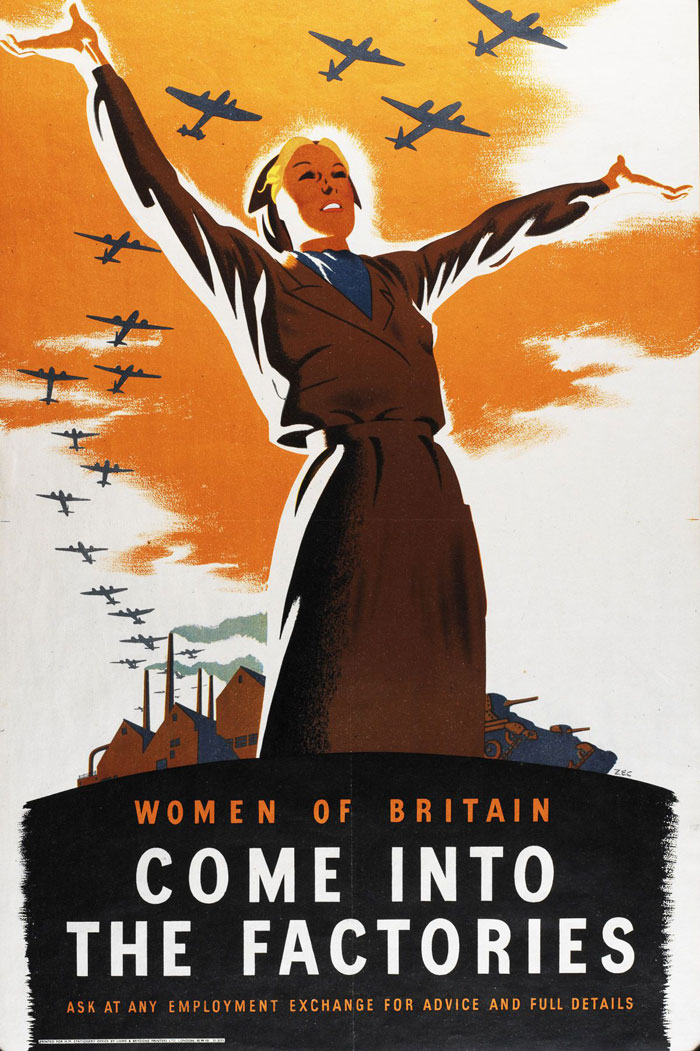 PHILIP ZEC/IWM/GETTY IMAGES
Factory workers in a Ministry of Supply factory fit a gun mounting on a "Matilda" tank (Dec. 29, 1941)
IMAGE: HARRY TODD/FOX PHOTOS/GETTY IMAGES
"The battlefront disappeared, and with it the illusion that there had ever been a battlefront. For this was no war of occupation, but a war of quick penetration and obliteration. — Blitzkrieg, Lightning War." — TIME MAGAZINE, SEPT. 25, 1939
A British tank is pulled by a train from a Midlands factory bound for the Eastern Front to aid the Soviet Union (October 1941)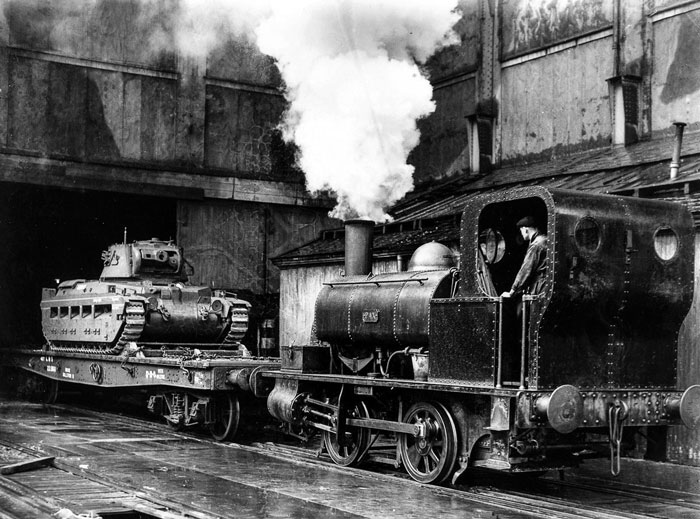 IMAGE: POPPERFOTO/GETTY IMAGES
Workers assemble M-3 tanks in an American factory (1942)
IMAGE: HULTON ARCHIVE/GETTY IAMGES
Workers assemble "Cruiser" tanks in a British factory (1942)
IMAGE: HULTON ARCHIVE/GETTY IMAGES
The assembly line at the Chrysler tank arsenal in Michigan changes over from M3 to M4 models while the line continues moving (1942)
IMAGE: WILLIAM VANDIVERT/LIFE MAGAZINE/THE LIFE PICTURE COLLECTION/GETTY IMAGES
A Chrysler automobile assembly plant in Detroit, reconfigured to produce tanks (April 11, 1942)
IMAGE: TORONTO STAR ARCHIVE/GETTY IMAGES
A Mitsubichi factory devoted to building medium tanks sits in disuse after the end of World War II (Oct. 1, 1946)
IMAGE: JOHN FLOREA/THE LIFE PICTURE COLLECTION/GETTY IMAGES
Various toys — tanks, cars, trains, planes, fire hats — at a metal toy factory after it was converted from its job as a munitions plant for World War II (Jan. 1, 1946)
CHARLES FENNO JACOBS/TIME LIFE PICTURES/GETTY IMAGES