The photos you're going to see show the SS officers and guards of Auschwitz relaxing, singing and enjoying themselves. While having a good time, countless men, women and children were being murdered and cremated at the nearby death camp.
These photos are significant because only a few of these images are available today showing the "social life" of the SS officers responsible for the mass murder of people at Auschwitz. These are the first leisure time photos of the concentration camp's SS officers to be discovered, though similar images do exist for other camps, including Sachsenhausen, Dachau and Buchenwald.
This rare collection belonged to Karl Höcker, the adjutant to the final camp commandant at Auschwitz, Richard Baer. Höcker took the pictures as personal keepsakes. When Allied troops were getting nearer to Auschwitz, Höcker fled the area with the photographs. He survived the war and kept a low profile working unrecognized in a bank.
But his true identity was discovered in 1963. Höcker was forced to answer to charges for his role at Auschwitz at a trial in Frankfurt. In his closing words in the trial, Höcker said:
"I had no possibility in any way to influence the events and I neither wanted them to happen nor took part in them. I didn't harm anyone and no one died at Auschwitz because of me".
In the end, Höcker was convicted on charges of aiding and abetting the murders of Jews and was sentenced to 7 years in prison. He was released after serving 5 years for good behavior. He died at the age of 88 in 2000.
Karl Hoecker's photos became known as "Laughing at Auschwitz." The photos were found by a US Army intelligence officer in an apartment in Frankfurt and has now given them to the United States National Holocaust Museum in Washington.
"These unique photographs vividly illustrate the contented world they enjoyed while overseeing a world of unimaginable suffering", museum director Sara Bloomfield said in a statement. "They offer an important perspective on the psychology of those perpetrating genocide".
Here are the published photos of Karl Hoecker's album known as "Laughing at Auschwitz":
This first page shows Hoecker, right, with the commandant Richard Baer. 1944.
Laughter lines the faces of camp staff as they prepare for a sing-song.
Helferinnen, in wool skirts and cotton blouses, listen to the accordion and eat blueberries, which Karl Hoecker had served to them.
Twelve SS auxiliaries sit happily on a fence railing eating blueberries given to them by an SS officer.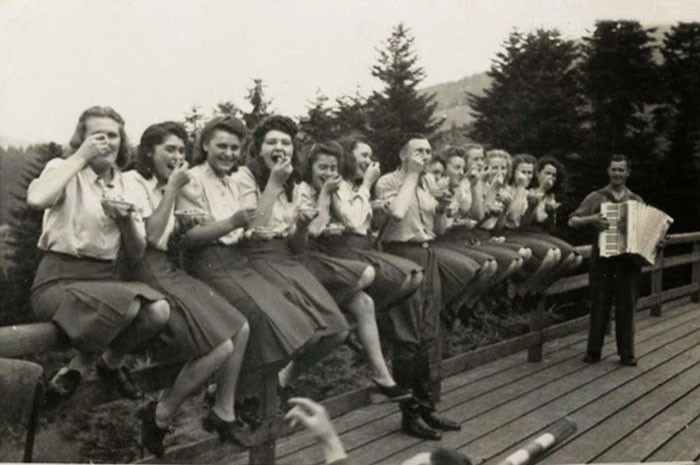 Officers and Helferinnen at Solahütte.
[wp_ad_camp_1]
Karl Hoecker en route to or returning from Solahütte.
Taking a break. The second person is the notorious concentration camp doctor Josef Mengele (The Angel of the Death).
SS officers relax on the grounds of the Solahütte retreat.
SS officers relax together with women and a baby on a deck at Solahütte.
Resting at the Solahütte retreat center.
The Solahütte retreat was used to provide a relaxing atmosphere for SS officers working at the Nazi death camp at Auschwitz.
Singing to release the stress: an accordianist leads a sing-along for SS officers.
A group photo of the mass murderers of Auschwitz: Josef Kramer, Josef Mengele, Richard Baer, Karl Höcker (from left; man at right unidentified).
Finding comfort at Auschwitz: SS officers drink together.
Christmas 1944: Karl Höcker lights the candles of a Christmas tree.
SS officer Karl Höcker pets his dog "Favorit."
A large group of SS officers visit a coal mine near Auschwitz.
Karl Hoecker (right) with Richard Baer and Rudolf Hoess.
The opening of a hospital at Auschwitz.
SS officers gather for the dedication ceremonies of the new SS hospital.
SS officers gathered at the same event.
Hoecker, lying on a wooden platform about the height of a table, shoots a rifle. Right: Hoecker in his summer uniform.