When a new building rises, many of us wonder how many trees were felled to make way for it. But that's not the case every time. Sometimes architects, clever architects, find a way to incorporate a living tree into their design, creating absolutely stunning structures that bring the outdoors inside. Take a look!
1. House Among Trees
Designed by Martin Fernandez De Lema and Nicolas Moreno Deutsch, this cabin is located in Mar Azul, a small coastal settlement in Buenos Aires, Argentina.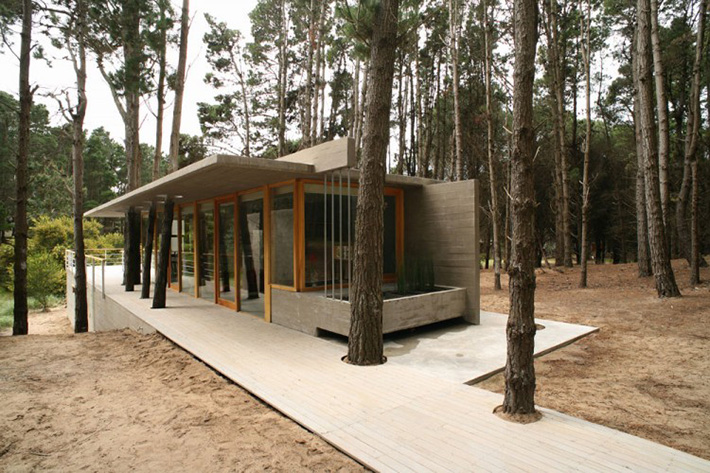 homedsgn.com
With trees springing up through the deck and walkway, this modern, rustic escape becomes part of the forest. The cabin was completed in 2007.
homedsgn.com
2. Casa Del Bosque
Designed by NDE Renda, the carport of this Paraguay house is designed as a semi-enclosed structure surrounded on three sides with brick walls and a tree gloriously sprouting out of its roof.
trendir
trendir
3. The Yellow Treehouse
The Yellow Treehouse is a beautiful, unique restaurant in New Zealand that's perfect for guests who want to get closer to nature when dining out.
pacificenvironments.co.nz
Designed by Peter Eising and Lucy Gauntlettt, this one-of-a-kind dining establishment is made even more stunning by its curved "fins". It is now mainly used for major events such as weddings.
pacificenvironments.co.nz
It does look like the perfect place for an intimate and romantic event.
via Distractify
4. The Three Trees House
"The existing house was a 'fixer' on a lot filled with big trees. Those same trees boxed in the house, preventing an addition to the home. Our solution was to build the addition around the trees, enclosing them into open air courtyards. Every room in the house opens out into a outdoor space with a sheltering tree."
jeremylevine.com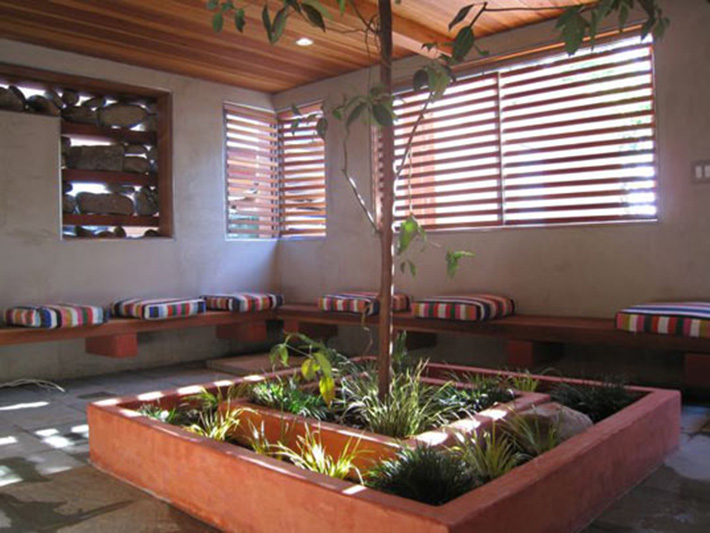 jeremylevine.com
5. Tree In The House
Designed by architect Aibek Almasov, this stunning tree house offers a peaceful retreat in the mountains of Kazakhstan, Almasov. The four-storey cylindrical glass home wraps completely around a pine tree, giving its owners magnificent views of the surrounding woods.
amasow.com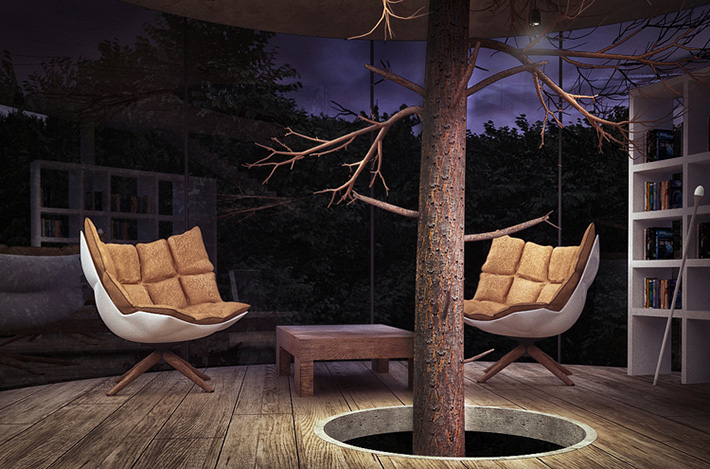 amasow.com
[wp_ad_camp_2]
6. Saruhan Bey Science, Culture And Education Foundation
When Turkish authorities said the 325-year-old pine tree could not be cut down to make way for the Foundation, architects found a clever way to make it part of the building.

manisanur.com
7. Oak Tree House
This oak tree house by Andreas Wenning is built 36 ft off the ground. This adult treehouse is lovingly wrapped around a large old oak tree.
sobify/baumraum.de
sobify/baumraum.de
8. Fuji Kindergarten
This glass and wood structure, designed by Yui and Takaharu Tezuka, wraps around a 50-year-old tree, creating a lovely interior garden and play space for the kids.
architecturendesign.net/tezuka-arch.com
9. Bethany Tree House
The focal point of this lovely home, designed by Alessandro Sartore, is a tree which the owner calls Bethany. The tree ties all the living areas together and even acts as a connection between the body of the residence and the garden surrounding the house.
architectism.com
architectism.com
10. Niavaran Residential Complex
The Niavaran Residential Complex by Mohammad Reza Nikbakht sits in an area that used to be a summer resort in Tehrans, Shemiran. The area is rich with ancient trees and numerous gardens which was made the first priority in designing the complex.
thoughtsinperspective.com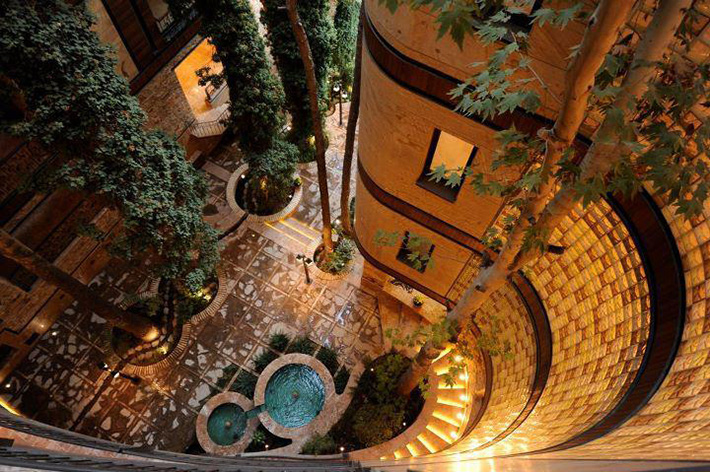 thoughtsinperspective.com
11. Kook Restaurant
Kook Restaurant is a beautiful pizza place in Rome that has a living tree enclosed in a glass case, designed by Noses Architects.
www.noses.it
12. The Hemloft House
The Hemloft House by Joel Allen loooks almost like a drop of dew. This charming tree house hangs (somewhat illegally) on a precipitous slope, in a towering stand of hemlocks in Whistler, Canada.
thehemloft.com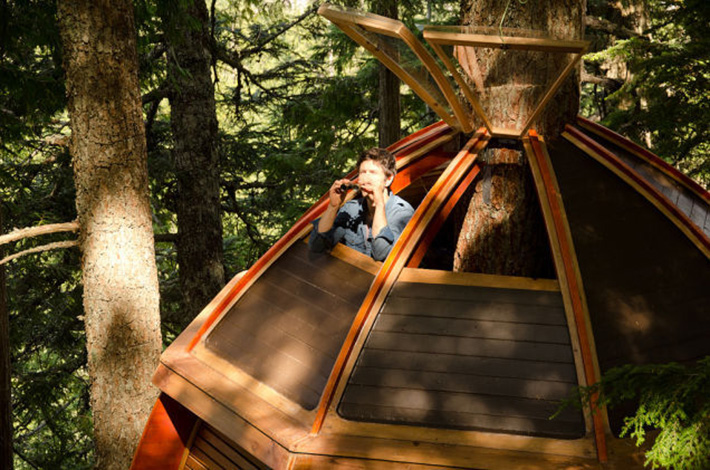 thehemloft.com
13. Treehouse at the Alnwick Gardens
With trees cleverly incorporated into the structure, this treehouse in the UK is one of the world's most unique and magical restaurants.
Wikipedia/alnwik gardens
Wikipedia/alnwik gardens
14. MOD Playhouse
Unlike the planks nailed to a tree that most of us call a "treehouse", this playhouse is more of a modern tree mansion.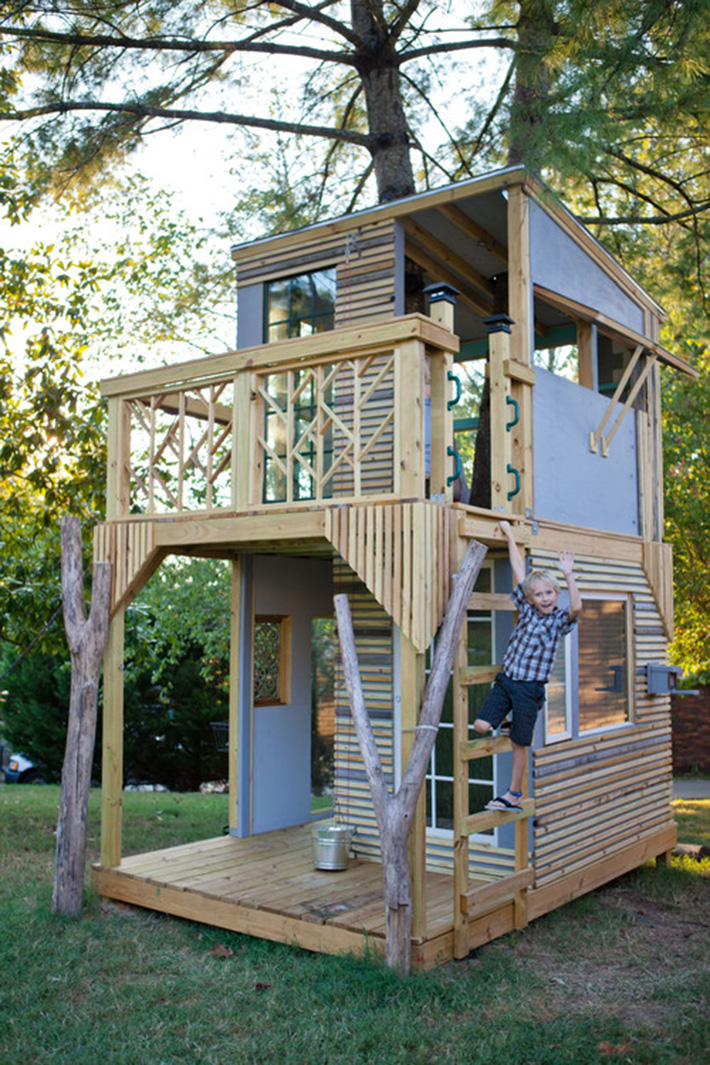 Houzz
Houzz
15. 25 Verde
25 Verde is an apartment building in Turin, Italy designed by Luciano Pia. The building integrates so many beautiful trees, it's hard to tell where the forest ends and the homes begin.
25verde.it
25verde.it
16. Jack Latner's Hollywood Hills House
When Jack Latner's Hollywood Hills house in California was remodeled, Aaron Neuber Architects designed the master bedroom (an addition to the home) to be built around a spectacular 70-year-old sycamore tree.
ouzz/Aaron Neubert Architects
ouzz/Aaron Neubert Architects
"The trunk now rises up from the floor level and spills out onto the upper deck."
ouzz/Aaron Neubert Architects
17. Chrysalis Residence
This Wisconsin farmhouse is incorporated with full-sized, branching trees that are sourced from right around the building site. The trees may not still be growing but they sure add a charming natural design element to this lovely home.
WholeTrees
WholeTrees