When Jim Zetz learned that he doesn't have much time left to live, he decided to do something special and memorable for his 11-year-old daughter. Jim is fighting a losing battle against pancreatic cancer.
Knowing that he wouldn't be there for his little girl's wedding day, a photographer named Lindsey Villatoro decided to do something extraordinary by helping the father stage the "unforgettable life moments" they could cherish forever.
The result is so touching, sad and beautiful.
Jim Zetz, a proud dad, walks his daughter down the aisle years earlier.
His little girl wishes to have her father attend her wedding someday.
The "early wedding" was held on her 11th birthday.
Complete with the traditional wedding table and gifts.
And a wedding ceremony.
[wp_ad_camp_2]
The unforgettable moments everyone won't ever forget.
Together with the whole family.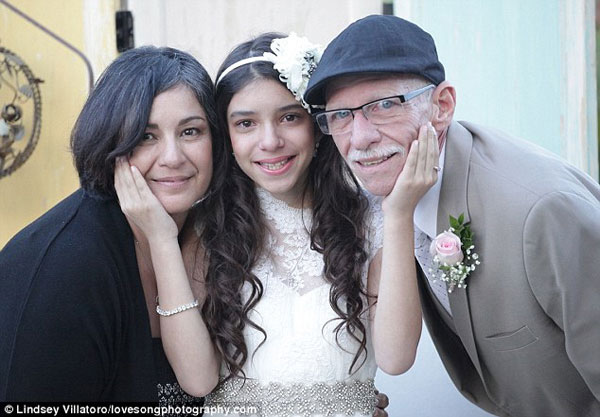 They now have something very special to remember and cherish forever.
Watch the video.
Source
"The most beautiful people I've known are those who have known trials, have known struggles, have known loss, and have found their way out of the depths," the photographer said.
"I met Josie [the day of the wedding]," she added. "She was a little bit overwhelmed when her mom picked her up from school and told her. She just needed a moment. Later, she said, 'This is the best day of my life.' She was very glad and excited to have these moments."