A coke vending machine stands unsuspectingly at a corner inside a sandwich shop in Shanghai. Diners won't have a hard time noticing its adorable vintage look.
Pretty neat, right? But wait until you see what it's hiding behind.
Take a look and you'll be amazed.
photo by Shen Zhonghai
Voila! This coke vending machine is actually a door that opens into a stylish bar.
photo by Shen Zhonghai
Designed by architect Alberto Caiola, this bar called Flask, upends traditional concept design by concealing this contemporary lounge behind the cheery facade of The Press sandwich shop.
photo by Shen Zhonghai
The brilliant, strategic design creates a genius juxtaposition of the shop's playful and funky aesthetics with the bar's dark yet elegant charm.
photo by Shen Zhonghai
[wp_ad_camp_2]
Striking drop ceiling! These angular cubes cascades all the way towards the Flask's entrance.
photo by Shen Zhonghai
The space is warm and mysterious with muted lighting and an elaborate display of liquor bottles.
photo by Shen Zhonghai
Two installations featuring beautiful shelving units highlight the space. The first stands near the entrance which is filled with 25 litre whiskey bottles with built-in spotlight while the second is a wall installation featuring flasks placed in rows.
photo by Shen Zhonghai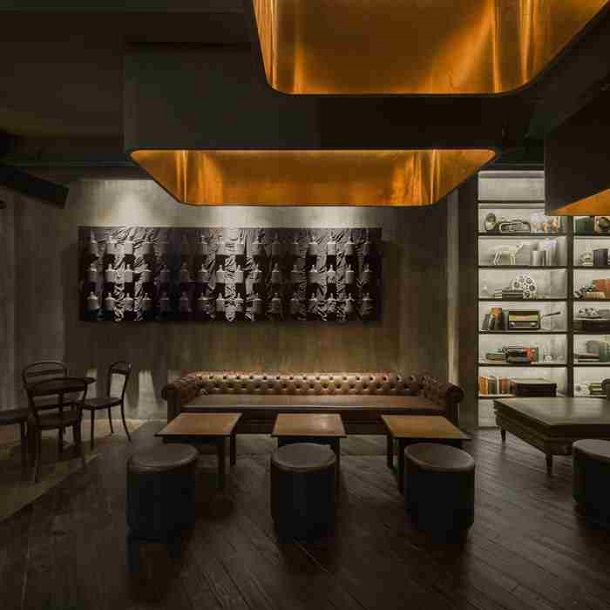 photo by Shen Zhonghai
Hidden speakeasy-themed bars and lounges are not an entirely new design idea, but Flask truly raised the bar for designers who want to execute this concept next.
photo by Shen Zhonghai
Credit: Alber Caiola