During World War I, a fierce battle between the Austrian and Italian Armies broke out in Mount Piana, a 2,324 tall mountain in the Sexten Dolomites. Recently, the 18,000 young soldiers who lost their lives at the site were honored at the 2015 Highline Meeting Monte Piana.
The annual event unites people from all over the world through their shared passions for adventure and the sport of highlining. Each year, thrill-seekers gravitate towards the Dolomites for the chance to slackline between mountain peeks and hang out in hammocks suspended hundreds of feet above the ground.
Vienna-based photographer Sebastian Wahlhütter was there to document the Highline Meeting. The photos he took are stunning, and exciting, but are also definitely not for the faint of heart. Take a look!
Sebastian Wahlhütter
Vertigo enducing, yes?
Sebastian Wahlhütter
This year's highlining event also served as a poignant celebration of the 100-year anniversary Monte Piana conflict. 26 athletes came together to sing, laugh, and lounge in 17 colorful hammocks strung up high in the sky in a special "Rainbow Warriors" session as a symbol of peace and a tribute to the past.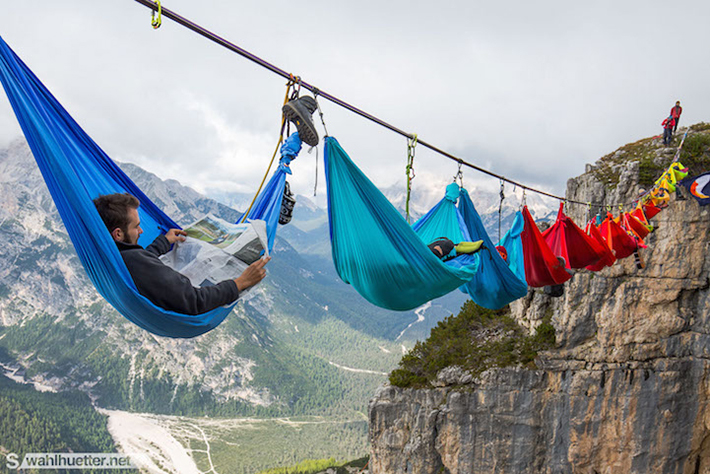 Sebastian Wahlhütter
Sebastian Wahlhütter
Sebastian Wahlhütter
"Just a hundred years ago, winters up here were characterized by bombs, grenades, and lots of pain," co-founders Alessandro d'Emilia and Armin Holzer explained.
"Our idea was to re-experience Monte Piana in friendship and peace with each other, accompanied by kindhearted feelings during the day, and lulled to sleep at night by magical silence."
Sebastian Wahlhütter
[wp_ad_camp_2]
Sebastian Wahlhütter
The Highline Meeting kicked off on September 10 and just wrapped up on September 15. Wahlhütter told My Modern Met that the event was an "incredible experience".
"I can remember the first time going to sit on a highline, and it was really an intense experience. Once you are in the hammock, it's perfect, and you get a feeling of freedom; even though it's so exposed, relaxing is not a problem."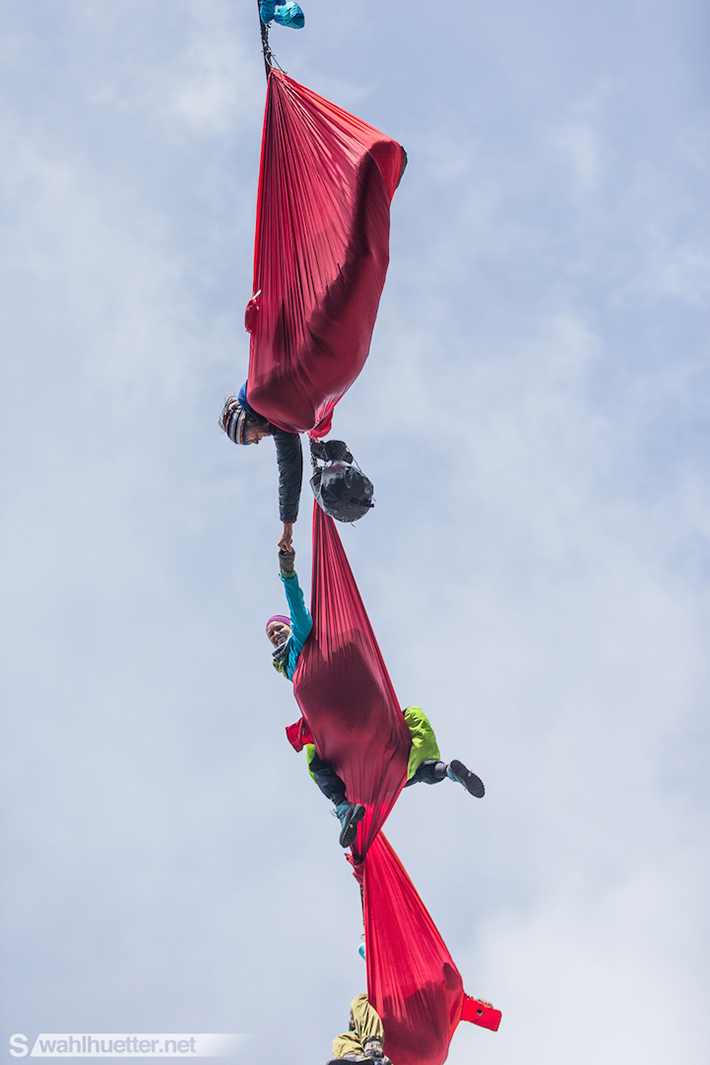 Sebastian Wahlhütter
Sebastian Wahlhütter
Vimeo / Highline Meeting