Since the dawn of time, man has had a love-hate relationship with the animals around him. He hunted them for food and other needs, and they fight back when cornered, hurt or hungry. Man has always been the predator, and animals the prey.
But every now and then, nature screws things up, reversing their roles with ugly and deadly consequences. Here are 10 examples of such aberrations:
1. Lions of Njombe, Tanzania
In 1932, a pride of lions in the town of Njombe, Tanzania went on a killing spree after a witchdoctor reportedly cast a spell on them to kill his own people after he was removed from his post.
The pride was said to have killed more than 1,500 tribesmen.
The killing stopped when George Rushby, a famous hunter, started killing lions in the area (he killed 15), driving the pride away.
2. Two Toed Tom
This four and a half meters alligator terrorized the residents living along the swamps bordering Florida and Alabama in the 20s. It got its name after having lost all toes in his left paw, except two, from a trap.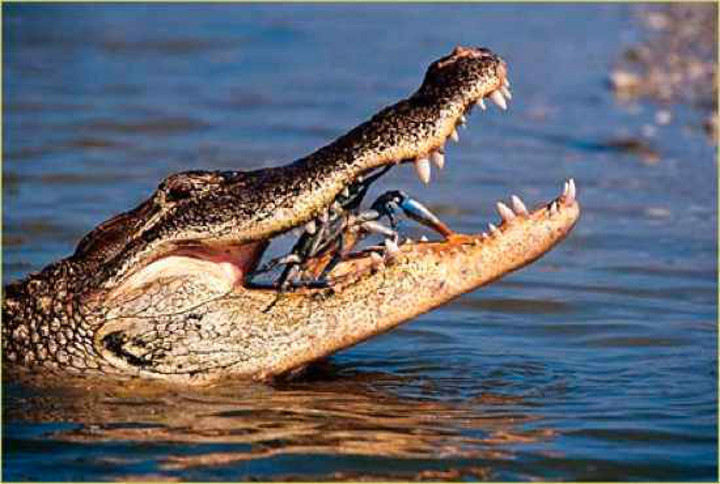 He became a nuisance after killing cows, mules and, of course, people. He was hunted vigorously but bullets seemed to have no effect on him, even a bucket of dynamite. Two Toed Tom was never captured or killed. On the contrary, so many people in the 80s reported to have seen a two toed alligator.
3. Kesegake
The Kasegake is the Japanese Brown Bear – the largest and most powerful land predator in Japan.
One such Kasegake went on a killing spree in Sankebetsu, Hokaido, in 1915, in what is considered the "most brutal bear attack in history."
It killed 6 people, including an unborn child, before it was shot and killed by a bear hunter.
When killed, it measured almost 3 meters tall and weighed 380 lbs. Today, it remains the most brutal bear attack in Japan.
4. The New Jersey Shark:
This incident happened when scientists knew little of sharks. They even thought they were harmless. Not this one.
It roamed the waters along New Jersey in 1916, shallow or deep, attacking people. It attacked five people, killing four. In July of that same year, a young female Great White Shark was captured in the Rattan Bay, near the Matawan Creek, where the last three attacks occurred.
Inside its stomach were human remains. However, scientists argued that the last three attacks, occurring in a shallow creek could have been done by a bull shark – the only species of shark that can live in fresh water. White or Bull let science argue over that. What was certain is that the attacks stopped after that capture.
[wp_ad_camp_2]
5. The Bear of Mysore:
Among the species of bears, the Sloth Bear has never been known to kill people, though mauling is common (at least once a week in India).
This sloth bear in the Indian state of Mysore was different. It attacked 3 dozen people, killing 12, finally shot and killed by big game hunter, Kenneth Anderson.
6.  The Beast of Gevauden:
From 1764 to 1787, the French province of Gevauden was terrorized by a "beast" no one ever saw until it was killed in 1767.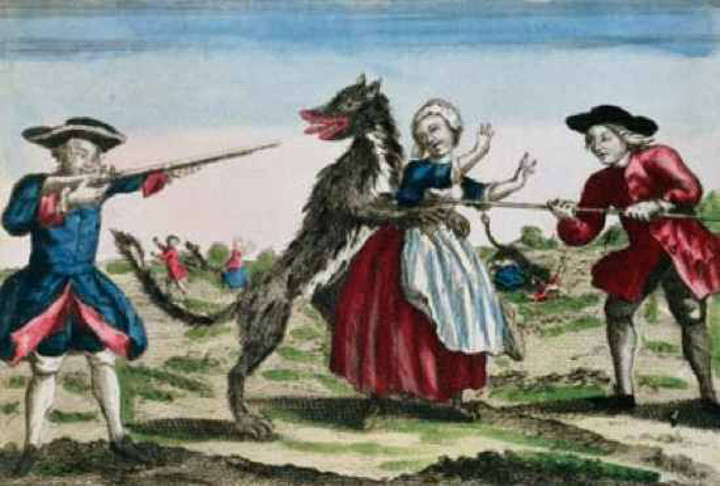 It was described in many ways, e.g., a wolf, though larger than a wolf; it is reddish brown in color with an unbearable smell, and teeth bigger than that of a wolf. What was certain was that it ignored cattle and other domesticated animals. Instead it attacked people – 210 of them, killing 113, eating 98. Its reign of terror ended when Jean Castel, a local hunter, killed it. When opened, human remains were found in its stomach.
7. The Ghost and the Darkness:
These were the names given by the British to two lions in Tsavo, Kenya, which terrorized their railway construction camp in 1898.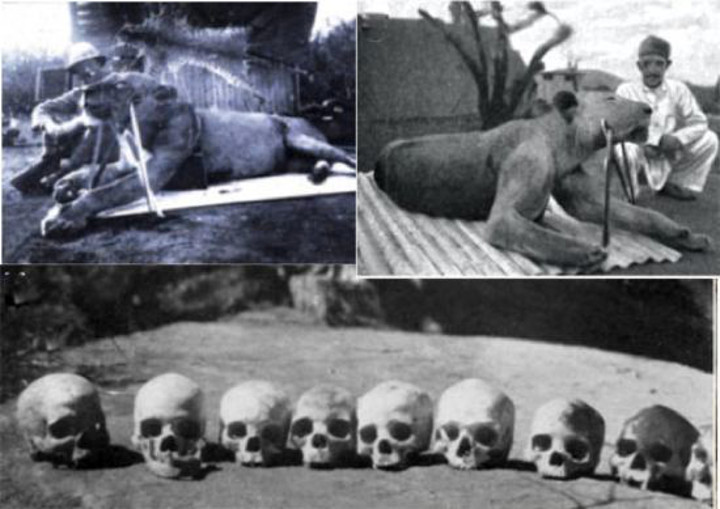 These lions, maneless typical of lions in the Tsavo region, were huge – measuring over three meters long. At first, they attacked the men in their tents at night, then dragged them to the bush and devoured them. Over time, they became bolder and ate the railway workers even inside their tents.
Eventually, the Chief Engineer in charge of the project, John Henry Patterson, decided that the only solution was to kill them (he also came very close to be killed by them). He killed one in December of 1989. Two weeks later, he also killed the other one. Total tally of the deadly duo – 140 people killed
8. The Panar Leopard:
The leopard is the smallest of the true "big cats" but it has a big bite and a voracious man-eater. Fossil studies of our earlier hominid relatives showed leopard bite marks on their bones. This one lived up to its reputation be terrorizing the natives of Panar, in Madha Pradesh, India, in the early 20th century.
It reportedly killed 400 people making it the second most prolific man-eating animals in history. He was killed by famous hunter and conservationist, Jim Corbett, in 1910.
9. The Champawat Tigress:
In the late 19th century, a Nepalese region close to the Himalayas was terrorized by the most notorious and prolific man-eater of all time – a female Bengal tiger.
Man, woman, or child, by the dozens, were ambushed and killed by this dreaded beast.  She seemed to be always hungry that her victims reached 200. Hunters were sent to track her down, to no avail. In desperation, the Nepalese government sent in the army to hunt her. Still she evaded them.
But she fled to neighboring India, and there, in Champawat continued her rampage. Every kill she made, made her bolder, eventually attacking villages even in broad daylight.
Ultimately the Indian government had enough of this tiger and sent in Jim Corbett (the guy who killed the Panar leopard). Jim tracked her by following her trail of the blood, guts and severed limbs of her latest victim. She was killed in 1911, but not until having killed 436 people.
10.  Gustav:
Somewhere in the marshes of Burundi, Africa, lies hidden Gustav, a giant Nile crocodile who, to date, has killed more than 300 people.
While all the man-eaters featured above are already dead or retired, Gustav is pretty much alive, waiting, to make another grisly kill. "Gustav" is a name given to this 6 meter long, 1 ton, killing machine by Patrice Faye, a French naturalist who has spent years trying to capture Gustav.
What is terrifying about this monster is that it kills for fun, not just for food. It attacks several people in one raid, and then disappears for months, even years, only to reappear and kill again. He is Public Enemy # 1 in Burundi at present.
Joseph Dabon also writes for www.cebureviews.org.