Americans call it the "Vietnam War." The Vietnamese refer to it as the "American War" that dominated 30 years of Vietnam's history. The struggle started with communists fighting the French colonial power in the 1940s, then the US military intervened in 1965. The war ended with the withdrawal of U.S. forces in 1973 and the unification of Vietnam under Communist control 2 years later.
More than 3 million people, including 58,000 Americans, were killed in the conflict.
1. Written on the helmet "I'M NOT A TOURIST, I LIVE HERE" and "GOD IS MY SHOTGUN" taken in Khe Sanh, South Vietnam (April 12, 1971)
2. A medevac off Mutters Ridge, 2nd Bn 3rd Marines.
3. A Navy lieutenant aims his flaming arrow at a hut across the river that conceals a Viet Cong bunker.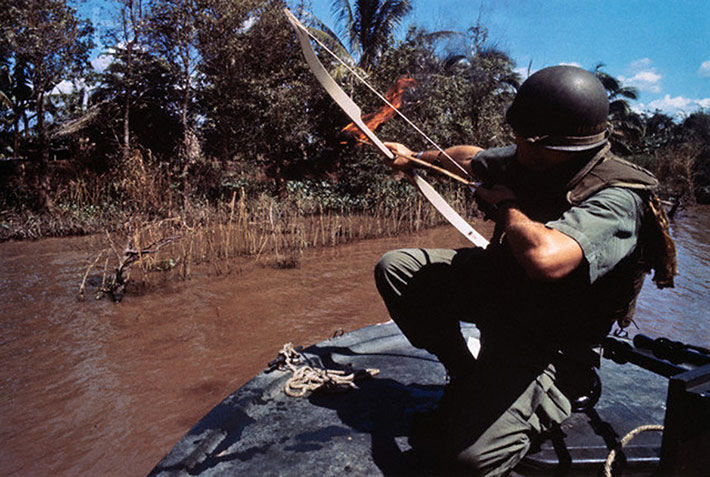 4. Three American marines sleep atop ammunition boxes during a pause in the fighting at Gio Linh on April 2, 1967, just south of the demilitarized zone in Vietnam.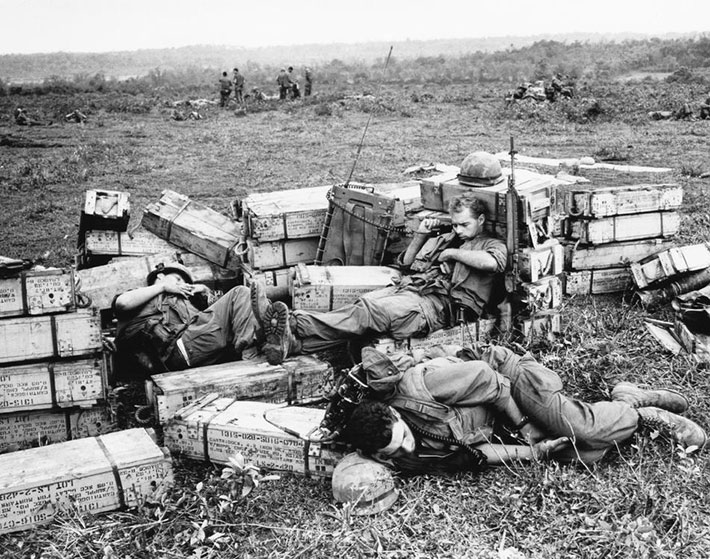 5. Marines of Delta 1/5 caring for their wounded at HUE, 1968
[wp_ad_camp_1]
6. Rare picture of an HH-43 Pedro evacuating casualties during operation Abilene.
7.
8. B-52 Vietnam war
9.
10. Soldiers who bravely go into the Vietcong tunnels are called "tunnel rat". Pictured here was Melvin Sherrell, killed in action [KIA] (December 13, 1966)
11. A medevac off Mutters Ridge, 2nd Bn 3rd Marines
12. An RTO guides a Chinook delivering a sling load of materials and supplies at Fire Support Base Pershing, near Dau Tieng. Name and date unknown.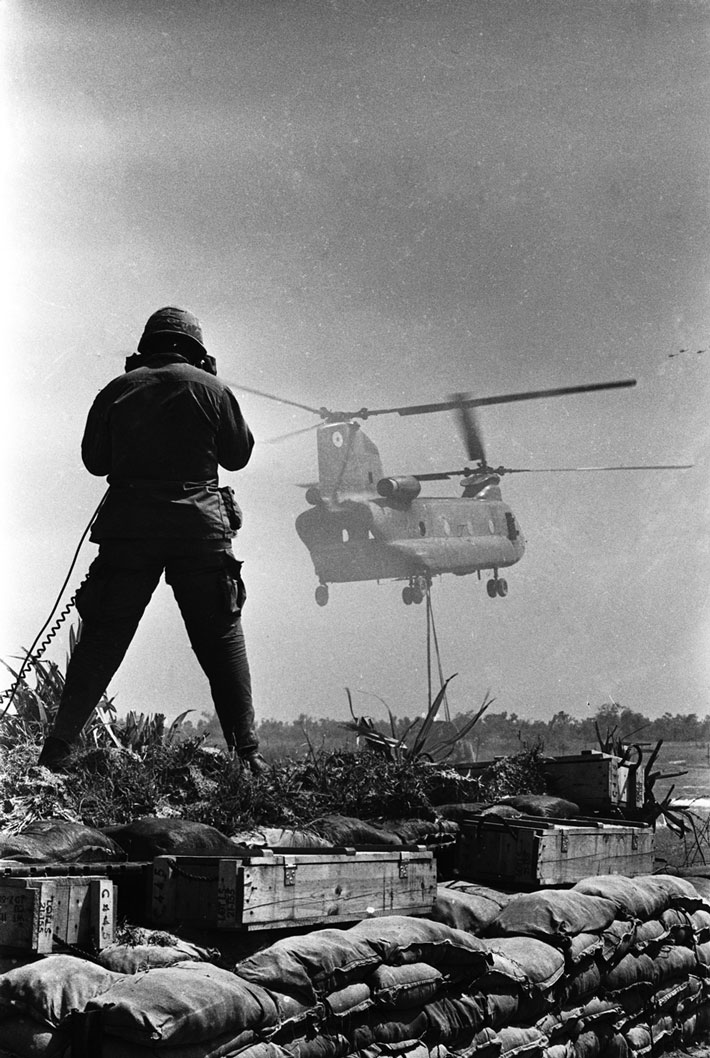 13. A LRRP team leader, unit D, 1st Squadron, 4th Cavalry, 1st Infantry Division makes it signals his men during a patrol in 1967.
14. M551 Sheridan of the 11th Armored Cavalry Regiment
15. American soldiers after burning a village
16. A young Marine goes into battle, Vietnam, 1965
17. American F-4C Phantom jet streaming contrails from wingtips while regaining altitude after bombing small village known to be a Vietcong stronghold during Vietnam War.
18. American infantrymen look up at the tall jungle trees seeking out Viet Cong snipers firing at them, June 15, 1967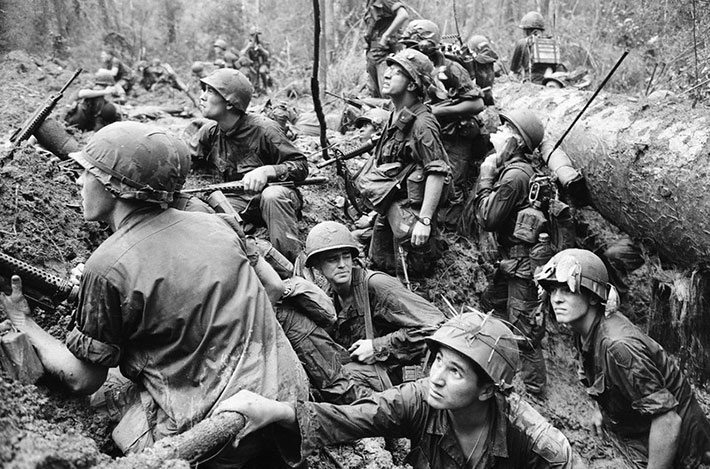 19. U.S. Army 2nd Lt. R.C. Rescorla, Platoon Leader of 2nd Battalion, 7th Cavalry Regiment, 1st Cavalry Division – Ia Drang Valley, South Vietnam, November 16, 1965
Born in England, he first served in the British Army, then joined the U.S. Army. Rick Rescorla, who was head of security for banking firm Morgan Stanley Dean Witter, is credited with saving 2,700 people by making sure they left the World Trade Center's South Tower before it collapsed. He was killed when he went back in to rescue more people.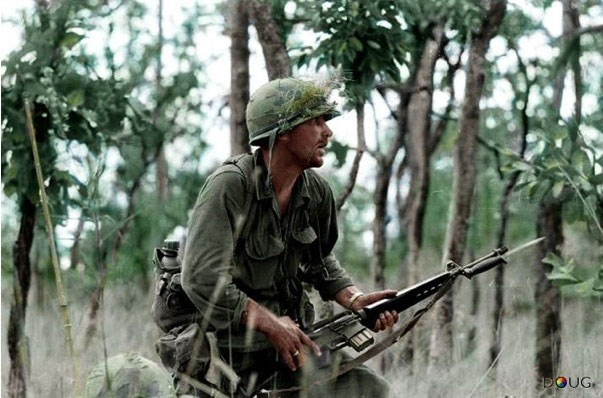 20. Getting very "short," a 1st Air Cav trooper near Bong Son keeps close track of his last remaining days in Vietnam
21. LCpl William G. Cox emerging from a VC tunnel discovered in the Batangan Peninsula. When mapped, it was over 158 yards long and two levels deep.
22. Operation "Billings" Medic from the 1st Battalion, 16th Infantry, 1st Infantry Division, searches the sky for a Medevac helicopter to evacuate a wounded buddy, following air assault into LZ Rufe in June 1967.
23.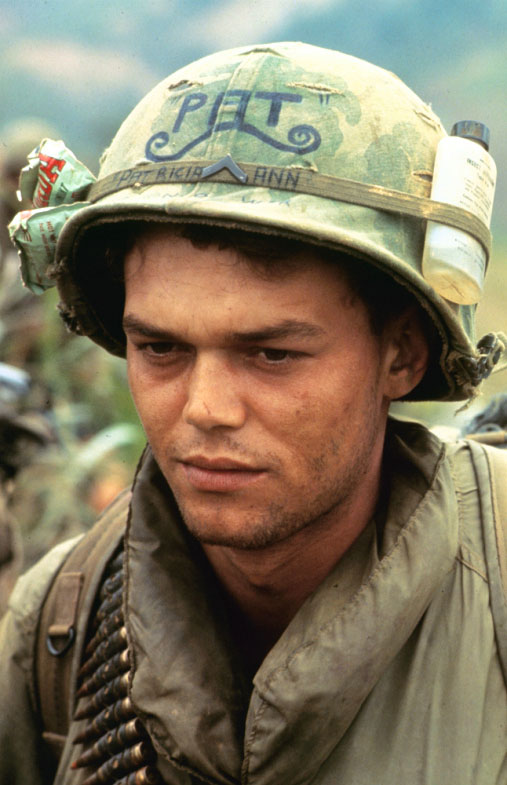 24. A U.S. military helicopter sprays Agent Orange over Vietnam in this undated photo from the war.
25. South Vietnam, March, 1968: A U.S. Marine's helmet tells a story during the prolonged assault by Viet Cong forces on the base at Khe Sanh. John Olson, Stars and Stripes
26. A US Marine sniper team at work in Khe Sanh, South Vietnam, February 1968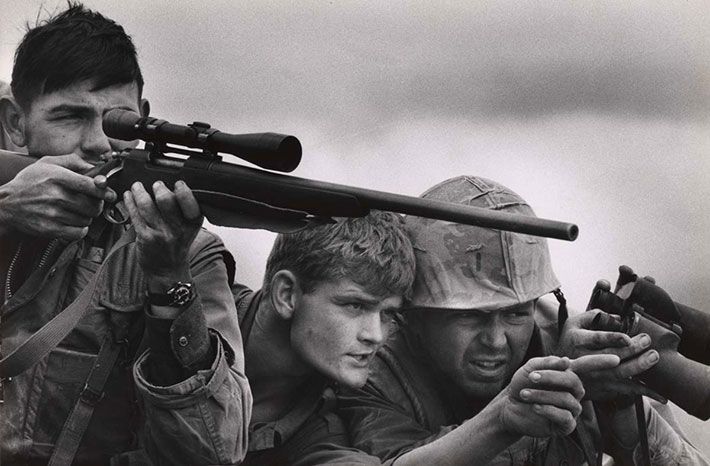 27.
28. The M60 gunner who looks more than tired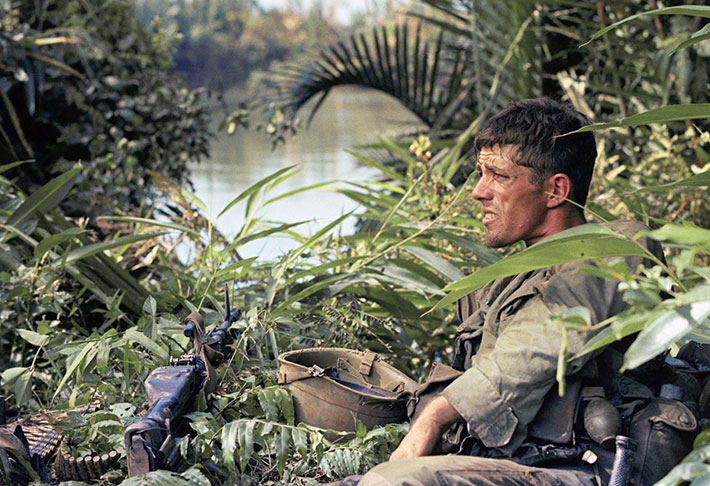 29.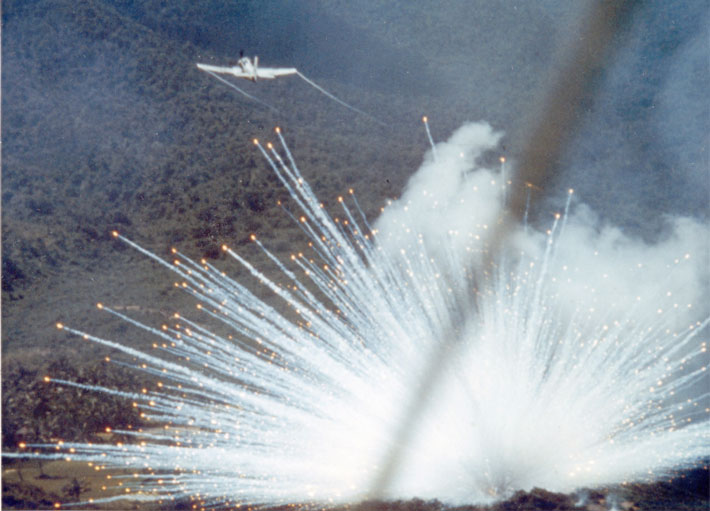 30. A Navy lieutenant aims his flaming arrow at a hut across the river that conceals a Viet Cong bunker.
31. A fast patrol craft on Cai Ngay canal during the Vietnam War in 1970
32. A dated close call
33. An exhausted marine sobs after carrying wounded and dead marines from a battle on An Hoa Island, South Vietnam, July 9, 1965
34. American soldiers in Vietnam keep a lookout over Da Nang airforce base on November 1, 1965
35. 101 paratrooper hanging ammunition for M60 machine gun to keep it clean and dry
36. John Kerry, 27-year-old former navy lieutenant who heads the Vietnam Veterans Against the War (VVAW), receives support from a gallery of peace demonstrators and tourists as he testifies before the Senate Foreign Relations Committee in Washington, D.C., April 22, 1971.
37. Police in Da Nang cover the eyes of a woman who was an alleged member of a Viet Cong terrorist unit on Oct. 26, 1972. The woman was captured carrying 15 hand grenades, during the previous night's battle in Da Nang.
38. Wounded U.S. paratroopers are helped by fellow soldiers to a medical evacuation helicopter on Oct. 5, 1965. Paratroopers of the 173rd Airborne Brigade's First Battalion suffered many casualties in the jungle of South Vietnam's "D" Zone, 25 miles Northeast of Saigon.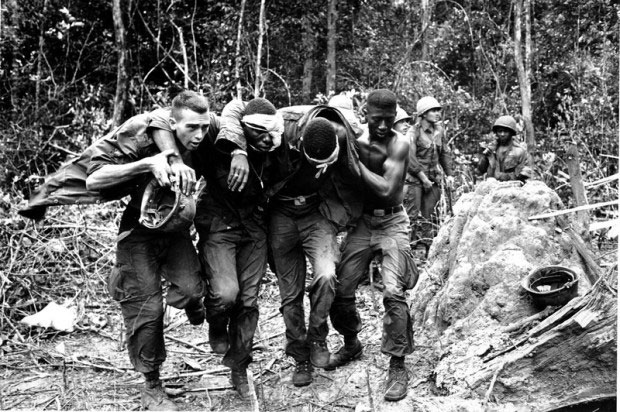 39. A U.S. B-52 stratofortress drops a load of 750-pounds bombs over a Vietnam coastal area during the Vietnam War, Nov. 5, 1965.
40. Women and children crouch in a muddy canal as they take cover from intense Viet Cong fire at Bao Trai in January of 1966, about 20 miles west of Saigon, Vietnam.
41. U.S. Army helicopters providing support for U.S. ground troops fly into a staging area fifty miles northeast of Saigon, Vietnam in January of 1966.
42. A U.S. Marine CH-46 Sea Knight helicopter comes down in flames after being hit by enemy ground fire during Operation Hastings, just south of the Demilitarized Zone between North and South Vietnam, July 15, 1966. The helicopter crashed and exploded on a hill, killing one crewman and 12 Marines. Three crewman survived with serious burns.
43. An American F-105 warplane is shot down and the pilot ejects and opens his parachute in this photo taken by North Vietnamese photograper Mai Nam on September 1966 near Vinh Phuc, north of Hanoi. The pilot of the aircraft was taken hostage and held in a Hanoi prison from 1966 to 1973.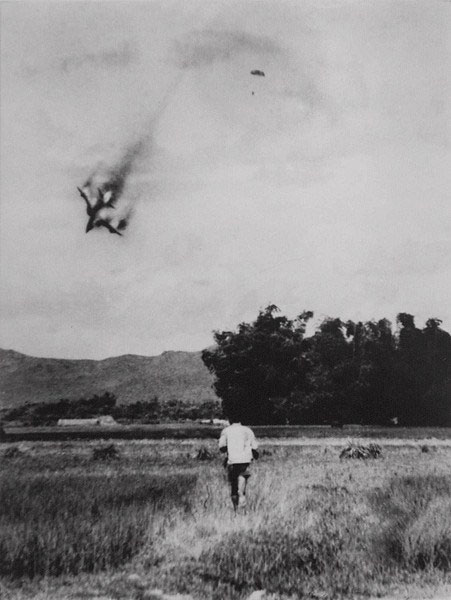 44. Empty artillery cartridges pile up at the artillery base at Soui Da, some 60 miles northwest of Saigon, at the southern edge of War Zone C, on March 8, 1967.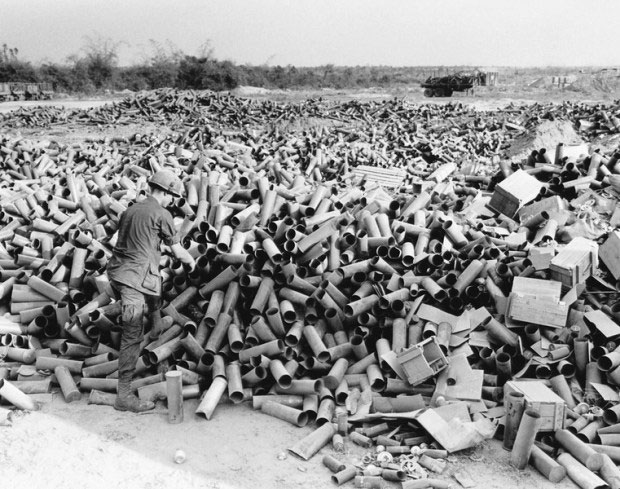 45. A U.S. Marine shows a message written on the back of his flack vest at the Khe Sanh combat base in Vietnam on Feb. 21, 1968. Khe Sanh had been subject to increased rocket and artillery attacks from the North Vietnamese troops in the area.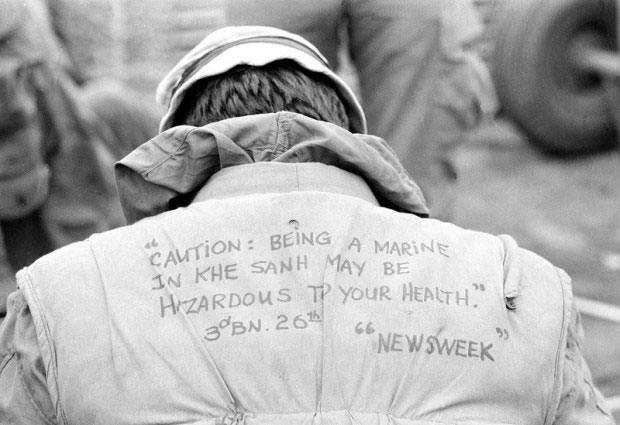 46. South Vietnamese parents with five children ride along Highway 13, fleeing southwards from An Loc toward Saigon on June 19, 1972.
47. Lightly-wounded civilians and troops attempt to push their way aboard a South Vietnamese evacuation helicopter hovering over a stretch of Highway 13 near An Loc in Vietnam on June 25, 1972.
48. Weary after a third night of fighting against North Vietnamese troops, U.S. Marines crawl from foxholes located south of the demilitarized zone (DMZ) in Vietnam, 1966. The helicopter at left was shot down when it came in to resupply the unit.