Introduction
The Android Black Screen of Death, or BSOD, is a frustrating problem that may sometimes occur, leaving users upset and perplexed. This mysterious issue happens when the screen of your Android cellphone turns entirely dark/black, leaving it unresponsive. It might be upsetting to be confronted with a phone that won't show anything or a tablet that has gone black in the need of hour.
In this detailed article, we will dive into the causes of this android screen black issue and give you nine viable options to renew your Android smartphone from the black screen of death. Keep reading to know more!
Part 1: What Is the Android Black Screen Of Death?
The Android Black Screen of Death, often known as BSOD, is a frustrating problem that Android device owners face when their displays go blank and unresponsive. In contrast to conventional PC BSODs, which often show error messages, Android BSODs appear as a black screen with no visual information. It's as though your smartphone has fallen into a black hole.
This perplexing problem may impact a variety of Android devices, including smartphones and tablets. Various factors, including software problems, hardware issues, or damaged programs, can be the root  cause. The first step in repairing this issue is identifying the main cause, and in the following parts, we will look at 9 practical techniques to fix the Android Black Screen of Death and revive your device.
Part 2: 9 Ways to Fix Android Black Screen
Below, we've identified 9 efficient fixes for resolving your Android smartphone frozen due to the perplexing black screen problem. Please follow these steps carefully since they address several probable causes of the problem.
1. Reboot Your Device
Rebooting your Android smartphone is a simple but successful method for solving temporary issues and restoring the regular performance of your Android device; follow the steps below:
Step 1. Hold the power button down until the device menu opens.
Step 2. Choose "Restart" or "Reboot."
2. Charge Your Device
A depleted battery may sometimes cause a blank screen. Before going, make sure your device is fully charged. Then perform the steps below:
Step 1. Use a functional cable and adapter to connect your device to a charger.
Step 2. Wait a few minutes for the charging screen to show.
3. Force Restart
A force restart may be lifesaving when a gadget becomes unresponsive. It restarts the device without impacting your data. Follow the steps below:
Step 1. Find the force restart button combination for your device. Most Android smartphones hold the power key and volume down key simultaneously.
Step 2. Hold buttons for 10-15 seconds until the gadget vibrates or shows the manufacturer's logo.
Step 3. Press and Hold for a few minutes, and your device will restart.
4. Remove the Battery (if possible)
This method may successfully fix Android's black screen of death caused by battery-related malfunctions on devices with replaceable batteries.
Step 1. Power off your device.
Step 2. Remove the Battery by opening the device's rear cover.
Step 3. Wait about 30 seconds.
Step 4. Replace the Battery and turn on the device.
5. Safe Mode Boot
Booting your Android smartphone into Safe Mode may assist in determining if third-party software is causing the black screen issue. Follow the steps below:
Step 1. Hold the power button down until the device menu opens.
Step 2. Long-press the "Power off" option until a prompt to enter Safe Mode appears.
Step 3. Confirm the action and wait for the device to enter Safe Mode.
Step 4. If the device works properly in Safe Mode, a third-party program might be at blame.
6. Wipe Cache Partition
Cache file accumulation may occasionally cause system difficulties, such as the black screen. This may be resolved by clearing the cache partition.
Step 1. Switch off your device.
Step 2. Hold down the volume and power buttons at the same time.
Step 3. Navigate to "Wipe Cache Partition" using the volume buttons and confirm with the power button.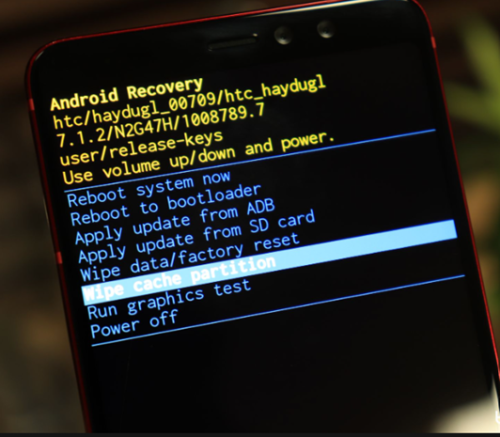 Step 4. After finishing, click "Reboot system now."
7. Perform a Factory Reset (Backup Data First)
A factory reset may be necessary as a final option to remedy persistent black screen difficulties. Before you begin, backup your data since this operation erases everything. Follow the steps below:
Step 1. Navigate to the settings menu on your Samsung device.
Step 2. Select "System" > "Backup and Reset" > "Factory data reset."
Step 3. Confirm the action and follow the directions on the screen.
Also Read : How to make a pocket generator to charge your phone
8. Use Dr.Fone – System Repair (Android)
Dr.Fone – System Repair (Android) is a dependable and effective software solution for resolving various Android system issues, including the Android black screen of death. It has an easy-to-use interface and does not need technical knowledge. You might have to flash Samsung device via Dr.Fone to solve this problem. To resolve your Android Screen Black issue, follow the steps below:
Step 1. Download and install Dr.Fone on your PC.
Step 2. Launch the application and choose "System Repair."
Step 3. Using a USB cord, connect your Android handset to the computer.
Step 4. Choose the correct repair mode for your problem (in this example, "Android Repair").
Step 5. To begin the repair procedure, follow the on-screen instructions.
Step 6. Once done, your Android smartphone should no longer have a dark screen.
In addition to these options, Wondershare Dr.Fone offers professional help in fixing iOS Update problems and a simple method to back up iPhone. Dr.Fone streamlines the procedure with its user-friendly interface and strong capabilities, guaranteeing that your Android smartphone functions smoothly and that the vital data on your iPhone is protected.
9. Seek Professional Repair
Suppose none of the preceding ways work, and your device is still stuck on a black screen. In that case, it's necessary to call a professional technician or the device's manufacturer for hardware diagnostics and repair.
Conclusion
These 9 fixes provide a thorough Android Black Screen of Death solution. Depending on the severity of your problem, you have several choices to consider, ranging from basic restarts to comprehensive software solutions such as Dr.Fone – System Repair (Android). Always back up your data before performing any factory reset approach, and get expert help if necessary. You may restore your Android smartphone and say goodbye to the confusing black screen problem with patience and the appropriate strategy.