The Tomb of the Unknown Soldier was first built in 1921 to honor soldiers who died in World War I but couldn't be identified. The monument was expanded in 1931 and now honors all unknown soldiers. The Tomb of the Unknowns lies on top of a hill looking over Washington D.C., at the Arlington National Cemetery in Virginia, USA.
Soldiers called 'The Old Guard' from the 3rd Infantry Regiment guarded the tomb. Serving the U.S. since 1784, the Old Guard is the oldest active infantry unit in the military. They keep watch over the tomb every minute of every day, including when the cemetery is closed and in bad weather.
Credit: christianpost.com
The Old Guard does not wear any insignia signifying his rank, out of respect to the dead unknown soldiers. Only the Relief Commander and Assistant Relief Commander do wear insignia when the guard is changed.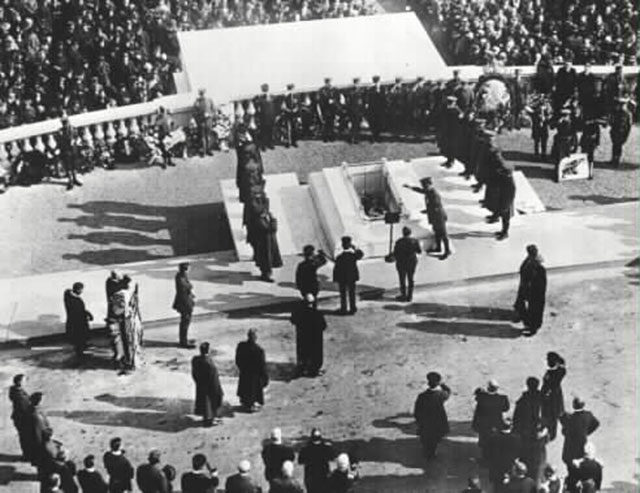 The old guard "walks the mat" in front of the tomb that takes exactly 21 steps, which signifies the 21 gun salute as the highest honor any person can receive. When they reach the end of the black mat on the ground, they never turn their backs on the tomb. Instead, they face it for 21 seconds, and start the waling again. The guard keeps his rifle on the outside arm to show that they are standing between visitors and the tomb they're protecting. The guard does this over and over again, until the Changing of the Guard.
[wp_ad_camp_1]
Depending on the time of year and time of day, the Guards is changed anywhere from 30 minutes to two hours. They work in 24-hour shifts, even when the Tomb is closed to the public. When they aren't guarding the tomb, they're in the living quarters beneath it.
In summer, from April 1 to September 30, the Guard is changed every 30 minutes. In winter, from Oct 1 to Mar 31, it is changed every hour. W At these times the Changing of the Guard is every two hours.
If visitors try to cross the barriers, too noisy, or disrespectful, the Guard will do something about it!
Here's another: