When Robert Wadlow was born on February 22, 1918, he was just a perfectly normal 8.7-pound boy. But on his 1st birthday, Robert Wadlow weighed 45 pounds and stood 3 feet, 3.5 inches tall. Needless to say, his parents Harold and Addie Wadlow and everyone in Alton, Illinois were in awe.
Robert Wadlow's tremendous growth did stop there, he kept growing, eventually towering over his father at age 8. At 13 years old, Wadlow was 7 feet, 4 inches tall.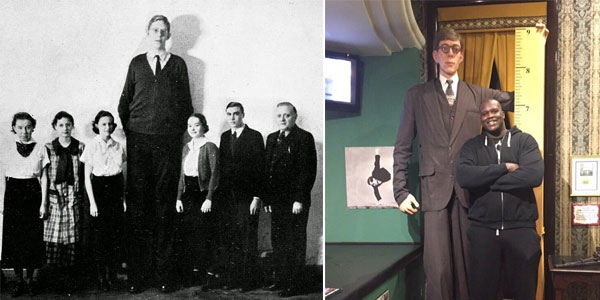 Wadlow was a quiet and mild-mannered young man that led to people calling him a "gentle giant." He enjoyed taking photos and playing the guitar, but his hands grew too large to become a photographer or a guitarist.
Doctors attributed the extraordinary growth of Wadlow to a hyperactive pituitary gland fueling the growth. He later broke the world record as the tallest man ever when he reached 8 feet, 4 inches in 1937.
After his graduation in high school, Robert Wadlow agreed to go on tour with the Ringling Brothers Circus. He later crisscrossed the country to promote the International Shoe Company that provided his size 37AA footwear.
But as he continued to grow, Wadlow suffered from lack of sensation in his legs and feet. He became weak and required leg braces and a cane to walk.
In 1940, his ankle was blistered due to a faulty brace he was wearing that time. It became badly infected. On July 15, 1940, Robert died at the age of 22. The attending doctors measured his height for the last time at 8 feet, 11.1 inches.
Robert Wadlow's body was buried in a 1,000-pound casket carried by 12 pallbearers and 8 assistants. A life-sized bronze statue honoring him still stands in Alton, Illinois today.
Wadlow with his mother and brother (1935)
IMAGE: ULLSTEIN BILD/GETTY IMAGES
Wadlow at age 10 (c. 1928)
IMAGE: IMAGNO/AUSTRIAN ARCHIVES/GETTY IMAGES
Wadlow at age 17 with his brothers (1935)
IMAGE: IMAGNO/AUSTRIAN ARCHIVES/GETTY IMAGES
[wp_ad_camp_1]
Celebrating his birthday in 1939
IMAGE: ULLSTEIN BILD/GETTY IMAGES
The Wadlows at dinner (c. 1938)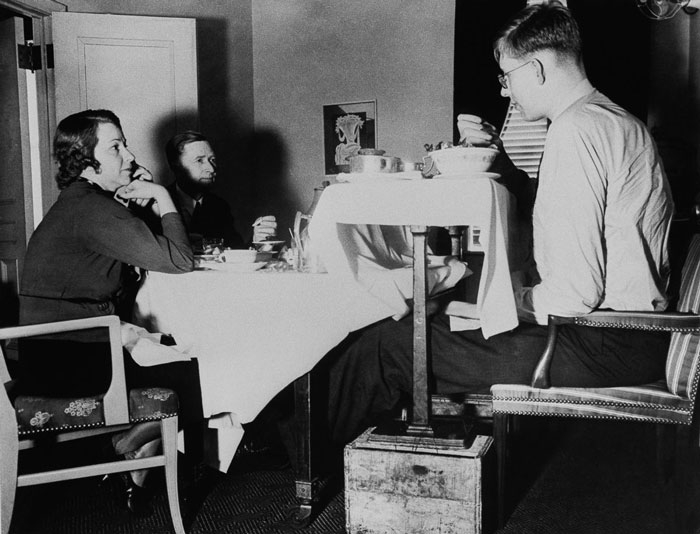 IMAGE: KEYSTONE-FRANCE/GAMMA-KEYSTONE/GETTY IMAGES
April 15, 1937
IMAGE: KEYSTONE-FRANCE/GAMMA-KEYSTONE/GETTY IMAGES
Wadlow travels aboard the Queen Mary (April 1937)
IMAGE: KEYSTONE-FRANCE/GAMMA-KEYSTONE/GETTY IMAGES
Wadlow is fitted for a jacket (1939)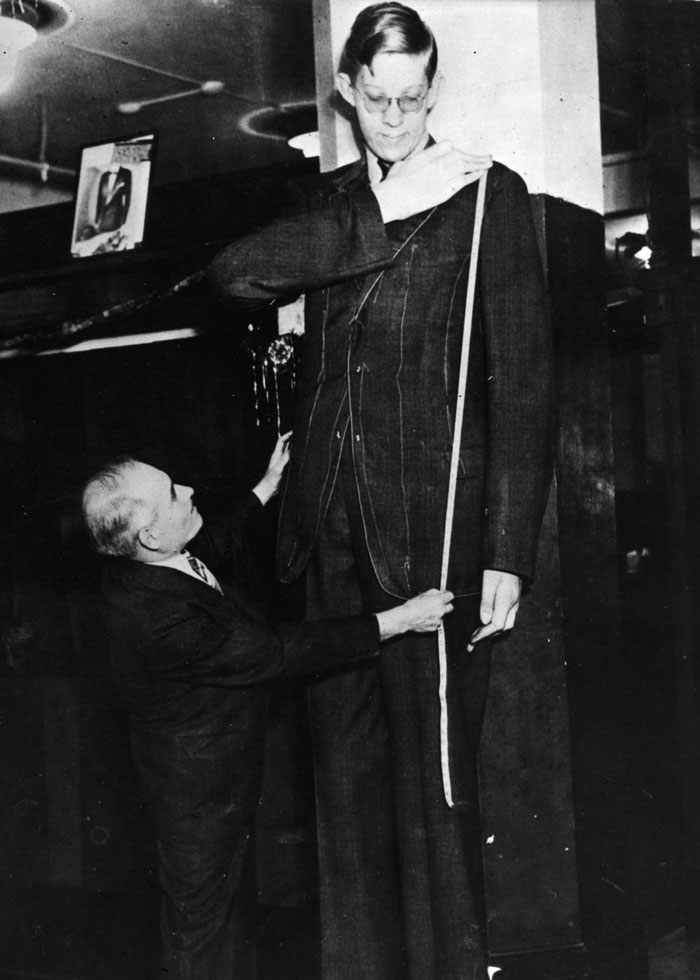 IMAGE: KEYSTONE/GETTY IMAGES

April 1937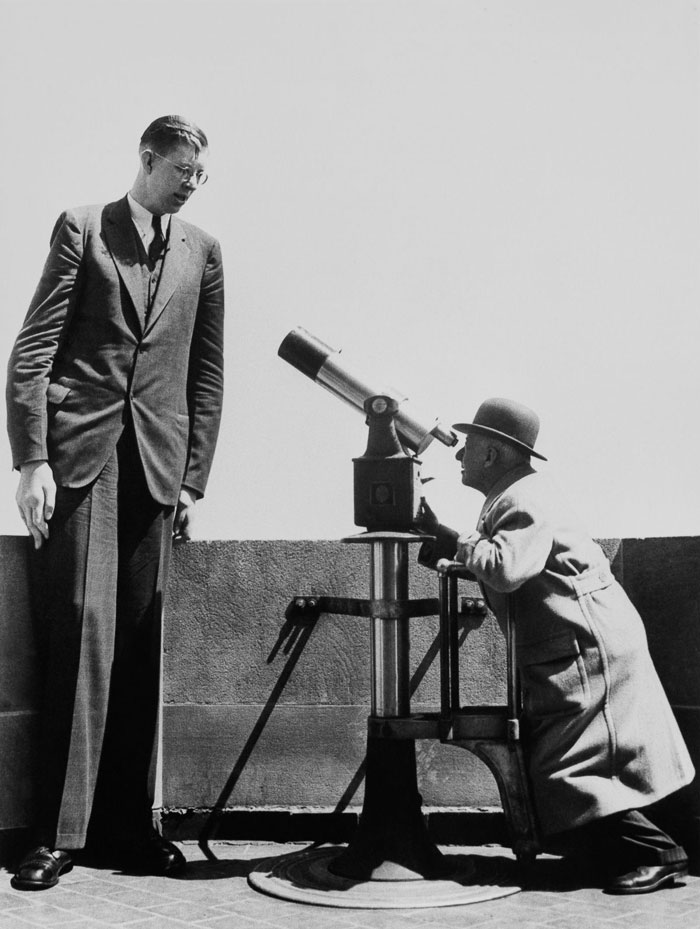 IMAGE: KEYSTONE-FRANCE/GAMMA-KEYSTONE/GETTY IMAGES
"Major Mite" of the Ringling Brothers Circus compares hand sizes with Wadlow (c. 1937)
IMAGE: EDDIE JACKSON/NY DAILY NEWS ARCHIVE/GETTY IMAGES
"Major Mite" compares his size 4 shoes with Wadlow's size 36 (c. 1937)
IMAGE: EDDIE JACKSON/NY DAILY NEWS ARCHIVE/GETTY IMAGES
In a nod to Gulliver's Travels, performers from Ringling Brother's Circus tie up Wadlow as a means of getting acquainted (c. 1937)
IMAGE: EDDIE JACKSON/NY DAILY NEWS ARCHIVE/GETTY IMAGES
c. 1939
IMAGE: ULLSTEIN BILD/GETTY IMAGES
c. 1939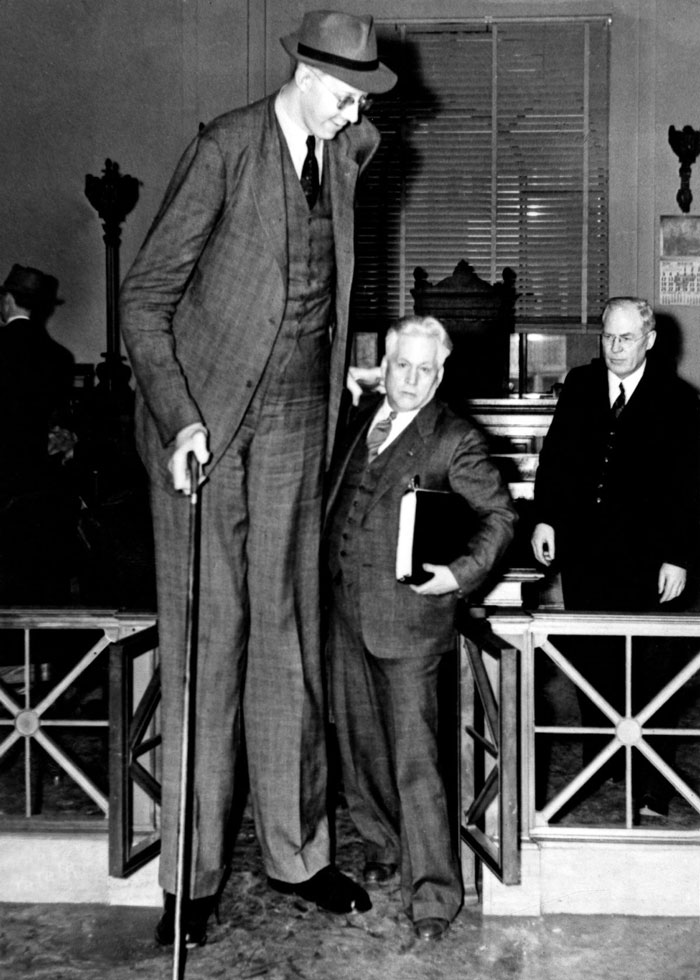 IMAGE: ULLSTEIN BILD/GETTY IMAGES
Wadlow visits an orange grove in Miami, Florida (1940)
IMAGE: KEYSTONE-FRANCE/GAMMA-KEYSTONE/GETTY IMAGES
Wadlow stoops for a drink during a visit to the Daily News offices in New York (c. 1937)
IMAGE: W. HOFF/NY DAILY NEWS ARCHIVE/GETTY IMAGES
c. 1937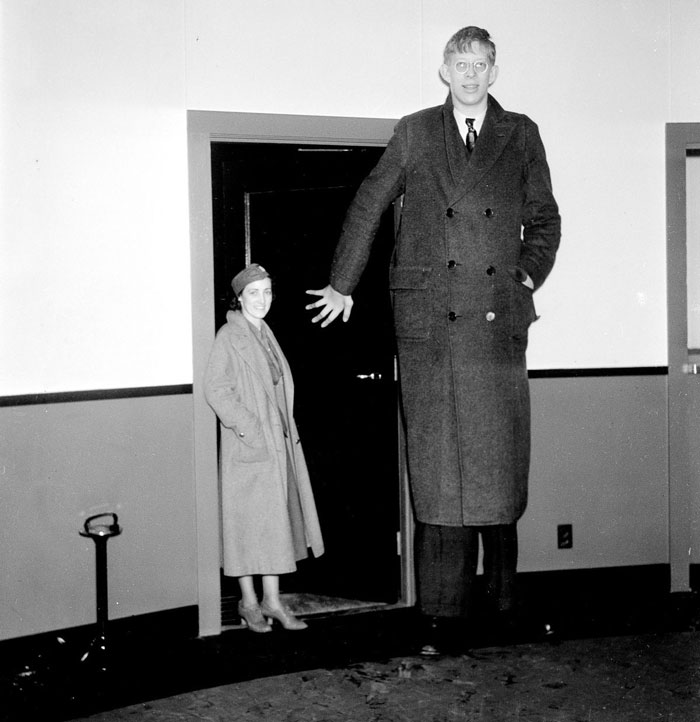 IMAGE: W. HOFF/NY DAILY NEWS ARCHIVE/GETTY IMAGES
Wadlow chats with a friend after appearing at a charity event in Omaha, Nebraska (Apr. 1, 1937)
IMAGE: UNDERWOOD ARCHIVES/GETTY IMAGES