In 1919, special deputies called "Sheriffettes" watched over beaches to monitor the swimwear of the bathers in Queens, New York. Women began to wear towels around their waists or wrap raincoats around themselves when going to the beach.
In Chicago, Illinois, a woman is being arrested for defying a Chicago edict banning "abbreviated bathing suits" on beaches (July 12, 1922)
IMAGE: BETTMANN/CORBIS
Women's swimming costumes during this time were cumbersome, usually with high necks, long sleeves, skirts and pants. Often they were made of wool.
Eventually necklines lowered and arms were uncovered. In the interest of preserving modesty, beach authorities regulated the appearance of swimming costumes, especially the length of the skirts.
One-piece swimming suit was made illegally in many parts of the U.S. In 1908 Kellerman was arrested for indecent exposure at Revere Beach, Boston, Massachusetts.
Chicago policewomen checking for violations of the bathing suit-length laws (1921)
IMAGE: BETTMANN/CORBIS
[wp_ad_camp_1]
"These apologies for skirts endanger the morals of the children. The police must interfere and stop the outrageous proceedings." — THE WASHINGTON POST, 1907
Chicago, Illinois – two bathers being escorted off the beach by a police woman (April 1922)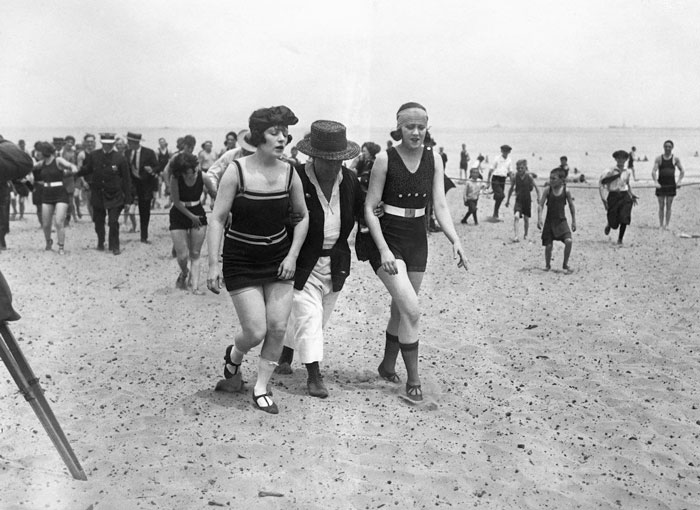 IMAGE: BETTMANN/CORBIS
"The city has no right to tell me how I shall wear my clothes. It is none of their darn business. I will go to jail first." — LOUISE ROSINE, 1921
"Smokey" Buchanan from the West Palm Beach police force, measuring the bathing suit of Betty Fringle on Palm Beach, to ensure that it conforms with regulations introduced by the beach censors (1925)
IMAGE: GENERAL PHOTOGRAPHIC AGENCY/GETTY IMAGES
"It was the long civil war of swimwear." — "SPLASH! A HISTORY OF SWIMWEAR" – RICHARD MARTIN AND HAROLD KODA
Sign posted by police department stating regulations for beachgoers (1941)
IMAGE: ALFRED EISENSTAEDT/PIX INC./THE LIFE PICTURE COLLECTION/GETTY IMAGES
Swimsuits at the beach today.