While your business may be running smoothly enough, there is always room to grow and improve upon the efficiency of your business. Typically, the more efficient a business, the higher the profit they take in, and so how well you run your business can make a big difference in your revenue. Little improvements here and there can go a long way, and save your employees time and stress.  
Here are 5 simple solutions that will help improve the efficiency and effectiveness of your business. 
  1. Use a Task Management Software
Task management software is an excellent way for all employees to visualize and prioritize work they need to do, as well as be aware of what their colleagues have to do. Software such as Trello helps people to work more cohesively and efficiently while being able to track progress and stay on task. It is far easier than going back and forth in email, as this wastes precious time that could be put into better things. 
Using task management software also allows you to delegate work more efficiently, as you can assign an employee to a 'task card', and this will send them an automated notification. Additionally, this system will keep employees accountable as everyone can see what they are doing and whether or not they are on track, which will give people that little push to work harder. 
  2. Promote Open Communication
Ideally, you want to have an environment where open communication is welcomed and feels natural. Employees work better when they feel comfortable voicing their concerns, ideas, and general feedback on the business. Research supports this theory as it demonstrates a strong correlation between businesses with a culture of open communication and an increase in productivity and efficiency. 
This culture can lead to better communication between departments which can be a big issue for a lot of business, as fractured communication means things get done slower and miscommunication leads to more error. Ultimately, if you can ensure that employees feel like they have a voice that matters this will go a long way.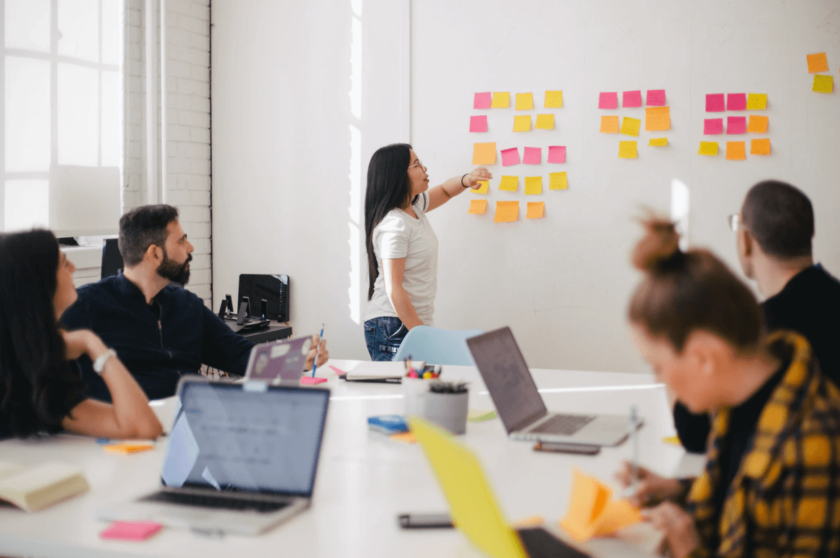 3. Use a Document Management Software
Using a document management software system will significantly improve the efficiency of your business. All businesses need a process of contract management, and opting for a program that is designed specifically to store and manage legal documents, contracts, agreements, and leases can make your life much easier. Not only will the software store and manage everything for you, but it also creates a unified digital workspace. Meaning that all relevant employees can simultaneously access documents regardless of where they are and what time it is. This unique sense of connectivity boosts efficiency within the business. 
  4. Hold a Daily Brief Morning Meeting
A lot of businesses hold a morning meeting that lasts around 10 to 15 minutes, this type of meeting has been coined as a 'Daily Standup'. The idea behind this meeting is that a company or business meet as a whole for a quick catch-up so that everybody is in the loop and people understand what is going on outside of their department. It encourages cross-departmental communication and starts the day productively. The meetings tend to focus on a celebration of milestones/accomplishments, important upcoming dates, and an outline of what each department is focusing on. 
These summaries need to be short and sweet as if they go over too long, people's interest will deplete rapidly. Holding this daily morning meeting will also reduce the need for short and unnecessary meetings, freeing up more time in the day to get on with other work. 
  5. Maintain and Build Morale
Maintaining and building morale in the workplace should always be a priority. It is important for the mental wellbeing of your employees, and how happy they are, will dictate how well your business runs. Small gestures can go a long way, so you could consider implementing 'Fruity Fridays', where you bring in a variety of fruit for employees to enjoy. 
Something as trivial as that can make employees feel valued and appreciate the business they are working for. The more valued employees feel, the harder they work. There has been lots of research to support this, so treat your employees well and they will treat your business well in return.
So there you have it, five simple solutions to help improve the efficiency and effectiveness of your business. Significant change does not happen overnight, however, if you give these solutions time to work, you will see vast improvements in the efficiency of your business. You just need to have a little patience.