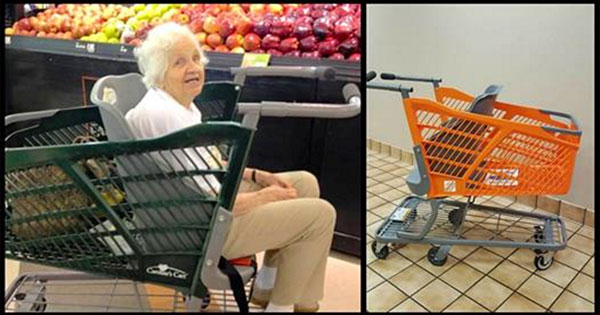 We at Atchuup truly appreciate creative thinkers and innovators in this world, especially those who strive to make our world a better place.
For people who are in wheelchairs and those who are caring for them, moving around or doing even the simplest of tasks can be difficult. It's a real struggle when buying groceries and keeping them comfortable at the same time.
This is kind of struggle that moms like Drew Ann Long knew all too well. After getting frustrated having difficulties taking her daughter with special needs out with her on errands, she decided to take matters into her own hands.
[wp_ad_camp_2]
She was trying to figure out ways to help her run her errands with ease. After some weeks of research, she found out that there's nothing available on the market that could help her.
Disheartened by this discovery, she decided to design her own shopping cart that would help her daughter. Her invention ended up not only helping her family, but many other people struggling with the same problem.
She called her amazing but simple invention "Carolines Cart" (after the name of her daughter), which is sweeping grocery stores around the world, and changing lives.
"It provides parents and caregivers a viable option to transport a child through a store while grocery shopping, without having the impossible task of having to maneuver a wheelchair and a traditional grocery cart at the same time," their website said.
Watch the video below:
What do you think of "Carolines Cart"? We would love to hear from you.
Please make sure to SHARE this post with your friends and family on Facebook.