Prepare to be amazed by nature's spectacular display of 15 heart-shaped islands and lakes that are simply breathtaking. The perfect romantic getaways for celebrating love!

1. Coeur de Voh, New Caledonia
Wikimedia/Bananaflo
Coeur de Voh in New Caledonia is a natural, large landscape formation of mangrove vegetation that resembles a heart which can only be seen from above. It was made famous by Yann-Arthus Bertrand who used an aerial photo of the mangrove for his book "The Earth From Above". In December 2012, a group of mangrove experts visited Coeur de Voh where they discovered the area to be teeming with rich wildlife.

2. Gaislachersee Lake, Austria
Flickr/moxliukas
The crystal-clear Gaislachersee Lake offers its visitors spectacular views of the Ötztal Alps. The lake is located around 8,871 ft in altitude. That's at least a three-hour hike from Sölden, a popular ski resort which regularly hosts the first Alpine Ski World Cup races of the season.

3. Galesnjak, Croatia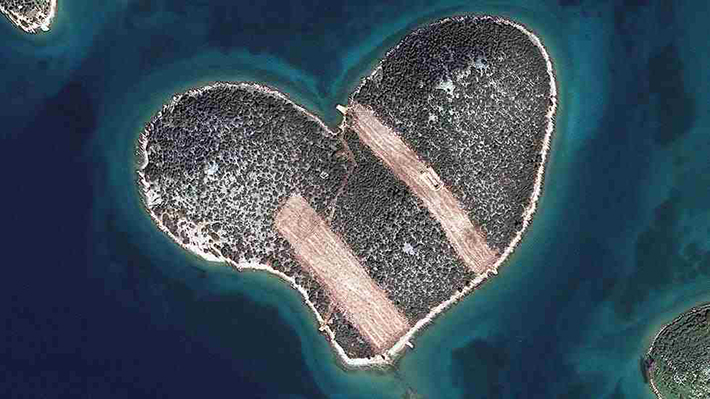 Satellite image, collected February 16, 2013 │ DigitalGlobe via Getty Images
Located in the deep blue waters of the Adriatic Sea, Heart Island (also knowns as Lover's Island) in Galesnjak, Croatia came to the attention of romantics via Google Earth. According to Telegraph, it wasn't long before the owner of the uninhabited island was swamped with requests from couples hoping to stay there.
[wp_ad_camp_2]

4. Heart Lake, Eastern Sierra Nevada Mountains, Calif.
Flickr/mjhbrower
The John Muir Wilderness, which extends along the crest of the Sierra Nevada of Calif. is home to a spectacle of sights including stunning lakes. But near Selden Pass in the John Muir Trail is one many couples especially love to see – Heart Lake. It may be smaller than the others on the trail but is the most "photogenic", especially as its framed by snowy peaks.

5. Heart Lake, Junik Mountains, Kosovo
Wikimedia/Nentori
Located in the Junik Mountains of Kosovo is a heart-shaped lake that has become the favorite of many hikers. Aptly called Heart Lake, this natural wonder offers astonishing scenic views with many other lakes dotting around its area.

6. Heart Lake, Olympic National Park, Wash.
Flickr/Jason Pratt
Heart Lake is the only Washington camping area to make it to the list of the Wilderness Society's top 10 romantic nature outings. It offers stunning views from the old-growth forests to the subalpine meadows.

7. Heart Reef, Australia
Emmanuel Valentin/Gamma-Rapho via Getty Images
Heart Reef is a beautiful composition of coral that has naturally formed into the shape of a heart. Located in the Whitsunday Islands in Australia, and best experienced from the air (by seaplane or helicopter), the reef is perhaps the most photographed location of the Great Barrier Reef and is also Whitsundays' most recognized attraction.

8. Island near Port Chalmers, Alaska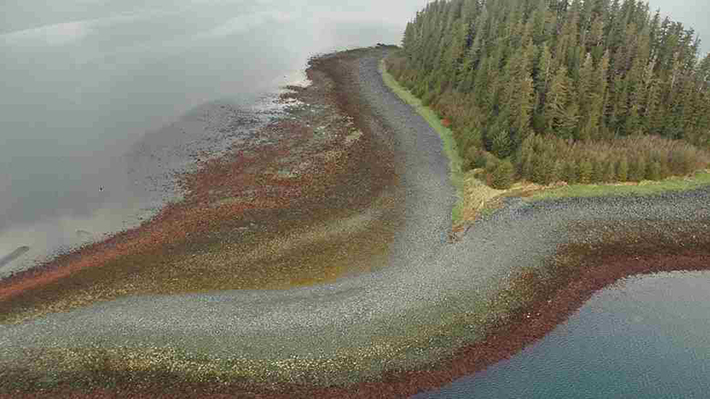 Alaska ShoreZone Program NOAA/NMFS/AKFSC; Courtesy of Mandy Lindeberg, NOAA/NMFS/AKFSC
This heart-shaped island near Port Chalmers is hidden in the beautiful fjords of Alaska. According to the National Oceanic and Atmospheric Administration (NOAA), the tiny island displays the color banding of various bands of marine and terrestrial flora.

9. Lago di Tom, Switzerland
Wikimedia/Tici23
Surrounded by the green peaks of the Ticenese Alps, Lago di Tom is one of the main lakes in the Piora Valley in Ticino, Switzerland. The lake offers one of the region's most scenic views and is popular among hikers.

10. Lake near Chembra Peak, India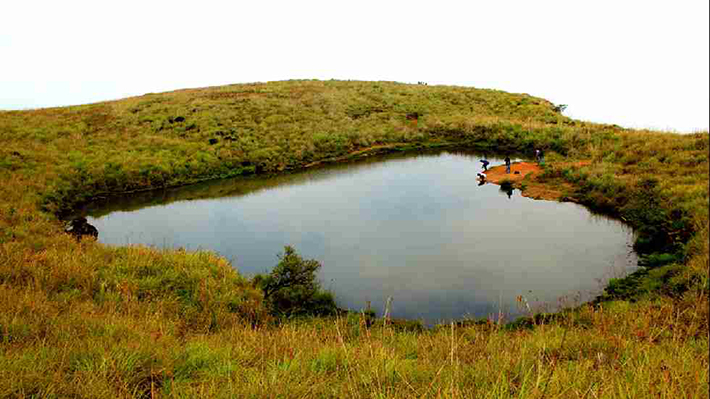 Wikimedia/Tanuja R Y
At 6,900 ft, Chemra Peak is the highest peak in Wayanad, India, making it a popular trek for hikers. But the summit isn't the only favorite attraction in the region. A heart-shaped lake on the way to the top of the peak is also a major tourist spot. According to KeralaTourism.org, the crystal perennial lake is fed by natural springs which helps it brim with water even during the scorching summer months.

11. Makepeace Island, Australia
Makepeace Island
The 9.2-hectare, heart-shaped Makepeace Island is located in the Noosa River on Australia's Sunshine Coast. It is owned by Virgin Group founder Sir Richard Branson which previously used it as his private home and retreat in Australia. Makepeace Island was re-launched as a boutique resort allowing smaller groups to experience the luxury property without renting the entire place.

12. Tavarua, Fiji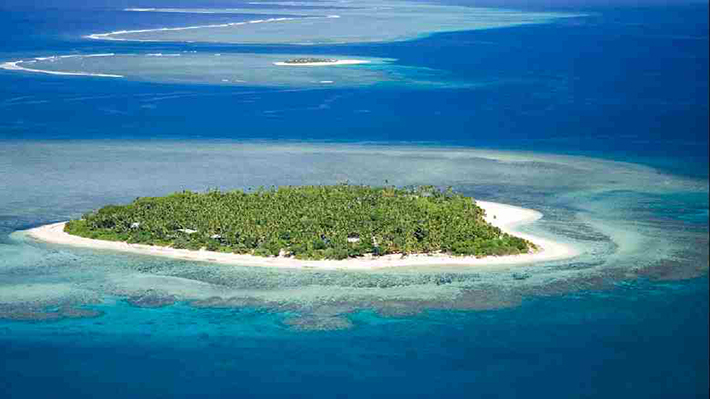 Wikimedia/Tavyland
Tavarua is a heart-shaped island resort in Fiji known for its seven main surfing breaks. It is known in the world to be one of the best surfing destinations and is also home to the surfing world's most famous breaks – the Cloudbreak. Aside from surfing, Tavarua also offers other vacation activities including scuba diving, fishing, and snorkeling.

13. Trnovacko Lake, Montenegro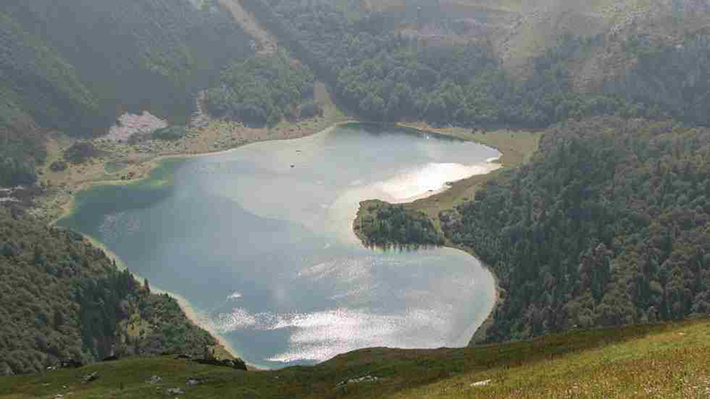 Wikimedia/NH53
Trnovacko Lake, located at the Bosnian-Montenegro border, is best-known for its heart shape which is not only popular with local summer campers, but with couples as well. The green-blue lake is 2,300 ft long and 1,300 ft wide set amidst a "huge amphitheater of rocky peaks." According to the Cross-Border National Parks, it is one of the most photographed locations in the region.

14. Tupai, French Polynesia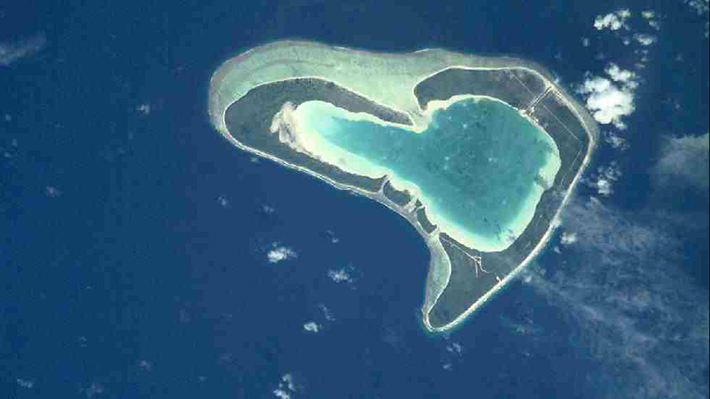 NASA Astronaut Image
Tupai is a tiny atoll located just north of Bora Bora in French Polynesia. For years, several couples would fly to the island to experience a romantic getaway and / or get married. Yes, it is a popular wedding spot.

15. Valentine Lake, Canada
Flickr/Tim Gage
The scenic Valentine Lake is located near Saxifrage Peak in British Columbia, Canada. The heart-shaped lake offers a beautiful spot to camp for hikers.

Via Weather