Known for his captivating underwater sculptures such as the Grenada Underwater Sculpture Park and the underwater museum off the coast of Cancún, Mexico, underwater sculptor Jason deCaires Taylor once again astounds us with his latest masterpiece, the Rising Tide.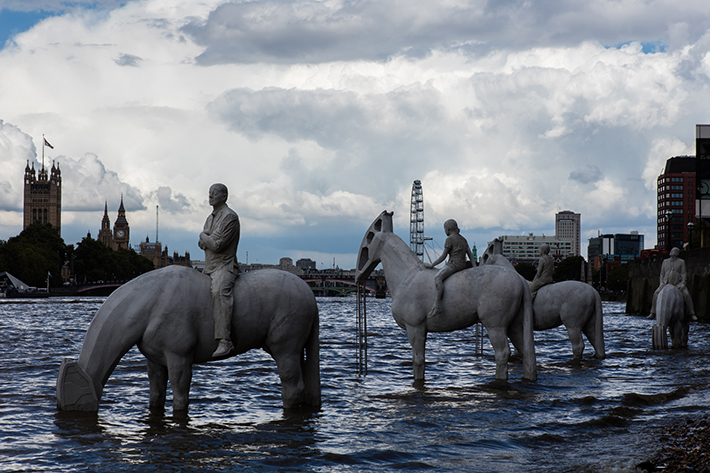 www.mnn.com
Installed near the bankside of Vauxhall bridge and commissioned for the Totally Thames festival, Rising Tide depicts four life-size horses and their riders on the banks of the Thames River in London.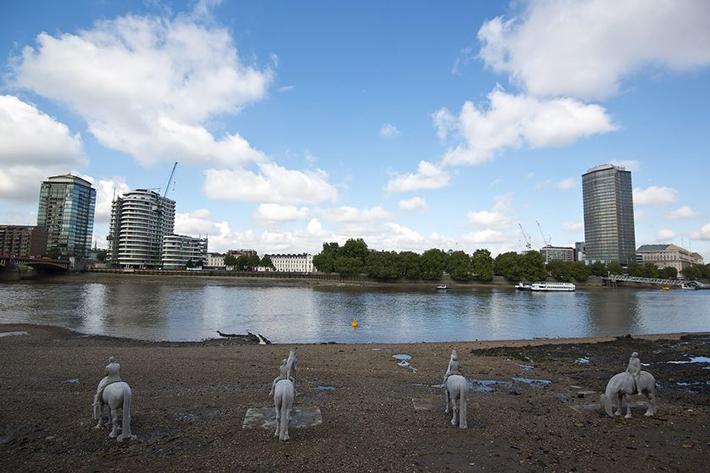 www.mnn.com
Taylor's work can easily go unnoticed at high tide with the sculptures barely cresting above water.
travel.aol.co.uk
But when the water recedes, the British artist's sculptures (made of marine cement and steel) reveal themselves.
www.theatlantic.com
Here's the whole process in a GIF time-lapse to give you the full effect.
Thames Festival Trust
For the past decade, Taylor's work has been motivated by conservation and the environment. And just like his underwater museums (which are designed to draw divers away from the coral reefs' most fragile and delicate parts), the Rising Tide is no different in its political purpose.
"Working in conservation, I am very concerned with all the associated effects of climate change and the state of peril our seas are in at the moment. So here I wanted a piece that was going to be revealed with the tide and worked with the natural environment of the Thames, but also alluded to the industrial nature of the city and it's obsessive and damaging focus just on work and construction", he told The Guardian.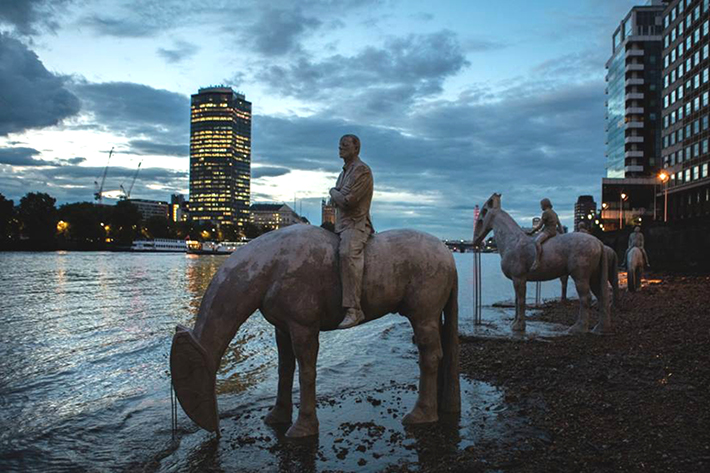 flipboard.com
Taylor's four life-size shire horses sculptures stand as a symbol of the "origins of industrialization but also as a warning for the bleak future it is creating for the world by their representation of the four horsemen of the apocalypse".
Ben Pruchnie/Getty Images
Instead of horses' heads, the sculptures feature heads of oil-well pumps (often referred to as "horse heads"), a not-so-sutble nod to the detrimental impact of fossil fuels.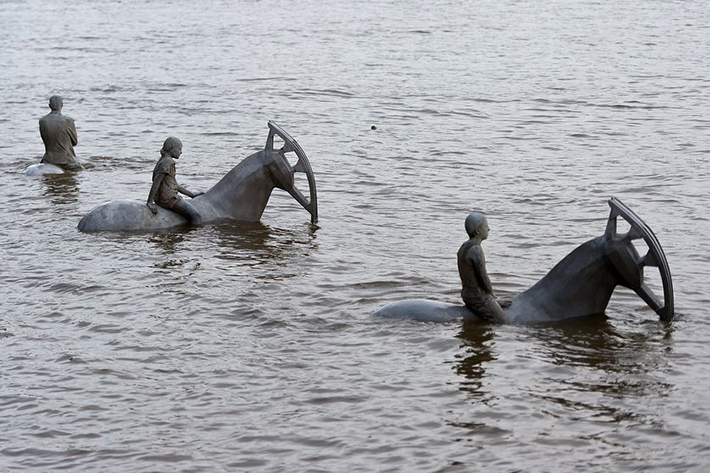 www.mnn.com
Noticeably, two of the riders are dressed in suits which represent politicians and captains of industry which the artist believes aren't doing enough to slow climate change.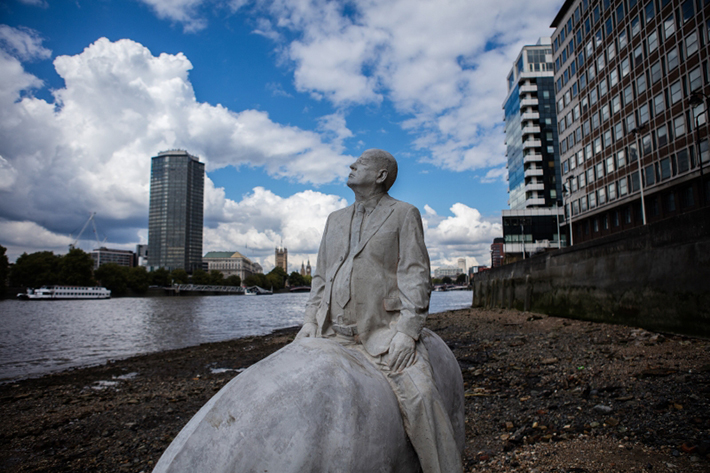 www.cnn.com
The other two riders are children which represent the generation who will most likely suffer the consequences of our abuse on our natural resources.

jonchoo: Flavors.me
The Rising Tide stands less than a mile from the Houses of Parliament, where lawmakers make key decisions about climate policy. Taylor hopes they take notice. Jason deCaires Taylor's Rising Tide installation closes Sept. 30.
www.timeout.com

H/t Upworthy, The Guardian