Bell-shaped situlae are one of the most common vessels in Greek and the areas around. Despite their commonness though, there are particular things that make some of those vessels a little bit less common compared to the rest. And that is the relief decoration that sometimes adorns them.
An example of this type of a situla belongs to Vasil Bojkov and is part of his large and truly impressive collection of over 3000 pieces from antiquity.
The bronze bell-shaped situla in question is preserved in a very good condition and has a dark green patina. Having a usual ovoid shape, the situla has several interesting elements which adorn the body. Right under the rim runs a line of Lesbian kymation.
On a slight side note, the lesbian kymation represents a continuous ornamental strip that usually consists of heart-shaped leaves, separated by lance-like darts.
Situla with relief figures full view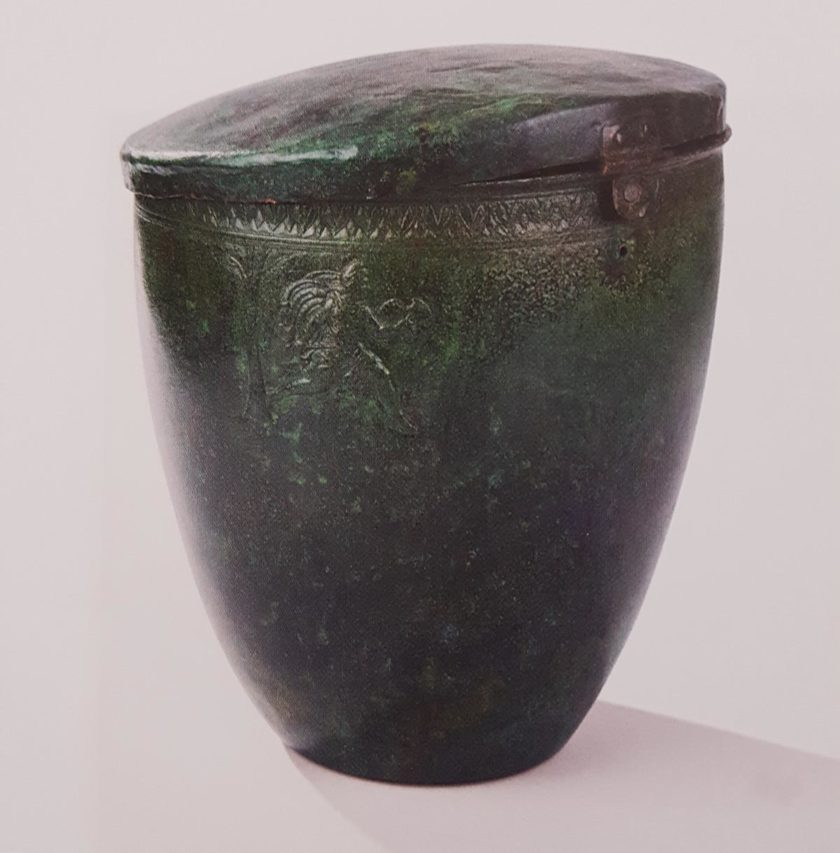 This ornamental strip, though, is not the only pattern that garnishes the piece. There is a whole theme running around the body of the bronze situla. The well-preserved scene contains two relief figures that appear to be running – one of a Greek and one of an Amazon.
The Greek is nude, his garment is wrapped around his left hand and slightly waiving behind him. Instead of looking somewhat static, the image of the Greek seems to move, highlighted by the carefully crafted details. He wears a helmet which is of the Corinthian type and his face is left uncovered. In the right hand, he holds a sword and carries a shield on the left arm.
The running Amazon is depicted in a short chiton with long sleeves covering her arms and slightly tight pants. Once again there is a strong hint of movement subtly represented by the himation that billows behind her back. Her head is covered by a bonnet, her left arm holds a shield and the right hand holds an axe.
Bronze situla relief figures details
The whole scene is highlighted by trees and branches. This landscape so distant from crowded battle scenarios make the two relief figures quite unique.
Something interesting is that this precise choice of representation takes the use of figures even further. They are extracted from larger scenes so the focus is entirely on them. There are no other symbolic or figural distractions.
According to different sources and discussions, situlae with relief decorations have begun to be produced in the latest years of the 5th century BC. This approach though continued on until the third quarter of the 4th century the least. Vassil Bojkov's exemplar is placed at the beginning of the series and dates back to the 400-375 BC.
There are, of course, other examples with interesting scenes shown on the body. A piece in Berlin unveils a scene with Perseus on one side and Medusa on the other. Another piece, this time found in Pastrovo, Bulgaria, shows Dionysus on one side of the situla and a sitting youth in front of a herm on the other.
Many other artefacts, that belong to Vasil Bojkov Collection are kept in different regions and places, including South Italy, Vassiliovo in Bulgaria, Proussias in Asia Minor and more.
[wp_ad_camp_1]