Before these beautiful places reach their expiration dates, you might want to explore them now while you still can. It's sad that humanity cannot enjoy these breathtaking destinations forever. But as we all know, nothing lasts forever. Especially if we keep destroying them.
On a lighter note, these stunning wonders are waiting, better start planning!

1. Galapagos Islands
Tourism is increasing at 12% per year. Hotels, restaurants, and more motor vehicles are taking away from the natural beauty of the once isolated islands. Workers smuggling animals to the islands that compete with the local wildlife for food, and cruise ship that bring rats to the island are also also contributing to the declination of the natural wonders of the Galapagos.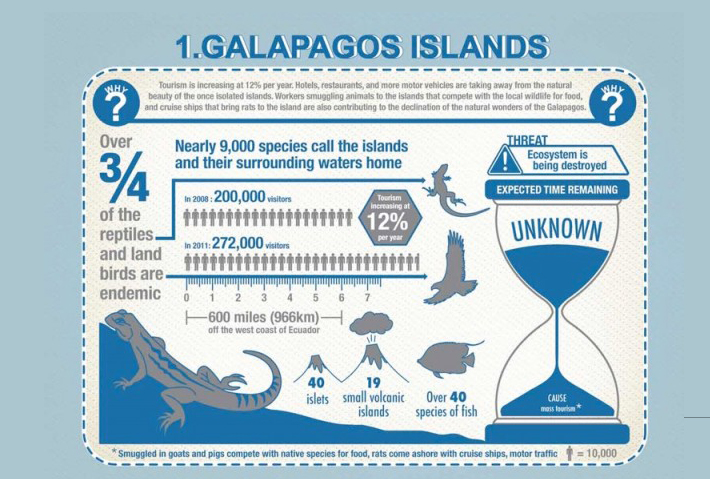 DailyInfographic.com
www.travelingmyself.com

2. The Maldives
Maldives is the world's lowest nation – since 80% of its 1,200 islands are no more than 1m above sea level, within 100 years the Maldives could become uninhabitable. It is so serious that in 2008, the Presidential announced the government would start buying land in other countries, including India, for future homes for citizens displaced by rising waters.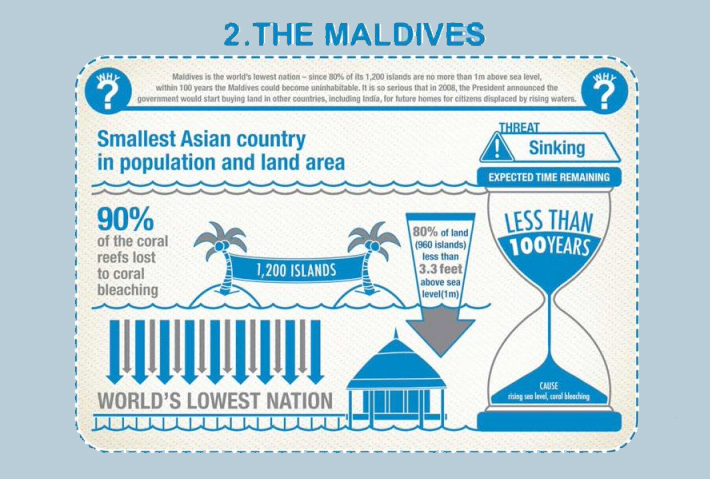 DailyInfographic.com
Malé, capital of the Maldives │ Reddit

3. Great Barrier Reef
Rising ocean temperatures, water pollution ocean acidification and cyclones continually destroy the reef and have caused mass coral bleaching. It is estimated that 60% of the world's coral reefs will be lost by 2030. 8,000 years of natural creation could disappear within our lifetime.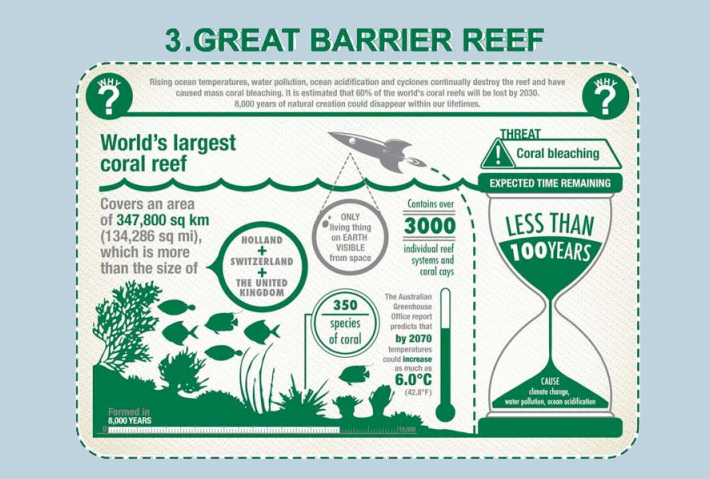 DailyInfographic.com
Wikipedia

4. Venice
Venice has long been sinking, but rising sea levels have made the situation more dramatic. The frequency of floods increases each year, leaving many to wonder how much longer Venice can stay above water. Tourism is also a contributing factor. In 2007, 21 million tourists visited Venice (almost 40 times the size of its population).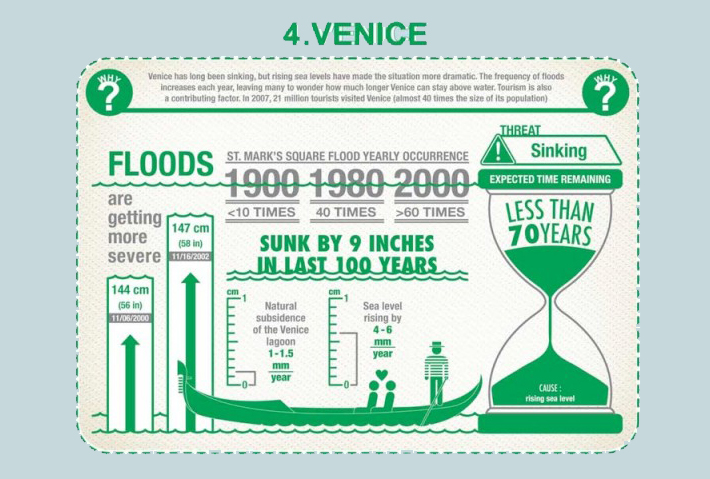 DailyInfographic.com
Expedia

5. The Dead Sea
In the last four decades, the salty lake has shrunk by a third and sunk 80 feet, stranding formerly seaside resorts and restaurants nearly a mile from shore.The Jordan River is the lake's sole source and, as surrounding countries increasingly tap its waters, little reaches the Dead Sea, which could disappear in 50 years.

DailyInfographic.com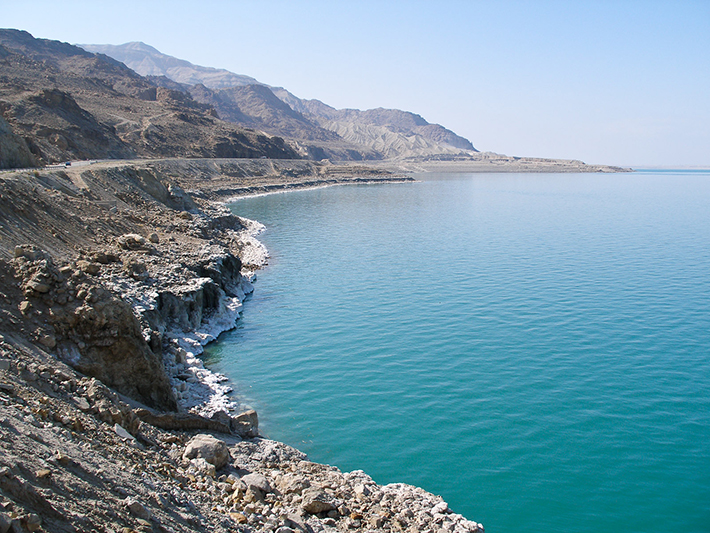 www.ishafoundation.org
[wp_ad_camp_2]

6. The Alps
The European Alps sit at a lower altitude than the Rocky Mountains and their glaciers and ski resorts are more susceptible to the effects of global warming. Temperatures have increased twice as much as the global average temperature since the 19th century. The famed glaciers could disappear by 2050.

DailyInfographic.com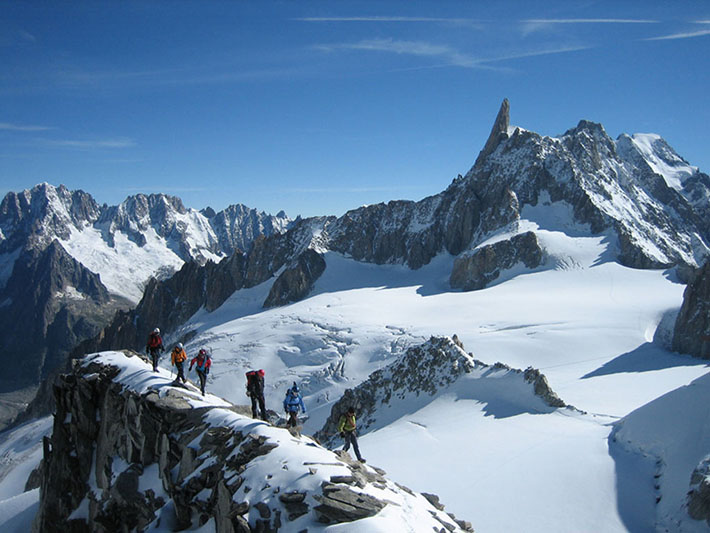 NatGeo

7. Madagascar
If nothing is done to save the world's fourth largest island, its forest will be gone in 35 years and their unique inhabitants, like lemurs for which Madagascar is renowned, along with them. Forest ecosystems are being destroyed by logging, burning for subsistence farms, and poaching.

DailyInfographic.com
www.wallallies.com

8. The Congo Basin
According to the UN, up to two-thirds of the forest and its unique plants and wildlife could be lost by 2040 unless more effective measures are taken to protect it. 10 million acres of forest are degraded each year due to mining, illegal logging, farming, ranching and guerrilla warfare.

DailyInfographic.com
www.thinglink.com

9. Glacier National Park
100 years ago, there were as many as 150 glaciers strewn throughout Glacier National Park. By 2005, only 27 remained and they are expected to disappear by 2030, if not earlier. In the absence of cold water the ecosystem of the park may change dramatically when the glaciers are gone.

DailyInfographic.com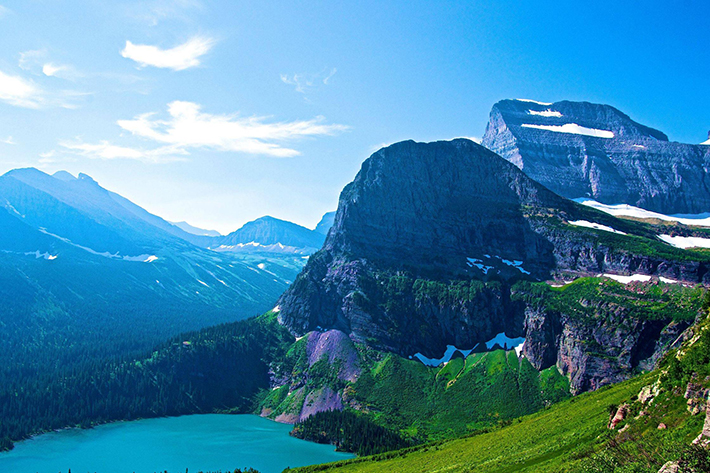 Reddit

10. Taj Mahal
Between the crowds and the air pollution that's eating away its white stone facade, tourism officials are considering closing this 17th-century landmark to the public, leaving its fabulous domed symmetry visible only from afar.

DailyInfographic.com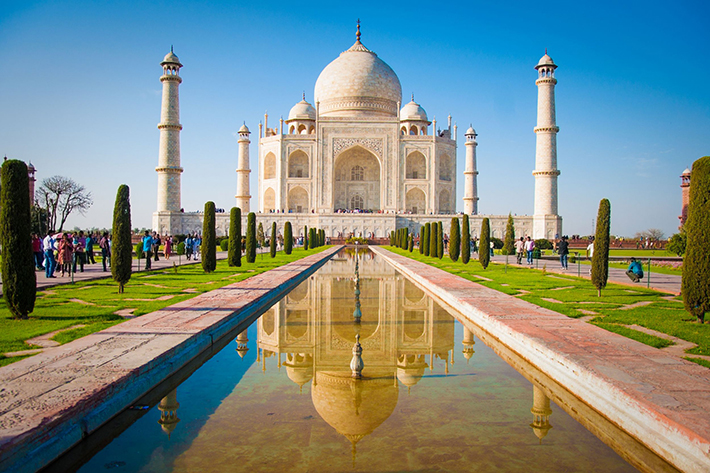 www.jantakareporter.com
Source: Daily Infographic