Patty Hearst, age 19, was kidnapped on February 4, 1974. A radical group who called themselves the Symbionese Liberation Army (SLA) took credit. News of her kidnapping — and Patty's announcement later that she joined forces with the SLA — spread like wildfire. It became one of the most notorious crimes of the 20th century.
Hearst grew up in wealth and privilege as the daughter of Randolph A. Hearst, chairman of media conglomerate Hearst Corp., and Catherine Hearst, a University of California regent.
Hulton Archive/Getty Images
Hearst's grandfather was famed publisher William Randolph Hearst.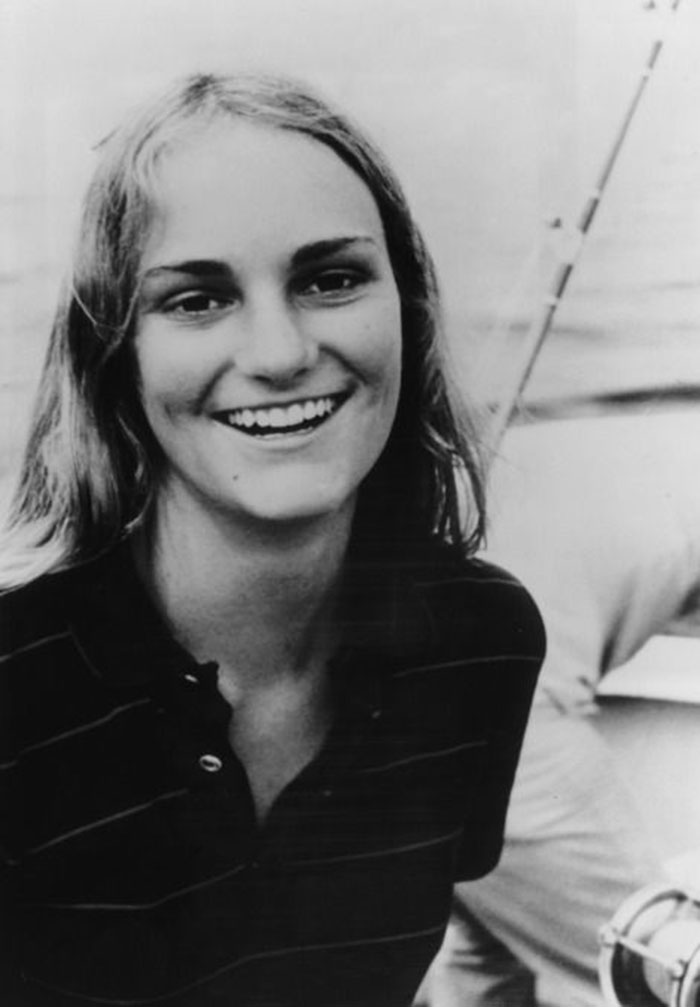 Hulton Archive/Getty Images
A car at the Berkeley Police Department on February 5, 1974. Police said Hearst was blindfolded and thrown into the trunk of the car.
Hulton Archive/Getty Images
Hearst was abducted at gunpoint from the apartment she shared in Berkeley with her fiance, Steven Weed, pictured with Hearst. A radical group called the Symbionese Liberation Army, or SLA, took credit.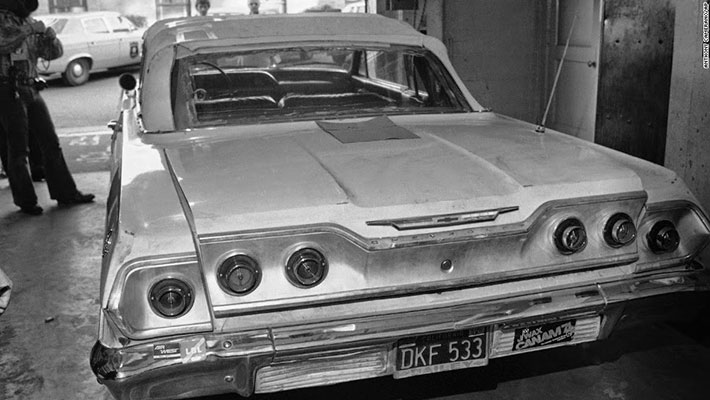 via CNN
Here's a CBS news report of the kidnapping:
SLA seven-headed cobra symbol
Unknown
Hearst's autobiography details her abuse at the hands of the SLA. In it she says she was kept locked in a closet for 57 days, as well as subjected to radical rantings, physical abuse and rape. Eventually she was offered the choice of joining the SLA or being killed. The SLA released a tape announcing Hearst's alignment with the SLA, including taking the name Tania. A photo of her holding a gun in front of the SLA's seven-headed cobra emblem was also released.
UPI / Bettmann / Corbis
[wp_ad_camp_2]
The SLA was a left-wing revolutionary group that considered themselves a vanguard army and the leaders of the black revolution, even though only one of its members were black.
AP/Magnolia Pictures
On April 15, 1974, the SLA robbed a Hibernia Bank branch in San Francisco. Security cameras captured this image of Hearst in the robbery.
AP
Assault rifle in hand, Hearst joins DeFreeze in robbing a San Francisco bank on April 15, 1974. It was her first crime as a professed SLA member.
Interim Archives/Getty Images
Four days after the robbery, the FBI released this wanted poster, featuring Hearst, far right, as a material witness, and SLA members suspected of taking part in the heist. Leader Donald DeFreeze is at top left.
Interim Archives/Getty Images
Hearst was arrested in San Francisco on September 18, 1975, 18 months after the kidnapping.
Sam Mateo Sheriff
iconicphotos
The exterior of the Symbionese Liberation Army house, at 1827 Golden Gate, where Hearst was held in the closet is seen on February 16, 1976.
via CNN
At her trial for bank robbery, Hearst said she had been brainwashed by the group and feared for her life, but a jury found her guilty. She was sentenced to seven years in prison.
AP
Hearst was released on bail on November 19, 1976, while her attorneys appealed her case. Here, she is reunited with her parents, Catherine and Randolph Hearst in their San Francisco home on November 20, 1976. The appeal was denied and Hearst returned to prison.
Bob Mcleod /San Franscisco Examiner/AP
After Hearst served nearly two years in prison, President Jimmy Carter commuted her sentence in early 1979. Here, she mugs for the camera at the Federal Correctional Institute at Pleasanton, California, on January 31, 1979.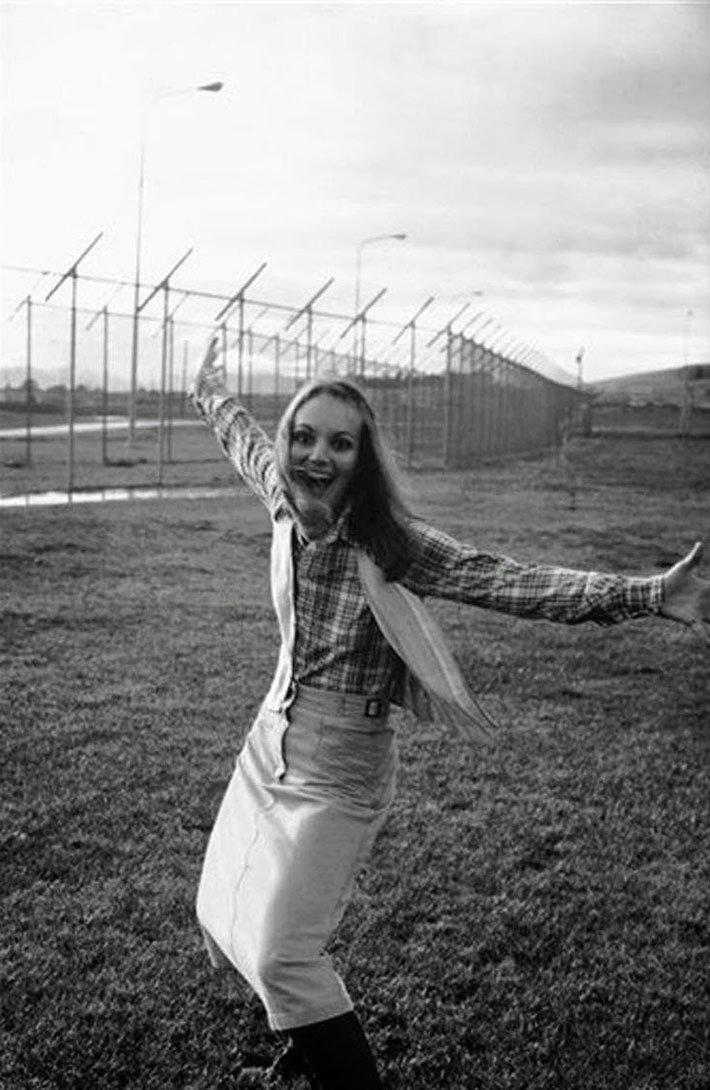 AP
Her clemency blanket
Francis Morgan
Hearst holds up the executive grant of clemency as she leaves prison on February 1, 1979. With her is her fiance and former bodyguard, Bernard Shaw.
AP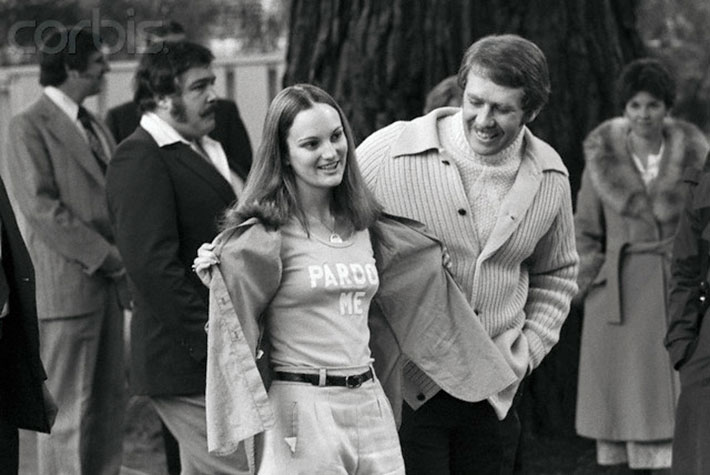 Unknown
Hearst is walked down the aisle by her father, Randolph Hearst, at the Navy chapel at her wedding to Bernard Shaw in April 1979.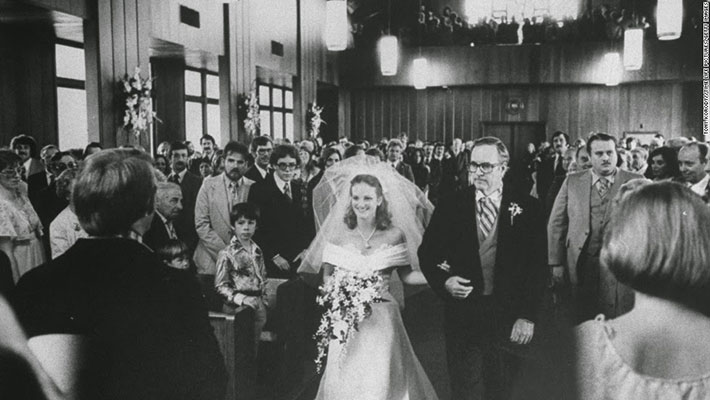 Tony Korody/Life Pictures/Getty Images
Watch a trailer of Guerrilla: The Taking of Patty Hearst (2004) Documentary