How many times have you read about Paris? In this article, we want to tell you specific reasons/places why you should visit this city once. But the truth is that it's unlikely to work out because once you've spent your holiday there, you'll want to come back all the time.
In our opinion, to enjoy a city and a voyage there, you don't have to run around and see all the sights. You need a balance of sightseeing and leisurely strolls. This article will help you save time and may even be your main source of inspiration for your itinerary. There is a list of places that are 100% worth seeing. It is unlikely to be done in one trip, but at least part of the program can be done! Although we don't know how long you are in Paris.
Let's run through the travel arrangements very quickly. Paris is an unrealistically popular city for tourists, and besides, most people arrive by plane. The best way to get to your accommodation is via airport taxi. You can book taxi Paris Charles de Gaulle, a reliable airport transfer company that takes care of everything! Travel comfortably by AtoB airport transfer and most importantly – plan. Now on to the list of places.
1. Eiffel Tower
It may be as trivial as possible but has come far from the first time, it's still the kind of beauty you want to see. Instead of just standing around the tower, we suggest you visit Les Ombres restaurant. It is bound to be a beautiful evening – preferably at this time of day. You will experience that French classic vibe. The restaurant itself is on the roof of The Musée du Quai Branly, you can easily get here by airport transfer. The food is great and the prices are a little steep, but the atmosphere you get, plus the food is unbelievably good, is well worth it.
2. Disneyland Paris
The name sells itself here but we will say a few words about this place. First, you need to come here 100% and it doesn't matter if you have kids or not. Disneyland Paris entertains everyone. The second is that it flows smoothly from the first, this place is considered to be one of the best places in the world for entertainment. So, you have to take an AtoB airport taxi and drive 32 km from the city. Take a ride to Ratatouille, the Tower of Terror, Rock, and Roll, and more. Or if you have kids, go to Disney Village and indulge them in shopping for their favourite Disney stories and characters, or maybe you want to watch the Disney Show together!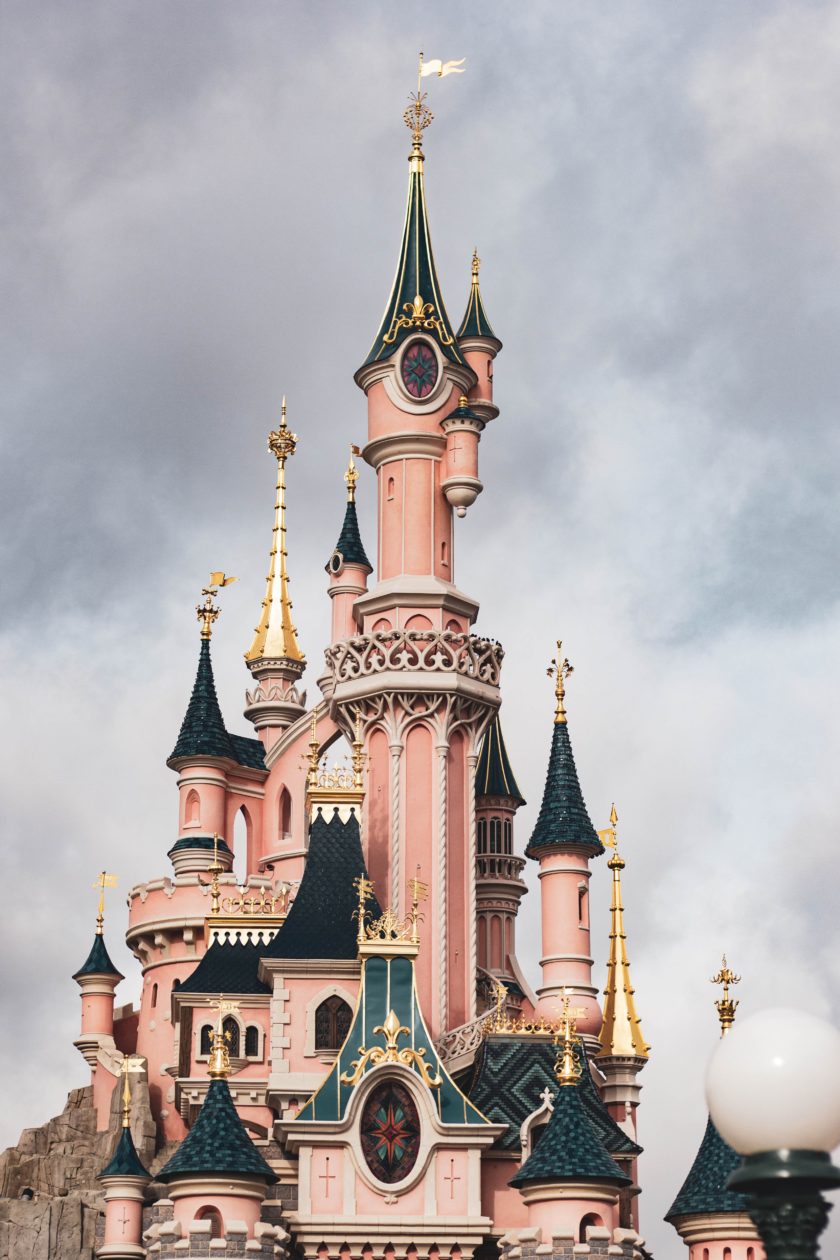 3. Opera Garnier
This is a very important and interesting tick on your list of places to visit in Paris. Take a Charles de Gaulle airport taxi and go to the Opéra Garnier! We highly recommend not just going on a tour (although that's not bad either), but specifically going to the concert. Prices for the concert start at 126€, take the moment and go for it! But if you've decided that a simple guided tour of the building will suffice, you can do it for €14 for adults and €6.50 for children. If you're with a child and their age is under 10, admission is free.
4. Belleville – the centre of Paris street art
This is a very cool neighbourhood that you should go here by airport taxi and visit. It's a fusion of Asian culture and everything popular with hipsters. If you like graffiti (even if you don't) you should walk down this street. You can also get a swanky view of Paris if you make your way to the Parc de Belleville. And as a nice bonus, there are quite a few Chinese, Thai, and Vietnamese restaurants in the area – enjoy!
5. Pere Lachaise Cemetery and Montmartre Cemetery
Many may have strange thoughts about this point – but take your time. Why should you come here? A great many famous people rest here. Parisians often refer to this place as the City of the Dead. Indeed, the streets, alleys, and crypts here form a veritable open-air sculpture museum. It's worth coming here by AtoB airport transfer if you like to visit unusual places on your travels and get a new experience. You can see the last resting place of Oscar Wilde, Marcel Marceau, Chopin, and many others. It will be an interesting experience and, strange as it may sound, an aesthetic delight because of the aforementioned open-air sculpture museum.
Also, a second legendary cemetery is the Montmartre Cemetery. There you can see the painter Edgar Degas, the composer Hector Berlioz and Jean Offenbach to name a few at rest. Apart from the sad subtext of these places – there is something that will amaze you, a place where you will see all the greatness of sculpture and art.
6. Latin Quarter
This is the last place in our top that you can come by airport taxi and just walk around. After the busy places we have mentioned above – the Parisian streets will relax you as much as possible and give you a cosy atmosphere. Because this neighbourhood is so close to the college town, there are plenty of inexpensive and authentic restaurants to choose from.
To sum up, in this article we have tried to give specific places that are a reason to visit (in our subjective opinion). Of course, there are many more such places – but you have to start somewhere. Perhaps nowadays people are more interested in the exoticism of France, some towns and villages as far away as possible from tourism, where you can feel the true French atmosphere, but to go to Fra