A "Mob Moll" or Gun Moll is a moniker given to the female companions of the mafia, mobsters and other professional criminals. They were often hardened criminals themselves.
Take a fascinating look at the female companions of the Mafia, who not only put their lives on the line being associated with some of the most dangerous men in the world, but who also acted as their accomplices in some of the most deadliest crimes in history.
Alice Granville shows off two bullet holes in her arm at Roosevelt Hospital after she was shot by her hitman husband, lieutenant of Dutch Schultz Pete Donahue, in 1931. Alice Granville said Donahue shot her at a nightclub party to prove his affection to her.
Mob moll Smitty White was arrested and held at police headquarters in 1942 after her boyfriend Ralph Prisco was shot and killed by police during a failed holdup. Mob molls are also known as gun molls, or even gangster molls. The term moll is derived from the world "Molly," a 17th century euphemism for either "whore" or "prostitute."
Virginia Hill, also known as the "queen of the gangster molls," was the girlfriend of Brooklyn-born mobster Bugsy Siegel. Hill was coincidentally out of town when her beau was slain in her home, and shot through the window with a rifle. Here, the mob moll, who claimed to be in the dark about her lover's criminal connections, testifies at the 1951 Kefauver hearings in an investigation about the extent of organized crime.
She stands by her man! 19-year-old Virgina Ornmark looks unfazed as she and beau Fred Schmidt, 24, stare blankly at the camera after being arraigned for the murder of a lingerie merchant in 1944.
They start them young! While most people consider the mob to be made up of a bunch of men, that acutally isn't the case. Here, 15-year-old moll Carmen Martinez doesn't go down without a fight as she is hauled off by police to Felony Court for the murder of 17-year-old Raul Banuchi.
[wp_ad_camp_1]
Margo Donohue couldn't use her feminine wiles to get out of this one! The gun moll was fingerprinted by a narcotics squad after she was found carrying a loaded .38 caliber pistol for her accomplice William Matea in 1961.
Being married to a hitman will almost always get you into trouble, and no one knew that better than Lottie Coll, wife of Irish mobster Vincent 'Mad Dog' Coll. Here, Coll holds her scarf to her face as she is arraigned in court in 1933.
Janice Drake holds a special place in the roster of women associated with the mob. A one-time beauty pageant contestant in her youth and former Miss New Jersey, she spent countless nights in clubs and restaurants with some of the most senior figures in organized crime, despite being a wife (to rising nightclub comedian Alan Drake) and mother.
Twice Drake dined with men who were gunned down the following day. Here, the moll is photographed in 1952 as police take her into questioning after playboy Garment District boss Nat Nelson was murdered in a mob assassination hours after he was seen out with her…
In the end, the mob moll suffered her own unhappily ever after when she was found shot to death in the front seat of a black Cadillac with mobster Little Augie Pisano in 1959.
Showgirl Marion 'Kiki' Roberts had ties to the mob being the mistress of the late Prohibition-era gangster John (Legs) Diamond, who was the main distributor of illegal alcohol in Manhattan in the late 1920s. Here, the mob moll, who was once in bed with the mobster while he was shot, plants a kiss on her next victim, actor Jack La Rue!
Gangster molls, like Kiki Roberts seen here circa the '30s, are not just a thing of the past. The VH1 reality TV series "Mob Wives," which premiered in 2011, follows the lives of several Staten Island women who have ties to the Mafia. Most of molls' husbands or fathers are in prison for mob-related crimes.
Mob moll Rita Rio, seen here in 1935, denied she ever knew the real identity of boyfriend Louis (Pretty) Amberg, an ally of Dutch Schultz. Amberg was found cremated in his car the same morning that Schultz, one of the most famous mobsters of the '20s and 30's, was also shot dead.
Gangsta's Paradise! Some molls are attracted to the dangerous and exciting life being associated with a mobster can bring. Here, Margaret Kelly joins Frank Palumbo as the two are arrested and held for a dance hall holdup and murder in 1932.
The secrets this mobster girlfriend must know! As the significant other of a member of the Mafia, Palma Vitale was a pro at putting on a poker face. Here, the mob moll shows no emotion in court after her perjury case was postponed in 1961.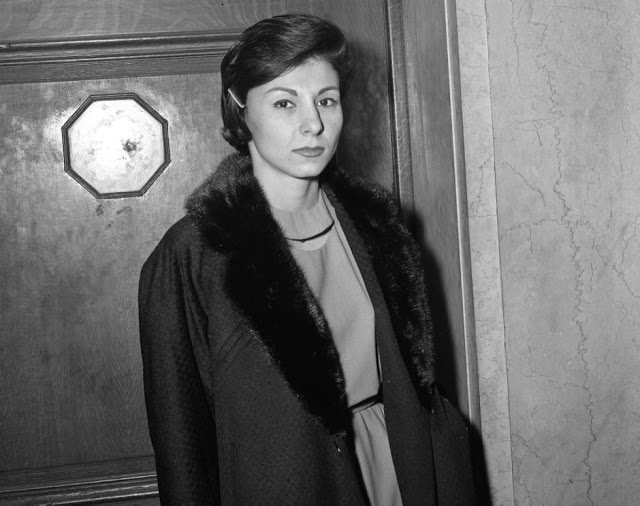 A cop brings 17-year-old Nancy Serville into custody in 1936. The mob moll was charged with being the lookout for a holdup gang in Queens.
It looks like she will have to search for fun elsewhere! Florence Garrity and five friends were picked up in a police roundup in 1948. The gun moll of hitman George Foley, whom Garrity was living with at the time, said, "Life was no fun till I met him."
Guns are apparently not a suitable purse accessory! Here, Lillian Stang, 23, is questioned by assistant DA James McGrattan after she was caught packing heat in 1947.
Though mob molls sometimes do the secret dirty work for their male companions, they don't always get off scot-free! Here, Marie Baker, also known at the two-gun-girl, weeps in court while being booked at a police station in the Bronx…
Mob Moll, 1935: Though she may look like an innocent young girl, Jean Hantover was anything but as she was arrested for being mobster George Zeller's gun moll in a Brooklyn holdup in 1935.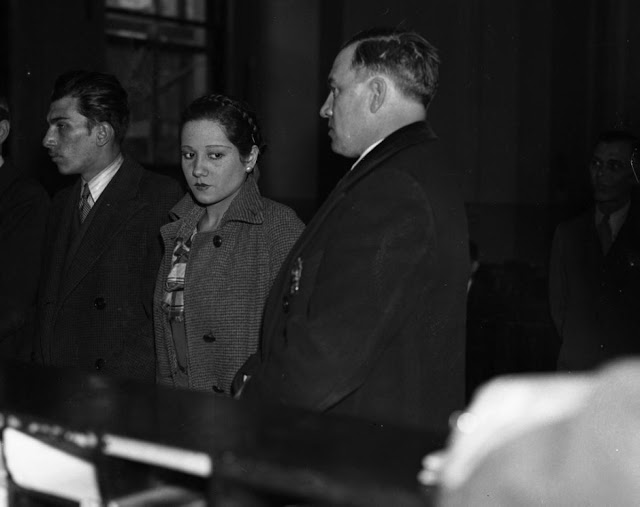 Mary Duke could pass for a male gangster! The mob moll was clad in baggy slacks as she arrived at Newark police headquarters, with her right arm bandaged, after being arrested following a gun duel in 1943.
Lottie Coll, the widow of slain gangster Vincent 'Mad Dog' Coll, looks on as she, along with Joseph Ventre and Albert Guarino, are arraigned for killing an innocent bystander during a robbery in 1933.
Apparently, she isn't sorry! Mob moll Margaret Kane smiles as she leaves Ridgewood Court for jail in 1932.