It's a sad reality to see millions of people living in the most harmful environments on Earth. What makes it even sadder is that most, if not all, of the planet's highly toxic places have been the result of human abuse on nature. Case in point, here are 10 of planet's most polluted places:

1. Agbogbloshie, Ghana
Agbogbloshie, in Accra Ghana, is the second largest electronic waste or e-waste processing area in West Africa. E-waste such as discarded electronics include refrigerators, microwaves, and televisions, lay around in this waste dump. Every year, Ghana imports around 215,000 tons of secondhand consumer electronics primarily from Western Europe and generates another 129,000 tons of e-waste annually.
Because of the heterogeneous composition of electronics, recycling them safely requires a high level of skill. From soil samples, experts have estimated lead levels in the area to be as high as 18,125 ppm. In the U.S., the Environmental Protection Agency standard for lead in soil is only 400 ppm.

Agbogbloshie Ghana electronic waste dump
earthwatchmedia.org

Discarded laptops lie on the ground at Agbogbloshie dump, in Accra, Ghana.
andrewmcconnell.photoshelter.com

An old monitor casing lies in a polluted lagoon as smoke rises from burning e-waste, at Agbogbloshie dump, Accra, Ghana.
andrewmcconnell.photoshelter.com

Computer monitors are broken apart to salvage metal and circuit boards, at Agbogbloshie dump.
andrewmcconnell.photoshelter.com

2. Chernobyl, Ukraine
Ever since the catastrophic nuclear accident that occurred on April 26, 1986 at the Chernobyl Nuclear Power Plant in Ukraine, Chernobyl hasn't made it off the World's Most Polluted Sites list. Uranium, plutonium, cesium-137, and other radioactive dust and other metals continue to plague the 19-mile exclusion zone around the nuclear plant. According to studies sited by Green Cross and Blacksmith Institute, prolonged low-dose exposure in neighboring areas has significantly increased the risk of leukemia.

Chernobyl Exclusion Zone
lovethesepics.com

The abandoned town of Pripyat in the Chernobyl exclusion zone Ukraine
www.demotix.com

Spring in the Chernobyl exclusion zone
ukrainetrek.com

Chernobyl, Exclusion Zone, Ukraine. Beds in the children's ward of the Maternity Hospital
nigeldickinson.photoshelter.com
[wp_ad_camp_1]

3. Citarum River, Indonesia
The Citarum River in Indonesia is labelled "the most polluted river in the world" by local government agencies and NGOs charged with its clean-up. The river provides 80% of Jakarta's water supply, irrigates farms that supply 5% of the country's rice, and is a source of water for upwards of 2,000 factories, hence affecting as many 5 million people.
The river is polluted with numerous chemicals including pesticides, lead, cadmium, and chromium. In 2013, APN Science bulletin found that "aluminum was at 97 ppb (the world average is 32 ppb); manganese in the river was at 195 ppb (world average: 34 ppb); and iron concentrations in the Citarum were 194 ppb (world average: 66 ppb)".
sometimes-interesting.com

Locals say textile factories illegally dump chemicals into the river at night and some nearby village wells contain four times the recommended safe levels
Huffington Post

A boy picks through trash and collects scrap metal by the Citarum river in Kampung Bolero
rodrigoordonez.photoshelter.com

"This Pipe is Discharging Hazardous Chemicals"
www.greenpeace.org

4. Dzerzhinsk, Russia
In 2007, following tests of its water supply, the Guiness Book of World Records named the city of Dzershinsk the most polluted city in the world. During the height of Russia's chemical weapons manufacturing between 1930 and 1998, about 300,000 tons of chemical wastes were improperly stored in landfills. 190 different chemicals have since leached into the city's groundwater including dioxins and phenol that are thousands of times higher than recommended levels.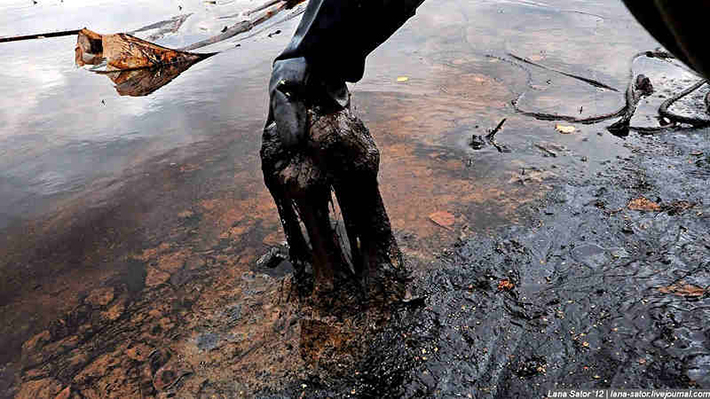 russiatrek.org
noorimages.com

5. Hazaribagh, Bangladesh
Local residents in Hazaribagh, Bangladesh are at risk of exposure to cancer-causing hexavalent chromium, nausea, rashes, acid burns and other health problems. This is mainly due to the fact that some 250 processing plants are shoved at one end of Central Park where 10,000 or so people treat the hides of animal skin wearing only rubber boots for protection. 22,000 cubic liters of toxic waste produced from the tannery are then dumped into the East River which serves as the main water supply for the city's 185,000 people.
www.capital.cl

A girl crosses a stream of effluent on a makeshift bridge in Hazaribagh, the tannery.
guilhem-alandry.photoshelter.com

Toxic Chemicals Used by Leather Tanneries in Bangladesh Continue to Harm the People of Hazaribagh
voiceforhumanrights.org

6. Kabwe, Zambia
Children in Kabwe, Zambia are growing up with an average of 50 and 100 ug/dL of lead in their bloodstream. The recommended exposure level is only 5 ug/dL, according to the Centers for Disease Control or CDC.
Between 2003 to 2011, the Zambian government relied on a World Bank and Nordic Development fund for $26 million dedicated to reduce childhood exposure to lead. The problem is, children and teens continue to work and play in leftover tailing piles of the now closed lead mine.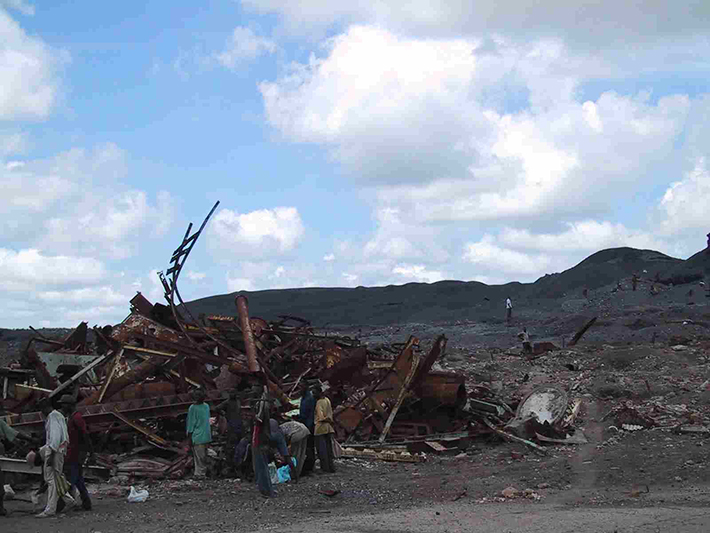 Lead from a centrally located, now shut-down mine and smelter plant contaminated Kabwe's air and soil for decades.
newsonrelevantscience.blogspot.com

The 200,000 plus inhabitants of Kabwe continue to suffer to this day as a result of past mining excesses.
www.theneweconomy.com

7. Kalimantan, Indonesia
In Central and South Kalimantan, some 43,000 people make a living as illegal, small-scale gold miners. The problem with small-scale gold mining is they're often done with mercury which is used to bind gold as part of its collection process. Burning off mercury through simple smelting results in a gold rush of toxic waste which leaks into the waterways.
In 2008, the Kahayan River of Central Kalimantan was reported to reach a mercury concentration level of 2,260 ng/L. That's more than twice Indonesia's standard for total mercury in drinking water which is 1,000 ng/L.

Workers are seen in a nest of illegal gold mining rigs at Lake Serantangan in Singkawang
www.uniworldnews.org

Residents cycle through the haze-blanketed town of Sampit, in Indonesia's Central Kalimantan province
www.rediff.com

8. Matanza Riachuelo, Argentina
Argentina's Matanza-Riachuelo River is considered the most important waterway in Buenos Aires. However, an estimated 15,000 industries are actively releasing effluent into the river making it unsuitable for human habitation. Despite this, about 60% of the approximately 20,000 people reside in the most unsuitable conditions (no sewage system or access to potable water), along the banks of the river.
A study in 2013 revealed that 80% of the wells near the river basin are unsafe for drinking. This is due to high contamination levels of lead, copper, chromium, nickel, and zinc which leads to gastrointestinal diseases, respiratory diseases, and cancer among others.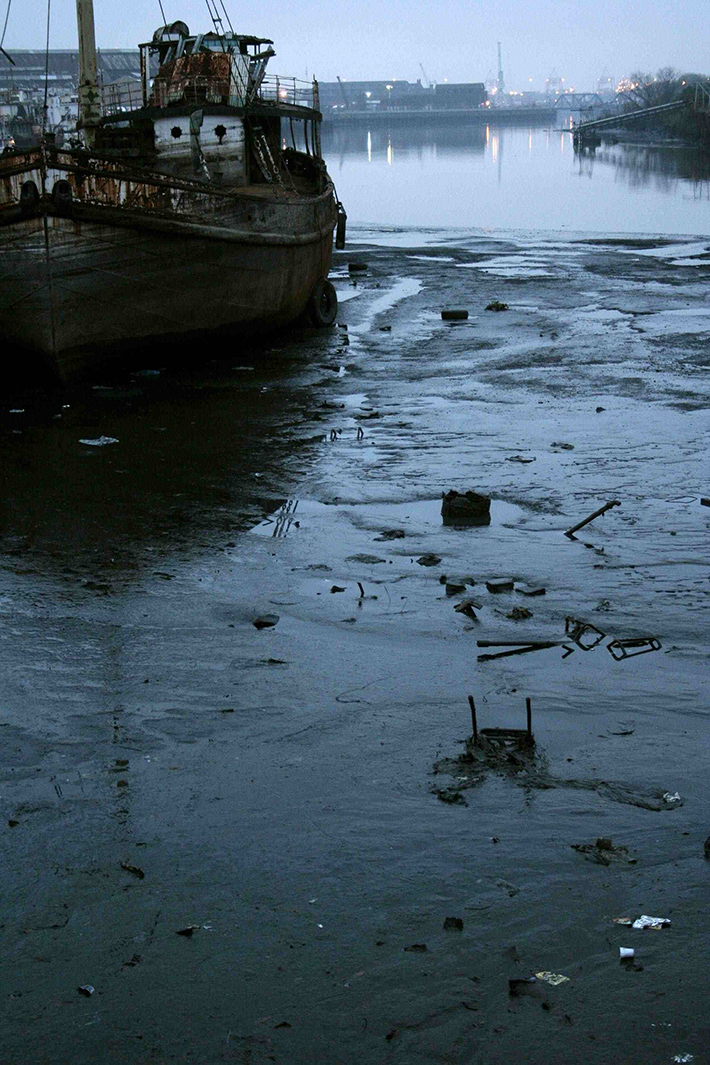 www.ipsnews.net
ca.news.yahoo.com

9. Niger River Delta, Nigeria
According to a report by Blacksmith Institute and Green Cross, an average of 240,000 barrels of crude oil are spilled in the Niger River Delta in Nigeria every year. The oil spills have not only contaminated the delta's surface and ground water, but also the ambient air and locally grown crops with hydrocarbons, including known carcinogens such as polycyclic aromatic hydrocarbons.
These spills gravely affect the environment and the health of the population. A 2013 article published in the Nigerian Medical Journal, estimated that the widespread pollution could lead to a reduction in household food security by 60% and a 24% increase of childhood malnutrition.

In fishing villages along the creeks in the Niger Delta, locals say children are constantly sick from drinking water polluted by oil.
www.voanews.com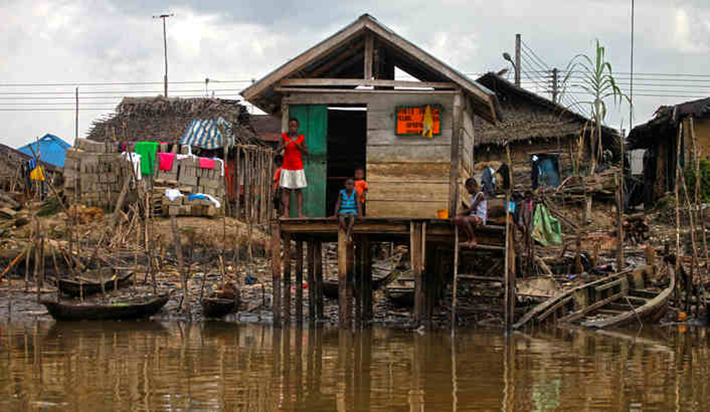 www.dailymaverick.co.za

10. Norilsk, Russia
The city of Norilsk contains the world's largest heavy metals smelting complex from 1935 until the turn of the 21st century. As a result, its 130,000 local residents are exposed to air contaminated with nearly 500 tons each of copper and nickel oxides. Other than that, 2 million tons of sulfur dioxide is released annually causing life expectancy for factory workers to be 10 years below the Russian average.
Reddit
theprotocity.com