These places look so beautiful with their incredible colors that it's hard to believe they actually exist. Enjoy!
1. Valley of Flowers National Park, India
Discover endless meadows of alpine flowers along the elevated slopes of the Western Himalayas. It's also home to some rare animals like the Asiatic black bear, snow leopard, and blue sheep.
2. Five Flower Lake, China
One of 118 lakes in the Jiuzhaigou Nature Reserve, the Five Flower Lake creates more radiant color pallette due to surrounding mineral deposits and diverse plant life.
3. Hitsujiyama Park, Japan
Kenji Yamamura

Pink moss or shibazakura grows near the base of Mount Fuji, creating a magical contrast with surrounding trees.
4. The Great Barrier Reef, Australia
The reef is home to over 1500 species of fish and 600 types of coral.
[wp_ad_camp_1]
5. Yuanyang County, China
These terraced fields with their beautiful array of layered colors provide rice for millions across the country.
6. Lavender fields in France
The lavender fields are just as fragrant as they are colorful.
7. Lake Hillier in Australia
The pink color of this lake still remains a mystery.
8. Braunwald, Switzerland
This is one of the most spectacular views in Switzerland with the dandelion fields and the Swiss Alps in the background.
9. Red Sea Beach, China
It's one of the world's biggest wetlands. Its highly alkaline soil allows the bright red suaeda plants to grow and flourish.
10. Tulip fields in the Netherlands
secondglobe

This the renowned and the largest garden in the world with over 7 million flowers.
11. Grand Prismatic Hot Spring, Wyoming
This is the third largest hot spring in the world and, of course, the most colorful.
12. Cornwall, England
The captivating poppy fields overlooking the Celtic Sea.
13. Alberta, Canada
With glacial waters feeding the lake and the rock flour deposits from erosion giving off the blue hue, the lake now looks as stunning as ever.
14. Luoping, China
imgur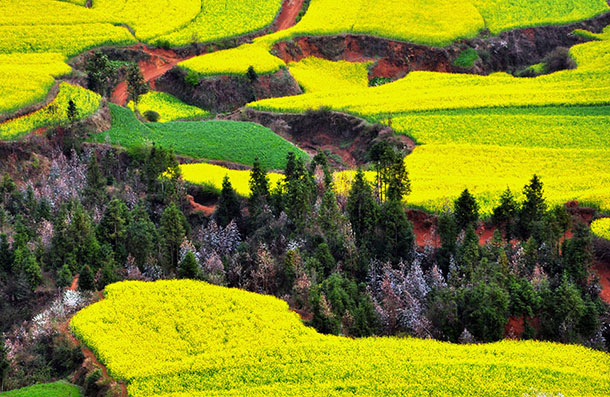 This place is prominent for honey production with its seemingly endless fields of yellow canola flowers that attract bees.
15. Shark Bay, Australia
A must-see part of the infamous Australian coast.
16. Juneau, Alaska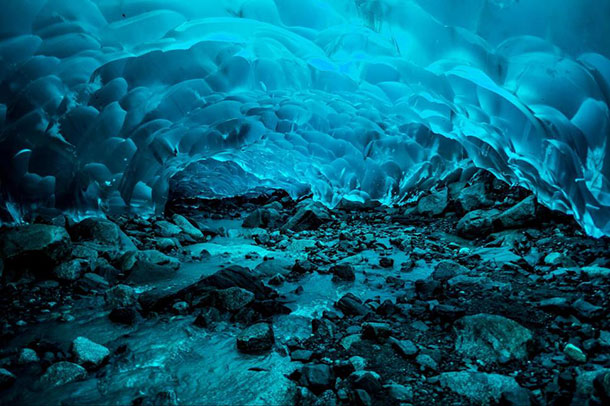 This magical place may not be around much longer. The 12-mile-long glacier has retreated 2 miles since 1958.
17. Hokkaido, Japan
This fantastic rolling hill full of multicolored flowers looks like something out of a Disney movie.
18. Vermont in Autumn
The fall foliage dramatically changes the Green Mountain State into a brightly colored forest.
19. Caño Cristales River, Columbia
Wikimedia

The marvelous Caño Cristales is also known as The River of Five Colors. With its high sediment levels, the river isn't a sustainable home for fishes.
20. Namaqualand, Namibia
south-north

From a barren landscape, the Namaqualand turns into a fantastic flowering paradise in the spring.
21. Kawachi Fuji Gardens, Japan
With the gardens' 20 dazzling species of the wisteria flower, strolling through the tunnel give you a wonderful surreal experience.