We usually think of metro stations as nothing more than public transportation systems. That dreary, crowded place we wish to avoid but can't because it's usually the fastest way to get to somewhere, work most probably.
But not all of us feel that way, especially for those of us who live in countries where the stations have been transformed into remarkably stunning spaces.
Below are 17 of the most beautiful metro stations in the world. Enjoy!
1. Formosa Boulevard Station of Kaohsiung, Taiwan
The 4,500-panel glass artwork by Narcissus Quangliata is said to be the largest glasswork in the world.

Shutterstock/Lau Chun Kit
2. Toledo Station, Naples, Italy
With a depth of 164 feet, this station is one of the deepest stations in Naples and is also a stunning wonderland thanks to the artwork of Robert Wilson, called "Light Panels," that illuminates the station corridor.

Shutterstock/luckyraccoon
3. Grand Central Terminal, New York City
Grand Central Terminal holds the Guinness World Record for the largest railway station by number of platforms with a total of 44 and a secret one that is said to be below the Waldorf Astoria.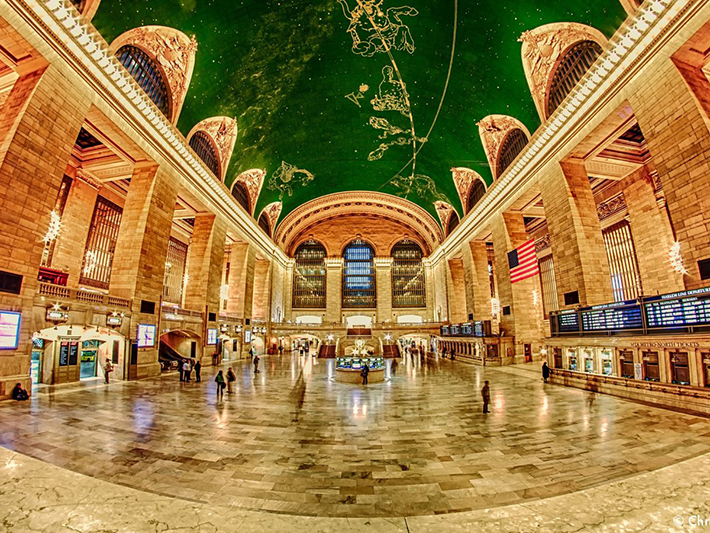 Flickr/Christian Ronnel
4. Komsomolskaya Station, Moscow, Russia
This Neoclassical-inspired station is designed by Dmitry Chechulin. The chandeliers and ceilings resemble those found in grand ballrooms and mosaics inspired by a famous wartime speech given by Stalin.

Shutterstock/Popova Valeriya
5. Arts Et Métiers Station, Paris, France
Designed by comic artist François Schuiten, the station features copper walls lined with submarine-style windows and giant gears that hang from the ceiling.

Shutterstock/ChristianMueller
6. Khalid Bin Al Waleed Station, Dubai
Massive chandeliers in the shapes of glowing jellyfish dangle from the ceilings to cast a blue glow over the station, which also holds images of traditional pearl divers.

Shutterstock/Philip Lange
7. Wesfriedhof Station, Munich, Germany
The station, designed by Ingo Mauer, has 11 large concave lamps that fill the space with captivating lights.

Flickr/Tim Adams
8. Atocha Train Station, Madrid, Spain
Known to be the city's largest, the station features steel and glass construction blended with tropical gardens throughout its concourse.

Shutterstock/dejan83
9. Stadion Station, Stockholm, Sweden
Decorated by artists Enno Hallek and Ake Pallarp, Stadion station captivates travelers with its vibrant rainbow painting that lines the arches.

Flickr/imagea.org
10. Kungsträdgården Metro Station, Stockholm, Sweden
The station houses the relics of the old Stockholm Makalös palace and hosts an impressive industrial-looking design.

Shutterstock/Eastfjord Productions
11. T-Centralen Station, Stockholm, Sweden
Though it may not look like anything out of the ordinary from the outside, the inside is a much different story with the station's bright blue and white cave-like platforms that transform the space.

Flickr/imagea.org
12. Avtovo Metro Station, Saint Petersburg, Russia
Avtovo station is lined with chandeliers located at the center of the walking areas and on the station platforms, ornaments decorated with Laurel branches, marble columns, stately mosaics, and historical memorials.

Shutterstock/Anton Kudelin
13. Park Pobedy Station, Moscow, Russia
Stained glass, floor-to-ceiling marble structures, cavernous ceilings, and some of the longest escalators in Europe (each stretching 413 feet) make this station truly a marvel to look at.

Shutterstock/Maxim Apryatin
14. Zoloti Vorota, Kiev, Ukraine,
The station was created through a series of artists who filled the station with intricate mosaics along its columns and surfaces. It also hosts chandeliers with candle-shaped lighting to create an elegant space.

Flickr/Michal Huniewicz
15. Bund Sightseeing Tunnel, Shanghai, China
This one's more of a tourist attraction rather than a station. The sci-fi(ish) tunnel takes passengers through an underground ride underneath the Huangpu River and includes amazing audio-visual effects.

Shutterstock/robert paul van beets
16. Palais Royal at the Musee du Louvre, Paris, France
The entrance is adorned with the artwork of Jean-Michel Othoniel, which intertwines colored beads to form a beautiful design.

Shutterstock/Petr Kovalenkov
17. Mayakovskaya Metro Station, Moscow, Russia
The station is decorated with marble, stainless steel, and lamps hidden inside oval niches on the ceiling with small panels designed by artist Aleksandr Deyneka.

Shutterstock/Leonid Andronov
Via Business Insider