Leo the MGM lion famously roars at the start every MGM film. The truth is, "Leo" was not the only lion but there were actually 7 of them, starting with "Slats" that roared from 1917 to 1928. Leo made his first roar in 1957 until the present day.
A cameraman and a sound technician record the roar of "Leo" the lion for MGM's famous movie logo. The footage was first used on MGM's first talking picture White Shadows in the South Seas. (1928)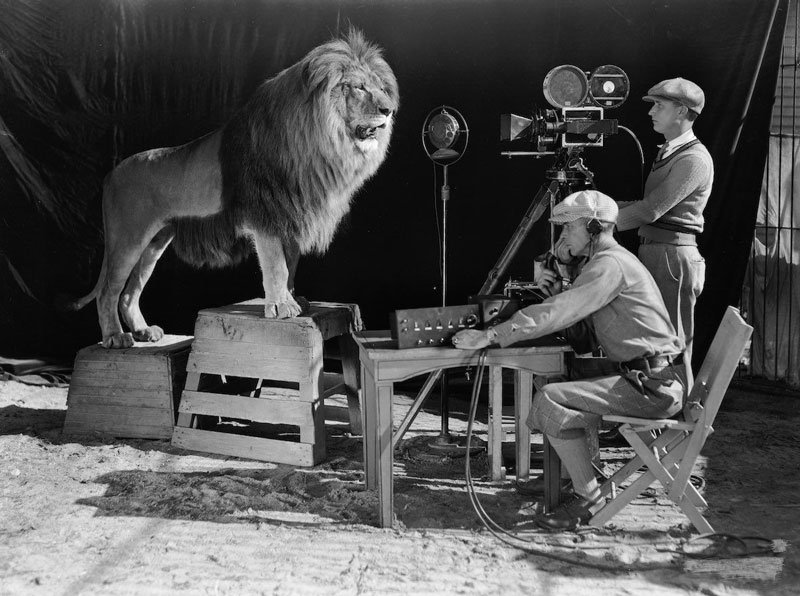 IMAGE: JOHN KOBAL FOUNDATION/GETTY IMAGES
Hollywood, Los Angeles, California — "Now that the talkies are making all the human stores sound their vowels and constants properly, Leo, the M.G.M. Lion has decided that he had better look to his laurels. Photo shows him before the mike with a cameraman and an operator of movietown." (Jan. 28, 1929)
IMAGE: BETTMANN/CORBIS
"Jackie was the ugliest cat you had ever seen." — MELVIN KOONTZ, JACKIE'S TRAINER
Swedish-born actress Greta Garbo (1905-1990) sits in a chair next to "Leo," the lion mascot for MGM studios (1925)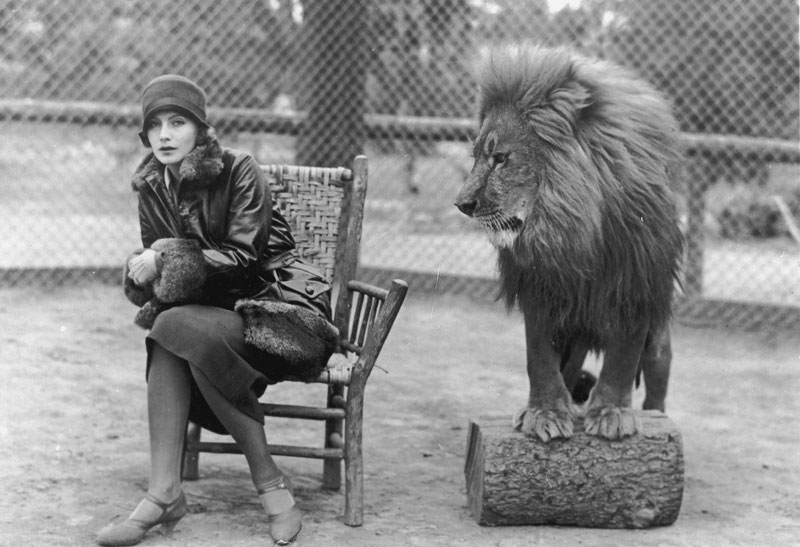 IMAGE: MARC WANAMAKER/HULTON ARCHIVE/GETTY IMAGES
[wp_ad_camp_1]
"Jackie pounces upon his trainer." (c. 1927)
IMAGE: PUBLIC DOMAIN
"Leo" in his travelling enclosure during a world publicity tour. At the wheel is trainer Jack Phillips (1928)
IMAGE: KEYSTONE/GETTY IMAGES
In order to raise publicity for their productions, MGM toured Jackie — billed as "Leo the MGM Flying Lion" — across the U.S.
For one publicity stunt in September 1927, the studio modified a Ryan Brougham plane (similar in design to the "Spirit of St Louis" but with a shorter wingspan) with tanks for milk, water and extra fuel, with a cage incorporated in the body to house Jackie.
"Leo" in his cage in the Ryan Brougham plane (1927)
IMAGE: SAN DIEGO AIR AND SPACE MUSEUM ARCHIVE
Leo's cage, built into the aircraft (1927)
IMAGE: SAN DIEGO AIR AND SPACE MUSEUM ARCHIVE
Leo's plane takes off (1927)
IMAGE: SAN DIEGO AIR AND SPACE MUSEUM ARCHIVE
Five hours into the flight from San Diego to New York, after a takeoff covered by extensive media, the plane crashed in the Arizona desert.
The pilot, Martin Jenson, left Jackie in the cage with the supply of milk, water and sandwiches before he went for help. After four days, Martin was found and taken to a telephone. He called MGM. Their first question was "How's the lion?"
Rescuers at the crash scene (1927)
IMAGE: SAN DIEGO AIR AND SPACE MUSEUM ARCHIVE
Jackie was rescued unharmed and earned the nickname "Leo the Lucky." He retired to Philadelphia Zoo in 1931 and died after heart problems in 1935.
IMAGE: SAN DIEGO AIR AND SPACE MUSEUM ARCHIVE
"Leo" is taken safely back to the studio (1927)
IMAGE: SAN DIEGO AIR AND SPACE MUSEUM ARCHIVE
The remains of Jackie's cage at the plane crash site today (2011)
IMAGE: SAN DIEGO AIR AND SPACE MUSEUM ARCHIVE