The invention of the vibrator has a long, fascinating history.
The earliest documented complaints of female hysteria can be traced back as early as the 13th century. The doctors during this time understood that women had libidos and advised them to relieve their sexual frustration by using dildos. By 17th century, dildos became less used after the decency arbiters succeeded in their campaign of demonizing masturbation as a form of "self-abuse."
Doctors figured out a better, socially acceptable alternative using vegetable oil and applying it to women's genitals. The doctor or midwife would then massaged the genital with one or two fingers inside and the heel of the hand pressing against the clitoris. With this type of curative alternative, women had experienced great relief from hysteria, which is basically an orgasm, which would supposedly restore the woman to full health. More and more grateful women would returned regularly for additional treatment.
However, it did not take long for doctors to get tired of manually giving relief or orgasms to women. With necessity came the invention of the vibrator, with no small thanks to the availability of electricity to the general public, in which in 1880, an English physician named Dr. Joseph Mortimer Granville patented the first ever electromechanical vibrator.
Front cover of the C.H.Liedbeck's A Description of the Vibrator and Directions for Use (c. 1891)
IMAGE: WELLCOME LIBRARY, LONDON (CREATIVE COMMONS ATTRIBUTION ONLY LICENSE CC BY)
The Shelton Vibrators are used in the finest homes in America. Vibration has attained great popularity as an adjunct to the toilet as well as in the treatment of many diseases.
Advertisement for the Barker Vibrator by James Barker in Philadelphia (c. 1906)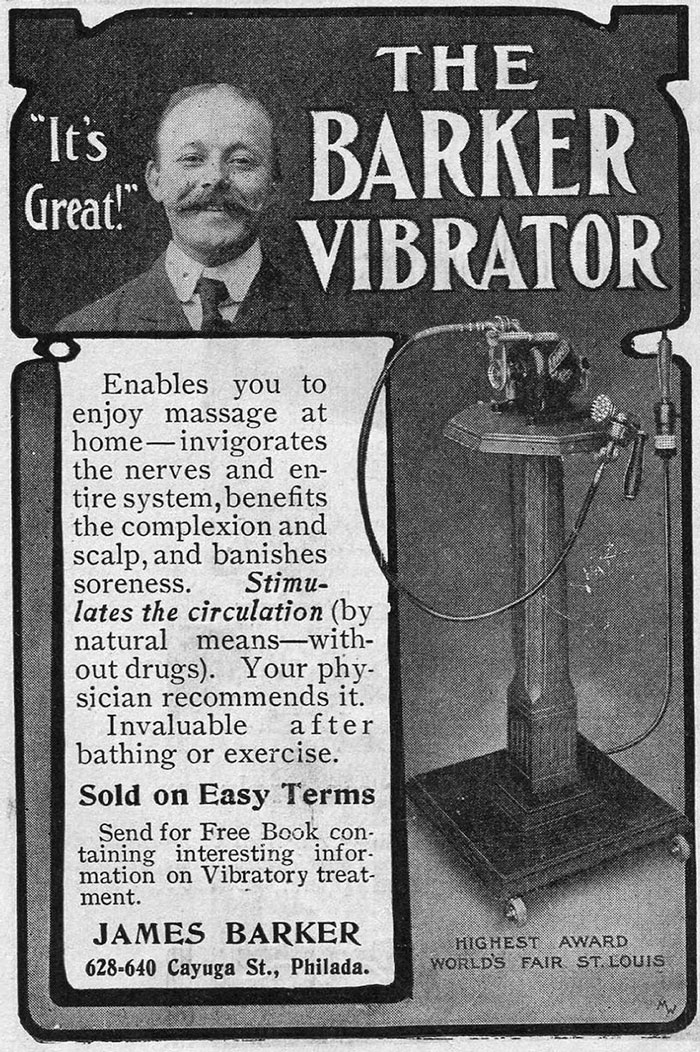 IMAGE: JAY PAULL/GETTY IMAGES
Demonstration using the vibrator (c. 1891)
IMAGE: COPYRIGHTED WORK AVAILABLE UNDER CREATIVE COMMONS ATTRIBUTION ONLY LICENCE CC BY 4.0
[wp_ad_camp_1]
"Polar Cub treatment really does remove wrinkles and hollows. Polar Cub electric massage is splendid for your scalp. Polar Cub Electric massage is recommended for nervous disorders. It brings instant relief in cases of headache, fatigue, and general 'nerviness' Order a Polar Cub vibrator today." (c. 1891)
IMAGE: INTERNET ARCHIVE / FLICKR COMMONS
A nurse applies electrical current to a female patient with a vibrator, or bipolar electrodes of Apostoli. – Electricity in Gynaecology, Richard J. Cowen (c. 1900)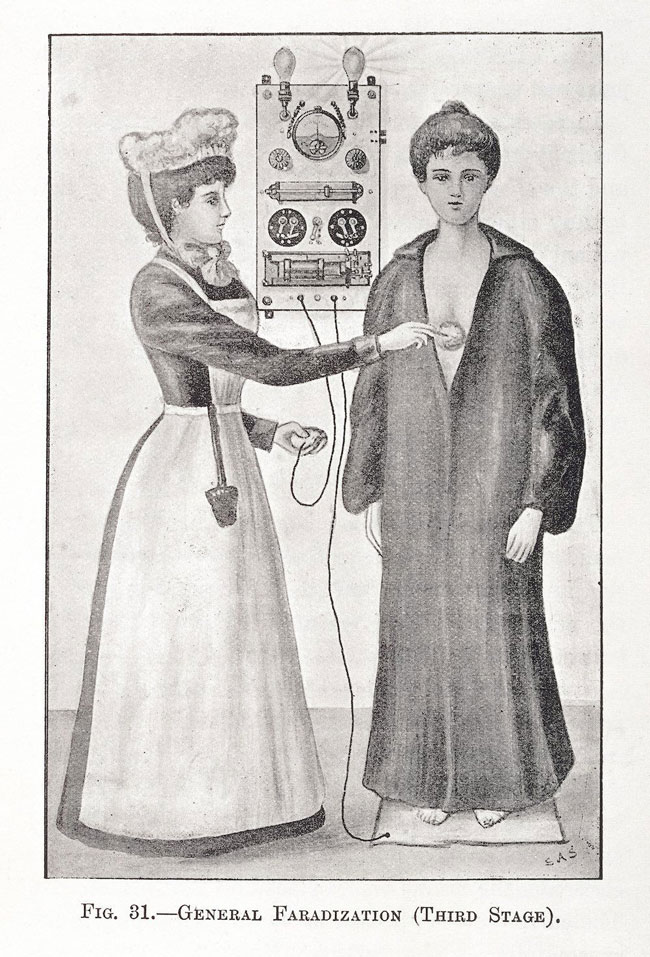 IMAGE: WELLCOME LIBRARY, LONDON / CREATIVE COMMONS ATTRIBUTION ONLY LICENCE CC BY 4.0
An illustration shows various instruments used in vibratory massage: Round or square concussor plates, concussor rollers, balls and discs, roller with rotating cylinders and ebonite, rotating hammers and centrifugal vibrator (c. 1906)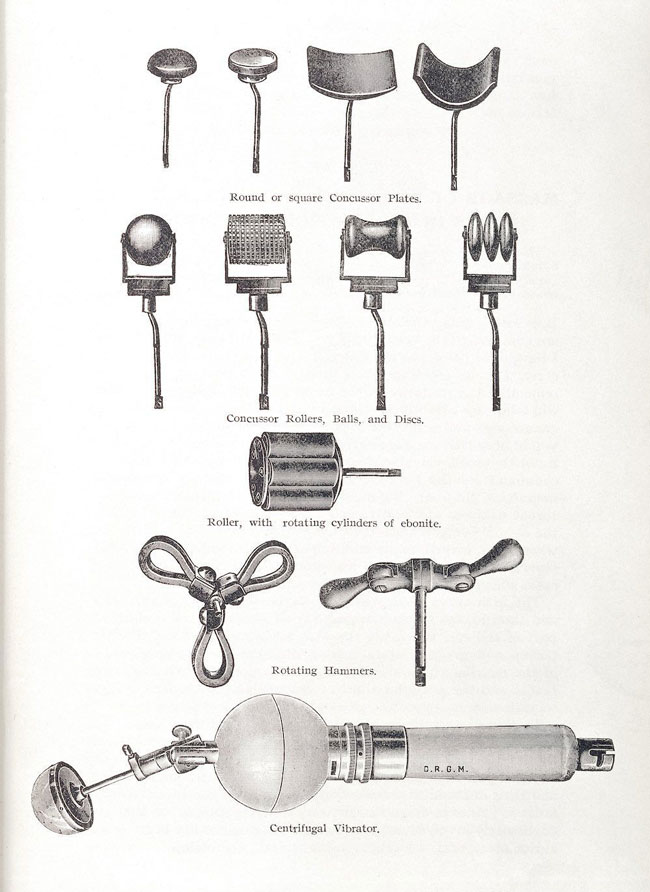 IMAGE: WELLCOME LIBRARY, LONDON / CREATIVE COMMONS ATTRIBUTION ONLY LICENCE CC BY 4.0
"Vibration preserves the health. It exercises the muscles, maintains an active circulation and invigorates the nervous system. Shelton Vibrators are invaluable in the home — persons can treat themselves in the privacy of their own room or the treatment may be applied by another member of the family. Physicians employ it in over 200 diseases and symptoms. Among these which are frequently treated at home are: Deafness, Headaches, Insomnia, Lumbago, Nervousness, Neuralgia, Neurasthenia, Paralysis, Sprains, etc." (c. 1910)
IMAGE: INTERNET ARCHIVE / FLICKR COMMONS
The instruction on the box said there was almost nothing that the German-made vibrator could not treat (c. 1915)
IMAGE: SSPL/GETTY IMAGES
IMAGE: SSPL/GETTY IMAGES
IMAGE: SSPL/GETTY IMAGES
IMAGE: SSPL/GETTY IMAGES
IMAGE:UNDERWOOD ARCHIVES/GETTY IMAGES
Actress Colleen Moore using a Star-Rite electric massage vibrator in Hollywood (c. 1927)
IMAGE: WELLCOME LIBRARY, LONDON
Advertisment for "Sanofix" electric hand vibrator, which came with 4 different attachments for massaging the forehead, face, neck and chest and could be used without tiring the hand (1913)
IMAGE: WELLCOME LIBRARY, LONDON
MAGE: WELLCOME LIBRARY, LONDON
MAGE: WELLCOME LIBRARY, LONDON
MAGE: WELLCOME LIBRARY, LONDON