Born to poor immigrant parents in 1899 in Brooklyn, New York, Al Capone, (January 17, 1899 – January 25, 1947) went on to become the most infamous gangster in American history.
During the Prohibition in 1920, Capone dominated the organized crime scene in America with his multi-million dollar operation in bootlegging, prostitution and gambling. Capone was the mastermind of numerous brutal acts of violence, mainly against other gangsters. The most famous of these was the St. Valentine's Day Massacre in 1929, in which he ordered the assassination of 7 other notorious rivals.
Capone was never indicted for his racketeering but was finally brought to justice for income-tax evasion in 1931. After serving over 6 years, Capone was released. He died in 1947 in Miami. Capone's life captured the public imagination, and his gangster persona has been immortalized in the many movies and books inspired by his exploits.
Below is an incredible collection of photos that may describe a part of his life.
Al Capone and his wife Mae
Al Capone with his mom Teresa
Al Capone with his family
[wp_ad_camp_1]
Al Capone in a bathing suit at his Palm Island, Florida, 1929
Al Capone is the man on the lower, May 1929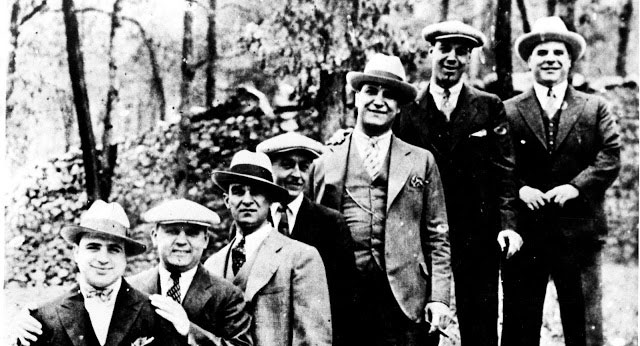 J. Fritz Gordon, Al Capone, and Julio Morales in Havana, Cuba, 1930
Al Capone fishing in Florida, 1930
Al Capone and his son Albert Capone with a baseball signing by Chicago Cubs player Gabby Hartnett, 1931
Al Capone on trial for income tax evasion and violating the Volstead Act, 1931
Al Capone leaving the federal court, October 1931
Al Capone looking straight into the camera when charging out of Federal Court in Chicago with his attorney by his side, Michael Ahern on Oct. 11, 1931
Capone plays cards during his transport to prison to serve a sentence for tax evasion
Al Capone, right, leaving Harrisburg, Pa. with a federal officer for Lewisburg, Pa., where he was released after spending seven years in prison in Atlanta and San Francisco's Alcatraz, Nov. 16, 1939
Al Capone with his family in Florida after he got out of prison
Al Capone with a gang at a bar, 1945