You're looking at the world's largest swimming pool. It's larger than 20 Olympic-size pools and contains 66 million gallons of water, with over half a mile long covering 20 acres in total.
The enormous outdoor pool is located at Chile's San Alfonso del Mar Resort. It's so big you can sail boats on it, or just enjoy a relaxing time floating on the amazingly clear waters.
Take a brief peek into paradise. Enjoy!
Imgur
The pool is also deep, holding the Guinness World Record for being the world's deepest at 115 feet.
Imgur
The pool opened in December 2006.
Imgur
It cost them an estimated $1.5 to $2 billion to build.
Imgur
You can rent a boat and sail around or just enjoy a relaxing time floating on the clear waters.
Imgur
[wp_ad_camp_2]
Or get the whole gang for an awesome pool party.
Imgur
Here's the Google maps aerial view of the pool.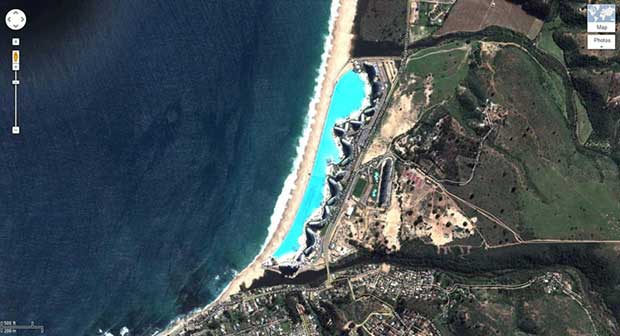 Imgur
The pool water is warmer(about 16°F) than the ocean.
Imgur
But the upkeep of this place costs about $4 million annually.
Imgur
The water is pumped, filtered, and treated from the Pacific Ocean.
Imgur
This amazing man-made paradise is waiting for you.
Imgur
(H/T to Reddit)