U.S. President John F. Kennedy and his wife, Jacqueline, are greeted by enthusiastic crowd upon their arrival at Dallas Love Field on Nov. 22, 1963.
AP
Surrounded by detectives, Lee Harvey Oswald talks to the press as he is led down a corridor of the Dallas police station, for another round of questioning in connection with the assassination of Kennedy. Oswald, who denied any involvement in the shooting, was formally charged with murder.
AP
[wp_ad_camp_1]
Police Lt. J.C. Day holds the bolt-action rifle with telescopic sight, allegedly used in the assassination.
AP
Approximately one minute before Kennedy was shot. In the car riding with the President are Connally (left, partially hidden), his wife, Nellie, and the first lady.
AP
The limousine carrying President Kennedy races toward Parkland Hospital seconds after he was shot. Secret Service agent Clinton Hill rides on the back of the car; Mrs. Connally, bends over her wounded husband; and Mrs. Kennedy leans over the President.
JUSTIN NEWMAN / AP
Oswald is placed on a stretcher after being shot in the stomach in Dallas on Nov. 24. Nightclub owner Jack Ruby shot and killed Oswald as the prisoner was being transferred through the underground garage of Dallas police headquarters.
DAVID F. SMITH / AP
Spectators at Grand Central Terminal in New York City watch a large-screen television presentation of Kennedy's funeral on Nov. 25. The funeral's sounds created a churchlike atmosphere in the station's vast upper concourse.
AP
3-year-old John F. Kennedy Jr. salutes his father's coffin in Washington. Mrs. Kennedy and daughter Caroline are accompanied by the late President's brothers Edward Kennedy (left) and Attorney General Robert Kennedy.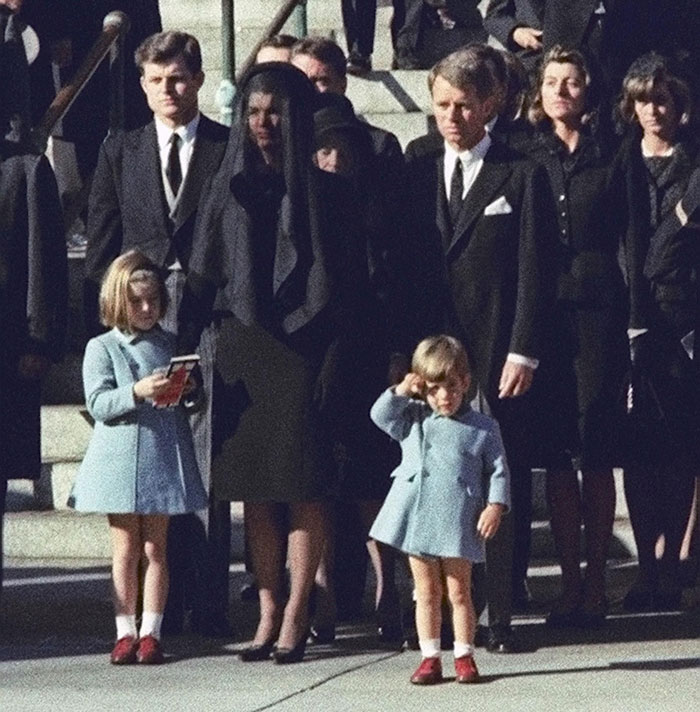 AP
Kennedy addresses a rain-soaked crowd in Fort Worth shortly before attending a breakfast with the Fort Worth Chamber of Commerce at the Hotel Texas.
AP
The flag-draped coffin of President Kennedy lies in state in the East Room of the White House on Nov. 23.
AP
Flowers placed near the site where President Kennedy was killed.
AP
The President delivers a speech at a rally in Fort Worth. Texas Gov. John Connally looks over the President's shoulder at right.
CECIL STOUGHTON / REUTERS/LANDOV
The funeral mass for President Kennedy is held in St. Matthew's Cathedral in Washington, D.C. About 1,200 invited guests attended the service led by the Archbishop of Boston, Cardinal Richard Cushing.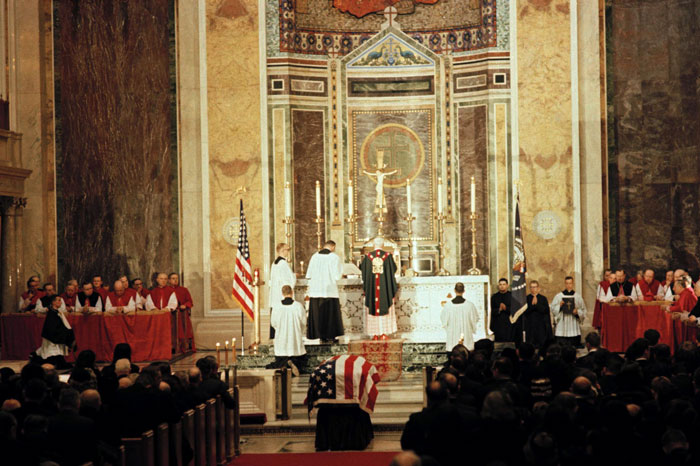 AP
Federal Judge Sarah Hughes administers the oath of office to Vice President Lyndon Johnson as he assumes the Presidency following the assassination of President Kennedy in Dallas. Johnson's wife, Lady Bird (left), looks on with Mrs. Kennedy.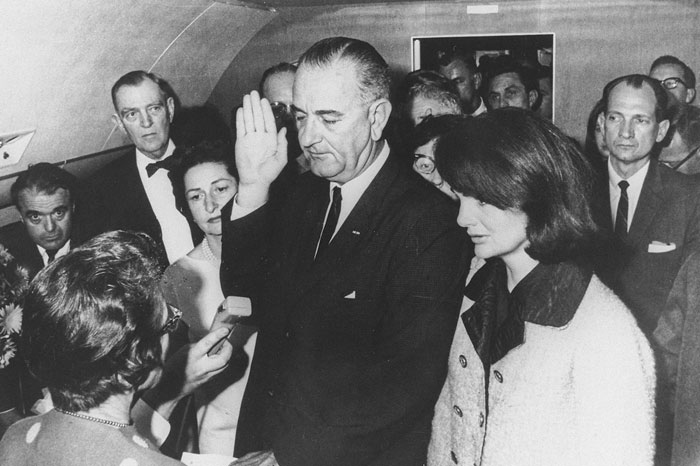 CECIL STOUGHTON / AFP/GETTY IMAGES