Historical photos give us window to our past and show us events that have continuously made us who we are. Below is an incredible collection of rarely-seen photos in history.
A foreskin away from death (1971). A soldier examines whether this man is circumcised or not. If circumcised, he might live; if not, sure death.
During the ethnic cleansing of minorities in Islamic Bangladesh, young Bengali men were forced to remove their Lungis (Sarongs) at checkpoints. This was done in front of the elderly and womenfolk so as to check whether they were circumcised and thus Muslim. (The Hindus were not circumcised).
2. The first performance by the Beatles in South England.
Image Source: www.beatlesbible.com
The Beatles played at the Palais Ballroom, Aldershot, Hampshire in 1961. Only 18 people showed up for the rock 'n' roll show. One and a half years later, they became superstars.
3. 1950's all biker gang
The East Bay Dragons of Oakland, California was started in the 1950s as a car club. It was under the leadership of Tobie Gene Lavingston. He was an associate of Sony Barger and a founding member of the California Hells Angels. His main goal was to make sure his younger brothers and friends stayed out of trouble. In 1959 the club switched to Harleys and Choppers and went on to become an 'outlaw' motorcycle club.
[wp_ad_camp_1]
4. Fidel Castro and Che Guevara fishing in 1960
Image Source: www.all-that-is-interesting.com
The two Latin American Leaders, Che Guevara and Fidel Castro, took their time to fish soon after coming to power in 1960.
5. Disneyland Backstage cafeteria (1961)
Image Source: www.photobucket.com
This picture was shot at the Disneyland backstage cafeteria, in 1961.
6. Drive in Theater in Utah (1958)
Image Source: www.life.time.com
A classic shot of a drive-in theater showing "The Ten Commandments", with Charles Heston as Moses.
7. "Swimmobiles"
Image Source: www.nycgovparks.org
In 1960s, the Hecksher administration started the "swimmobiles". They took pools meant for undeserved neighborhoods to the streets. The pools were attached to tracks and parked on the streets all day, then conveniently towed away at night.
8. Transporting a hard disk in 1956
In September 1956, the 305 RAMAC was launched by IBM. This was the first computer to have a hard disk drive (HDD). It weighed over a ton and could store 5MB data.
9. Coca cola in France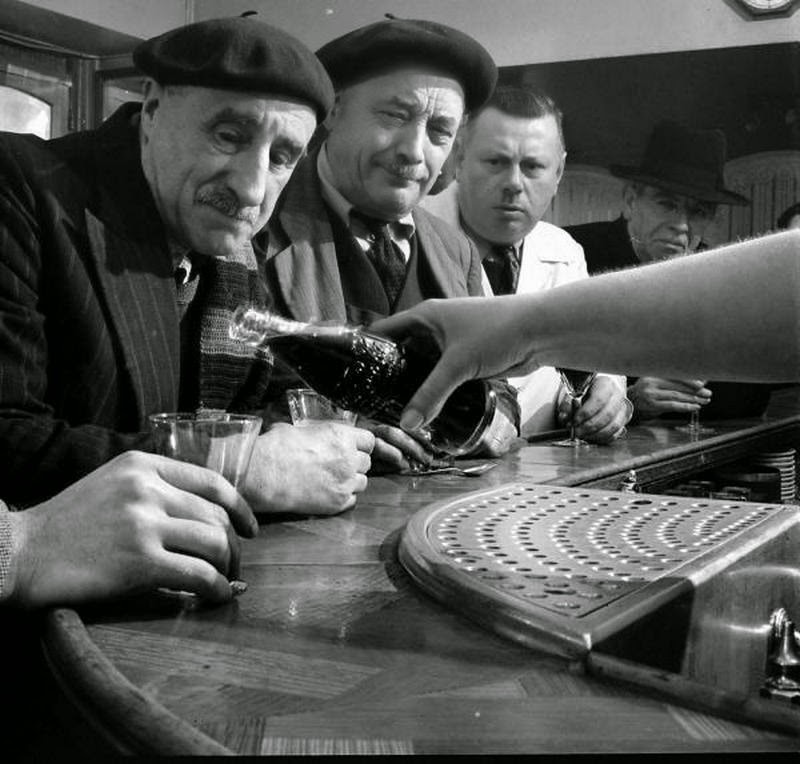 When Coca-Cola was finally granted its license by the French government in 1950.
10. An Opium den in Singapore (1941)
Image Source: rarehistoricalphotos.com
In the photo, Opium smokers in Singapore can be seen relaxing in a sparsely furnished opium den. This suggests that the clientele was mostly working class. The dens were a place where you would do opium, hangout then do more opium. The social impact was damaging and some addicts sold their possessions to feed the habit. Most of the men ended up becoming homeless due to the addiction.
11. 1928: Rooftop Racetrack
viralfact.com
The Lingoto Building is in Nia Vizza, Turin, Italy. It once housed an automobile factory that was built by Fiat. Its construction started in 1916 and by 1923, the building was opened. Matté Trucco was the young architect who designed it. It had five floors, where raw materials went in at the ground floor and cars were built on a line that went up through the building. Finished cars would emerge at the rooftop level to get to the test track.
12. 1928 MGM screen credits
Image Source:www.historicalphotosdaily.blogspot.com
Filming of the MGM screen credits in 1928- this was the beginning of the Hollywood era.
13. Test pilot George Aird ejected from his English Electric Lightning F1 aircraft.
Image Source: www.rafjever.org
Test pilot George Aird was flying the English Electric Lightning F1 aircraft, in Hertfordshire on 13th September, 1962. He was making an emergency landing following a double reheat fire warning that had occurred 15 miles North East of Hatfield. At about 100 ft, 10 seconds from touchdown, the aircraft pitched nose up suddenly. There was no response from controls and he ejected the plane which crashed on the airfield and caught fire. George landed in a greenhouse and sustained several fractures.
14. Moving a 7600 ton apartment building to create a boulevard in Alba Iulia, Romania (1987)
This happened in the early spring of 1987. They had a tough choice given that they had to rework the infrastructure and make way for the boulevard. They decided to move the building 55 meters(180ft) away but not before splitting it into two. Building which housed over 80 families.
The whole operation took 5 hours and 40 minutes and and the (now) 2 separate buildings were moved apart on a 33 degree inclined angle.
15. Transporting 'The Apple', the first Indian satellite (1981)
This image became pretty famous as a metaphor as to how the high-tech Indian space program coexists with general impoverishment. The reality was quite different. Contrary to the general belief that India's didn't have trucks in 1980s, this is a classic example of the supposedly unique Indian concept of Jugaad. The day when the photo was taken they were taking the satellite out for an antenna-range test. With a basic understanding of physics, it is well-known that testing an antenna by placing it, in the bed of a truck isn't the best since the truck is metallic. The simplest work-around was to use a wooden bullock cart.
16. Audrey Hepburn shopping with her pet deer "Ip" in Beverly Hills, CA (1958)
Image source: www.anothermag.com
When the British actress was making her 1959 film Green Mansions, directed by then-husband Mel Ferrer, the animal trainer on the set suggested that she take her on-screen sidekick, a baby deer, home with her so that he would learn to follow her. Audrey's inner calmness was perfect, and the deer thought she was her mother. Nicknamed 'Ip', the deer would cuddle Audrey and accompany her to the supermarket in Beverley Hills.