The Internet world is full of opportunities for people from different fields of interest. Users can operate businesses, consume content online, or produce it as bloggers. Do you know how to start a blog business? Or how to launch a personal blogging project on the web? 
The number of blog servers is huge. More and more users want to enter the niche. Writing professionally isn't a must to start a bog. Being interesting to the targeting audience is key to success. 
There are several aspects to learn if you want to become a blogger. This article will answer your questions and help you build a successful strategy. You shouldn't be worried about how to start a blog online. Our guide will help you plan everything correctly and make the right steps.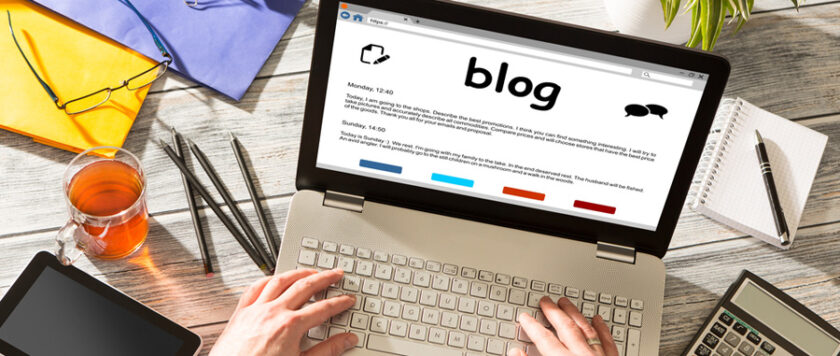 What's a blog? 
First of all, it must be mentioned that starting a blog for beginners might be a complicated task. The competition is huge. There are tons of users trying to share their art, business, or thoughts on the Internet. To make a blogger set up you need to answer the primary question. What's a blog? 
A personal blog is a web page ruled by a particular user. You as the owner of the server are responsible for content posting, ideas and thoughts shared on the page. The information must be posted regularly to encourage more readers and create the targeted audience pool. The content might be of different topics. 
The characteristic feature of the blog is the speech type. It should be a conversational talk with the reader. Whatever topic you choose, it must be read smoothly. The easier your content is perceived, the more loyal fans you can encourage to the blog. 
Top 3 reasons to start a blog 
Creativity and persistence are the key elements necessary to start a blog. You should be a creator to encourage people to consume the content you produce. It's a complicated and demanding activity. Why should you try it? 
– The first reason is the creative potential. You set the rules in your blog. A creative person needs to share ideas and thoughts with others. And a blog is the best place for such an activity. 
– The second reason to start a blog is freedom of speech. You don't follow the rules of anyone, except for the censorship. 
– Bloggers are popular. The potential is immense. If you want to get famous, you can use the resources and promote yourself online. It's possible to reach hundreds of people and become a noticeable character on the web. 
It's a great way for creative people to share their ideas, help others with relevant pieces of advice or promote art. If you want to become a famous blogger, find soulmates, and be valuable to the readers, creating a blog is the best alternative. 
An added bonus is the opportunity to make additional income from your blog. Read this article on how to make money with WordPress so you get a better idea of how to get paid for your creativity.
How to start a blog: a simple guide for online users 
If you're reading these lines, you must be convinced to start your blogging career. There are different ways people start blogging. Some of you might already have a blog that accidentally became popular. Others want to find answers to their questions and start a blog correctly. 
If you wonder how to start a blog and get paid, you need to work on the project. It takes time to create an interesting blog platform for people to reach. But it's possible with our guide. The following tips will help a lot of those users who dream to become real bloggers someday. Let's start with a simple step-by-step guide. It will navigate you through your preliminary attempts and clear a lot of issues. 
Select a platform 
The choice of a platform for your blog means a lot. You can choose a hosted or self-hosted platform. What's the difference? Let's get into it together. 
– A hosted platform will help you focus on content creation. Technical aspects won't bother you much. However, there are considerable drawbacks. You can't choose any design or template you want. The set of functions is limited. The blogging platform sets the rules you can't deny. 
– A self-hosted platform can let you be more versatile with the functionality of the website. You should install the software and take control of everything that appears on the website. It's fully customized by the owner. A lot of users choose WordPress as the best CMS for blog creators. You may also try it for your blog purposes. 
It's your choice to prefer one platform type over another. You should decide what aspects you find more necessary and then decide on the type of platform. You also can easily find professional desktop application development services for such needs as well.
 Choose a domain name 
How to choose a domain name for the website? There are different ways you can decide on the type of name. Some bloggers decide to take a creative approach and develop an interesting name variation for their web page. However, the best way to develop a name is to use your blog name and add .com in the end. 
It's an important step because the unanimous name for all the platforms will determine how the users see your website. If you have a single domain name for all the platforms where you share personal content, your brand is easier to identify. 
Research the market 
You might be highly interested in art, but there are too many blogs sharing the same content. Your task is to research what are the most popular market offers and analyze the information. Why should you do it? The answer is your position among other blogs. Being creative isn't enough. Your task is to overcome the competition and attract as many followers as possible. It's not working unless you work on what the market can offer. 
– Check the competitors first. You should know what other people with the same topic broadcast to others. 
– Your major task is to note how the competing blogs are framed and promoted. Using the same principle may work for beginners. 
– By researching the market, you can get inspired by the ideas and use them on your fresh blogging platform. 
It's a necessary step. If you want to get your blog going successfully, you need to cope with this step. 
Generate topics and Schedule the blog activity 
Your task as a blogger is to attract readers and encourage them to consume your content. In the first stages, blog creators are forced by inspiration and competition. But when the thrill has faded, you need a routine with the scheduled post ideas. It will help you solve a couple of potential issues. 
First of all, you don't need to consider new topics when you aren't interested in strategic planning. Secondly, you have a general picture of what will happen with the blog in the upcoming week or month. This is what helps develop a working promotion strategy for the blog. 
Add Content 
One of the important steps is adding content. When the whole organization process is over, you can finally add the fruits of your work. First, it's better to start with some simple topics so that the reader can get acquainted with your style. When you have regular users on the website, you can move on and share your in-depth thoughts and ideas. 
Promote your blog
The last critical part of the blog is the promotion part. You may have an interesting and interactive platform full of content. But what about the readers? You need to use effective promotion strategies if you want to share your ideas with others. 
There are different ways to promote the blog. You can launch an advertising campaign and show tell about your blog on the Internet. Many blog creators choose social media marketing to tell more people about their art. Email marketing is also helpful if you want to increase the activity on the website. 
In some cases, it's important to hire a specialist to help with promotion. In other cases, you can cope with the promotion campaign on your own. The strategy depends on the initial purposes, the topic of the blog, and the KPIs. 
Conclusion 
You might think that blogging is already an outdated activity, and there are no changes to get in the line. But this is a wrong statement. Anyone can share their thoughts on the Internet. If you choose the right platform, your ideas can be heard easily. 
In this guide, you learned how to start a blog. All you need is a plan and some time to implement your ideas. If you follow the steps, work with the idea of your content and promote the art, your readers will find you easily.