LinkedIn is one of the most significant B2B marketing platforms in the world, with over 830 million members. As a business professional, it is important to have a strong presence on LinkedIn, with a large number of followers for your company page. This can help to grow your network, boost your LinkedIn profile, and enable you to stay interconnected with more people. 
Many users may wonder how to gain followers on LinkedIn, and it is important to consider various strategies to increase your followers and build a strong presence on the platform.
Extraordinary Ways to Get Followers on LinkedIn
There may be millions of potential followers on LinkedIn, but there is also plenty of competition. Therefore, you need some creative ways to boost your popularity. Here are a few to consider.
1) Complete and Update Your Profile
Having a complete and regularly updated LinkedIn profile is crucial for making a good first impression on potential followers. Your profile should include your logo and a clear, appealing description of your business, including key information about your organization and an overview of your services.
Research has shown that having a complete and updated profile can increase views by 30%, which can, in turn, help you gain more followers.
2) Post-Great Content
To gain more followers on LinkedIn, it is essential that you understand the needs and interests of your target audience and provide content that adds value to their experience on the platform. It is also crucial that you create high-quality, engaging content in order to increase engagement and attract followers. To keep your audience interested, you should mix up the types of content you use, such as using a combination of images, videos, and infographics.
Additionally, try to provide well-structured content that answers your audience's questions and addresses their concerns. By understanding your audience and providing valuable content, you can improve engagement and attract more followers on LinkedIn.
3) Use Relevant Hashtags
To increase your exposure on the platform and gain more followers, it is important that you use hashtags that are relevant to your business and niche, as LinkedIn's search feature uses an algorithm to recommend posts and profiles to users based on specific hashtags they are searching for.
Additionally, you can create content around popular topics and include related hashtags to show that you are up-to-date with current trends and events. By incorporating relevant hashtags into your posts and descriptions, you can improve your visibility on LinkedIn and attract more followers.
4) Post Content Regularly
To increase your organic reach and build credibility amongst your audience, you must post content regularly. You will generate a larger audience if your potential followers know when you will post. 
Understanding your posting schedule means they'll anticipate your new content and check your profile around that time. They can also recommend you to their network, informing their followers about your upcoming posts.
5) Be Engaging and Responsive
LinkedIn analytics and engagement data suggest that building strong relationships with your community is key to success on the platform. To develop these relationships, it is important to consistently and promptly interact with your followers. 
For example, you should respond to comments on your posts and engage with your followers' posts as well. By showing that you value their input and contributions, you can strengthen their bond with you and boost your reputation, leading to more followers.
6) Add a Follow Button
Promoting your LinkedIn profile as widely as possible will increase your opportunities to gain more followers. Also, consider going beyond LinkedIn and drawing people in from other platforms.
If you have a website, add a follow button in prominent locations. Having a one-click link such as this makes it easy for people to view your profile.
Similarly, if you make blog posts or issue a regular newsletter, include a link to your LinkedIn page. The same applies to calls to action. You can achieve additional followers simply by asking them, so consider doing this regularly.
7) Add a Link to Your Email Signature
You should view every email you send as an opportunity to promote your LinkedIn profile. By placing a link to your page in your email signature, you will increase your exposure and visibility.
This tactic is also a subtle way to encourage people beyond your target audience and potentially gain their interest. By linking your email signature, it will remain if the recipient forwards or shares it.
8) Tag Other Users in Your LinkedIn Updates
When tag other users in a post or LinkedIn update is an excellent B2B marketing strategy. When you mention them, their audience will get alerted to the fact.
Getting noticed in this way can generate interest in your profile. If you tag someone in a post relating to your industry or niche, it can lead to more LinkedIn followers from others interested in the same.
9) Start Followers Ad Campaign
Growing your LinkedIn profile is a goal many professionals and brands set. LinkedIn ads are an excellent way of promoting your profile. 
To boost your following, consider using the Follower ad format. Using these ads will enable you to tap into LinkedIn's powerful targeting capabilities to gain more followers within your industry.
10) Make Your Page SEO Friendly
Most people are aware of the need to have their websites optimized, but did you realize the importance of SEO for your LinkedIn page? Including relevant keywords and key phrases in the descriptive elements of your profile will make your page more discoverable and more likely to be in front of those who put such words in their search field.
The higher you can get up the search rankings, and the more often your page is included, the more opportunities you'll have to increase your audience and gain more followers.
11) Collaborate with Influencers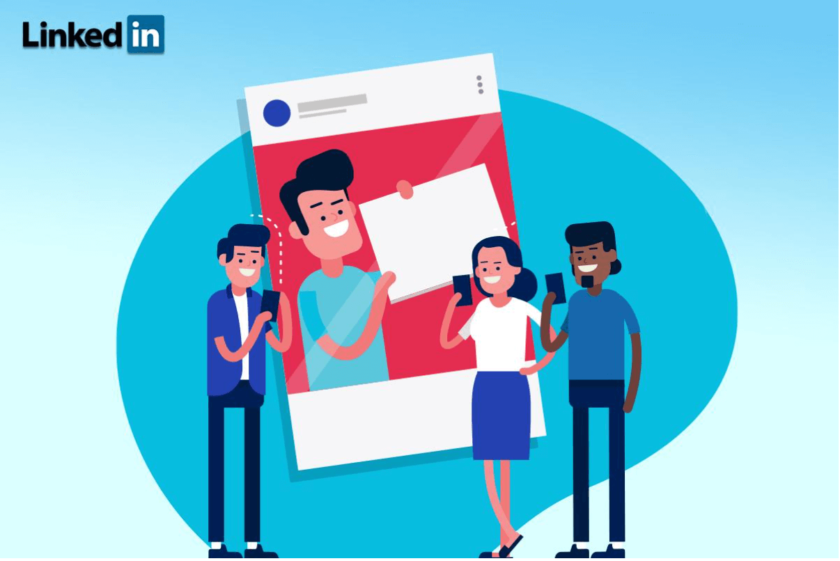 An excellent way to extend your reach and open your profile to more potential followers is to collaborate with influencers. Producing content together with popular companies or professionals enables you to gain recognition from their followers, some of whom may want to join your ranks too.
Keep your influencer marketing varied but relevant to your industry or specialization. For instance, aim for a mix of entrepreneurs, executives, creators, and leaders. 
Your engagement with these can be as subtle as participating in interesting discussions. By doing this, you'll get an indication of what subjects generate the most interest, and you can develop more in-depth content for your page.
12) Buy LinkedIn Followers
Buying LinkedIn followers is an excellent tactic to add to your marketing strategy. It enables you to get instant credibility for your LinkedIn profile, creating interest and encouraging others to follow you.
You might be the most skilled and experienced professional in your field. However, with few followers, you will not get the recognition you deserve, and your voice will not reach the audience who can benefit from your message. Purchasing LinkedIn followers gives you the initial traction needed to boost your profile and start getting more organic followers.
Of course, you must ensure purchased followers are from real accounts; otherwise, it could damage your account. When you buy LinkedIn followers from Media Mister, you are guaranteed they will be genuine and come with a high retention rate.
Media Mister is an established social media services provider with over a decade of experience in this field. They've provided millions of followers to thousands of satisfied customers. Their confidence in their ability to provide you with the followers you need is backed by a money-back guarantee. 
Conclusion
LinkedIn is the top platform for companies and professionals. It provides you with an excellent opportunity to market your business and get your brand message out there.
However, without an audience, you will find it challenging to be heard. Using these tips to gain more LinkedIn followers will extend your reach and give your voice a better chance of being heard.