Organize your home with the help of these useful tips and tricks using everyday items! You'll be surprised what other clever uses these common household items are good for. Enjoy!

1. Use clear nail polish to secure screws. The nail polish works like an invisible glue to help those sometimes loose screws stay in place.
Real Simple
2. You can also use clear nail polish to secure buttons. Just a dab will keep button threads from unraveling. In the case that you don't have a sewing kit handy, you can apply nail polish to prevent or stop an already fraying thread.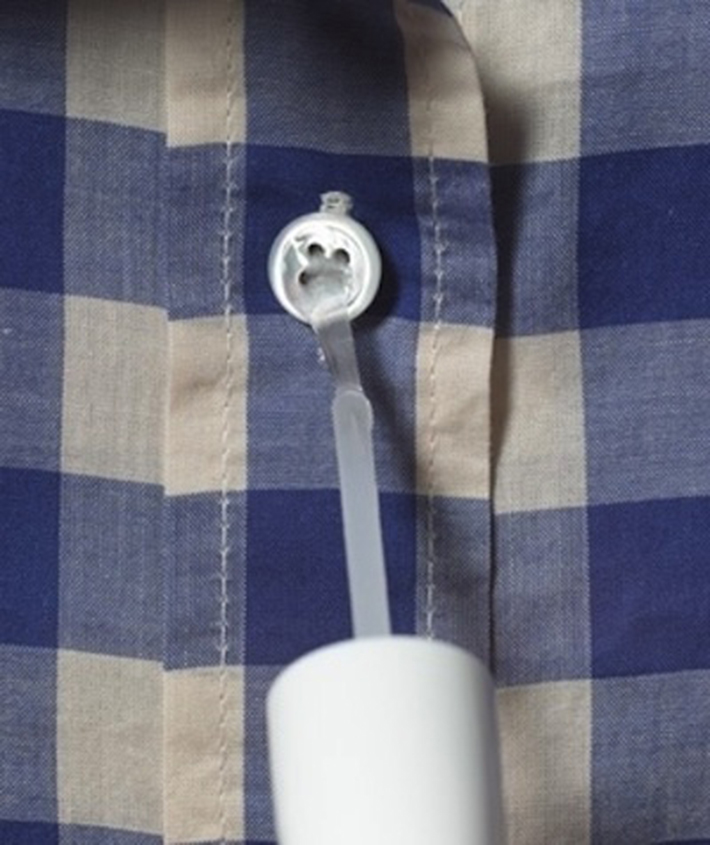 LifeHacker
3. Use an old makeup brush to clean in between the keys on your keyboard. It's the perfect size to remove dust and crumbs.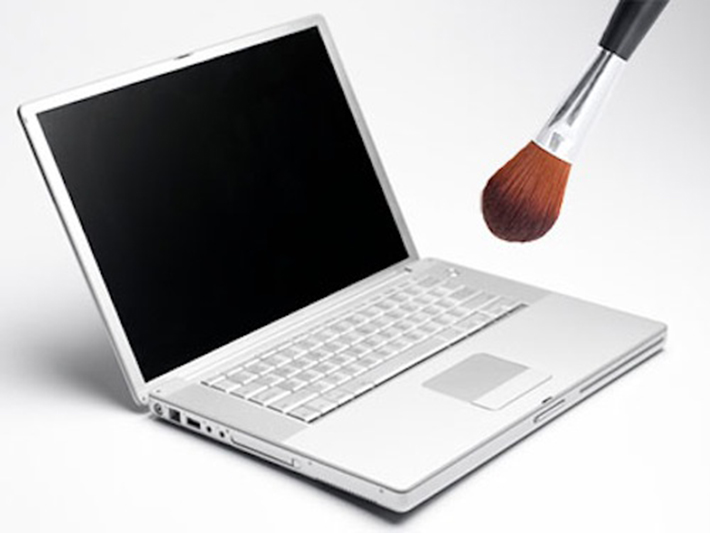 Hella Wella
4. Keep a door latch from opening with this rubber band trick! This is perfect for a baby's room door that needs to be kept quiet. Also, with this rubber band latch stopper, you don't have to keep turning the door knob every time you go in and out of a door.
Good Housekeeping
5. Keep the edges of your paint can clean by simply stretching a rubber band around the can. Use it to wipe excess paint off of your brushes for easy cleanup and sealing.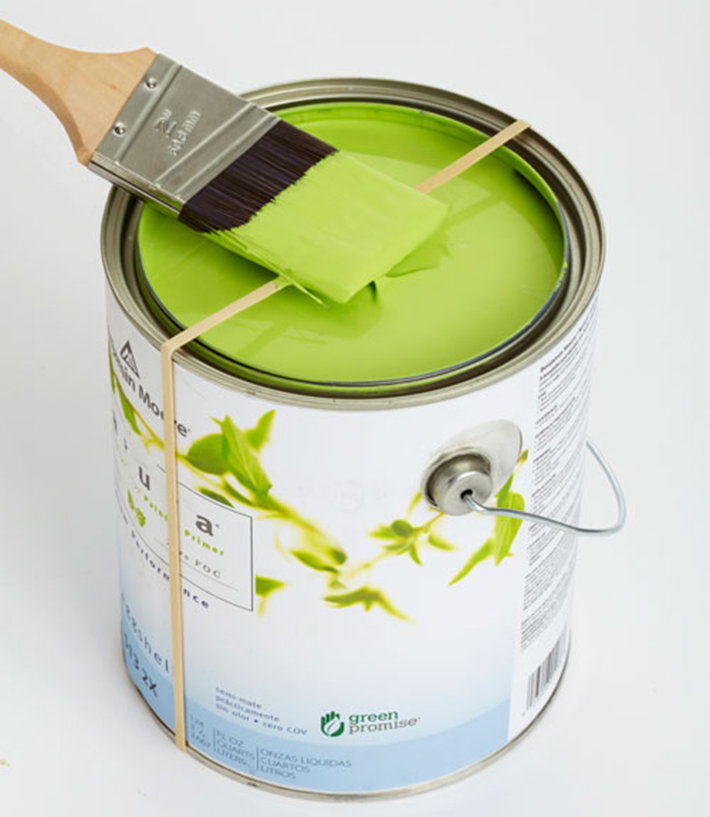 Good Housekeeping
[wp_ad_camp_2]
6. Use buttons as earring holders to keep your pairs together. This is perfect for when your traveling and it will also make it easier for you to find them in your jewelry box, especially if you have a large collection.
Levitando
7. Use pool noodles to keep your boots in an upright position. They're lightweight, the perfect size, and are much cheaper than boot stands.
Ivy Ridge
8. Keep clothes, especially wide-mouthed shirts, from sliding off of hangers by wrapping pipe cleaners around the ends.
In My Own Style
9. Use a binder clip to hold your paper money, then attach your keys to make it double as a key ring.
Real Simple
10. Use the light bulb packaging (simply remove the interior cardboard to have it fold at the crease) as a photo protector. A handy trick to keep your photos and documents from bending in the mail.
Listotic
11. Label your cords (to lessen the confusion) with bag closures.
Apartment Therapy
12. Popsicles can be such a mess especially if you have little ones. But by simply poking a hole in the bottom of a muffin liner with the end of the popsicle stick, then sliding it up to act as a drip catcher, you won't have to worry about the drips on the floor, on the furniture, and on their clothes anymore.
Real Simple
13. You can also use muffin liners as jar covers. It's a cute and quick way to decorate small jars and they'll also make for fabulous gifts.
Martha Stewart
14. Use shower caps to cover the soles of your shoes before packing them in your suitcase. This keeps the dirt and grime from from getting on the rest of your packed items.
Good Housekeeping
15. Get the perfect level scoop by placing a strip of masking tape across the top of baking containers. The tape will serve as a scoop scraper that will allow you to scoop single handed. It's also thin enough that the lid will easily fit back on without having to remove it for future use.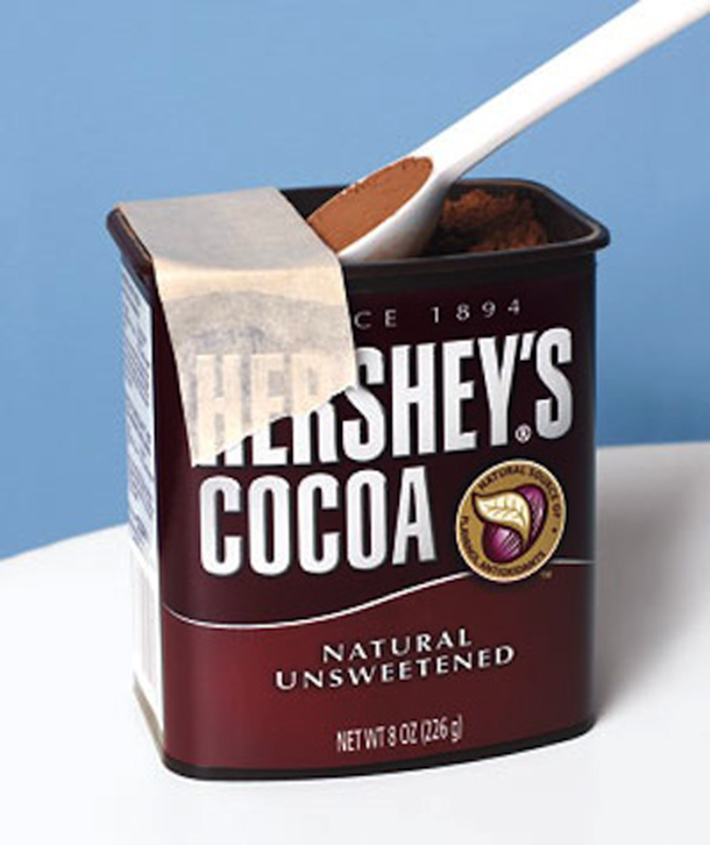 Real Simple
16. Use shower hooks to help organize your closet! You can use them to hang purses, scarves, hats, ties, belts, and more!
Real Simple │ From The Desk
17. Use dryer sheets to clean baseboards. Not only will it leave your house smelling amazing, the fabric softener works as a dust repellent as well!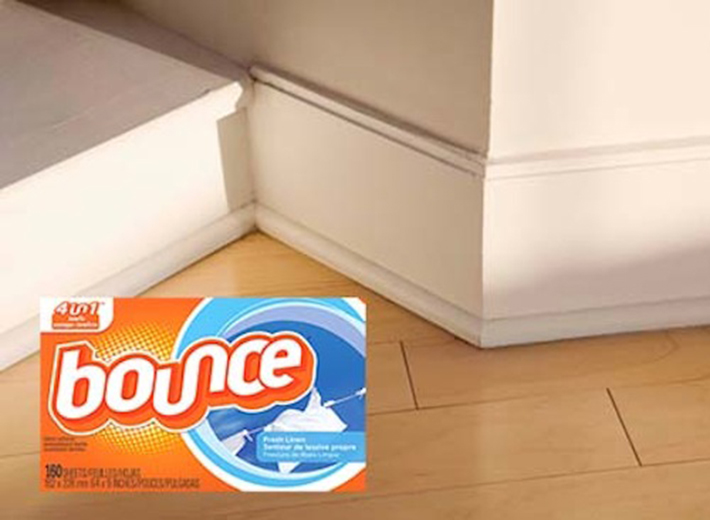 Hella Wella
18. Use also dryer sheets to clean soap scum and water spots. They smell so much better than soap scum remover.
Everyday Simple
19. Repurpose those pretty tissue boxes to hold plastic bags. They work perfectly to store and disperse one bag at a time.
Space Wise
20. Iron small hems, shirt straps, in between buttons, and other small spaces in your clothes with a hair straightener. You can also use it to flatten out crumpled up ribbons and cloth belts.
Real Simple
21. Stop soil from falling through the drainage hole in flowerpots by lining it with a coffee filter.
This Old House
22. When you're at the beach or water park, keep your valuables handy but hidden in a suntan lotion bottle or case of hand wipes.
Nightwatch Protection
23. Say goodbye to watered down drinks by using a colander as an ice bucket! You can either place the colander over a bucket or put a bowl below it to catch the water drains.
Real Simple
24. Use a plastic bottle as a funnel.
Home Made Simple
25. Protect your hands and fingers from hot coffee by placing a wristband or the top of an old sock as a coffee sleeve.
Real Simple
26. Clean out those crumbs and other loose particles inside your purse with a few quick swipes of a lint roller.
Hella Wella
27. Insert a straw (preferably clear) to prevent soft and unstable stems from bending and keep your flower arrangements perfectly standing tall.
Good Housekeeping
28. Use cooking spray as a snow aid. Just spray both sides of your shovel with cooking spray so that the snow falls right off instead of building up.
Real Simple
29. Place a pool noodle under a fitted sheet just next to the edge of the bed (serving as a bed rail) to keep kids from falling out.
Listotic
30. Use hair clips to keep the cords of your flat iron, hair dryer, curling irons, and what have you, organized.
Pretty Organized
31. Keep your cooking pans, trays, and cutting boards in an upright position using a desk file organizer. This makes them much easier to access as opposed to having them stacked on top of each other in a pile.
Real Simple
32. Use wine glass as a candle holder to turn simple candles into a stunning display. They make easy but charming centerpieces for formal affairs such as weddings, dinner parties or anniversaries.
Listotic
33. Use a twister mat as a table cover for parties or family game night.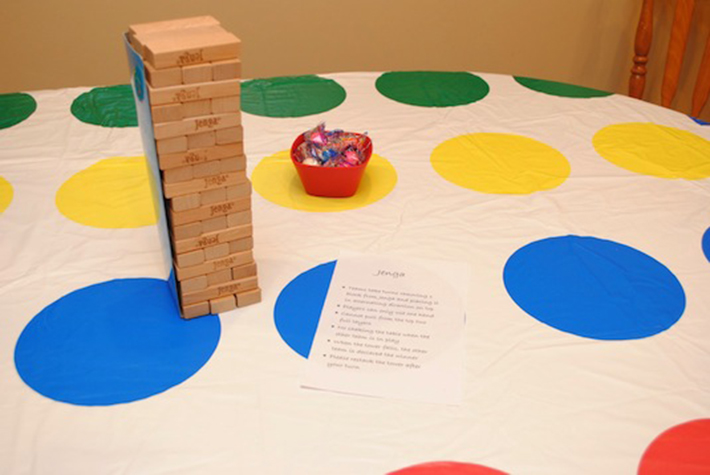 The Boatwright Family
34. Apply a dab of toothpaste on the back of a frame and press it up against the wall where you want it to hang. The toothpaste, which will serve as your guide, will transfer onto the wall right where you will want to place your nails.
Somewhat Simple
35. Insert a straw on one end of your necklace to keep it from tangling with the others.
Real Simple
36. Use baby powder as a jewelry detangler. Sprinkle a little bit of baby powder over the knot and then loosen it to freedom with a pin.
Real Simple
37. Easily coordinate a party table with your theme using paint chips! This one doubles as a napkin holder and place card, but you could also fold them in half, write the name on one side, and then place them at each setting.
My Hands Made It
38. Prevent scarves or other items that you want to prevent from wrinkling in your travel bag by wrapping them around cardboard tubes (paper towel or wrapping paper tubes).
Real Simple
39. When door hinges get squeaky, spray a little bit of cooking spray in the cracks to quiet them down.
Good Housekeeping
40. Keep those toothbrushes off the counter and hidden in the drawer with a silverware tray.
Families That Stick
41. Use lollipops in cocktails and other party beverages in place of your traditional drink stirrers. The lollipop will also add a bit of fun color to your drink.
Listotic
42. Dry cake pops without ruining them by sticking them into the holes of a colander.
WikiHow
43. Keep all of the beauty products you like to have on-the-go in an unused sunglass case where they will stay protected and organized.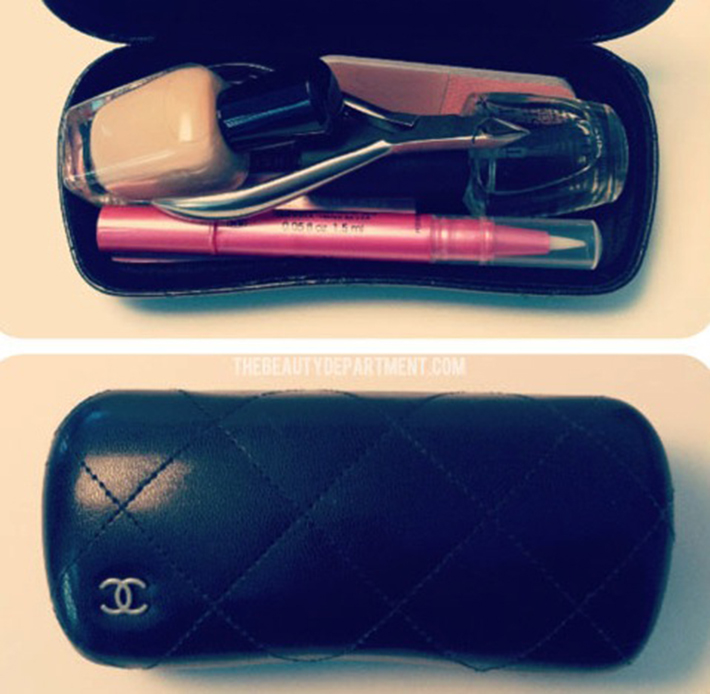 The Beauty Department
44. When you travel, keep your camera in a hard soap box to prevent damage while inside your bag that's sure to get tossed and banged around.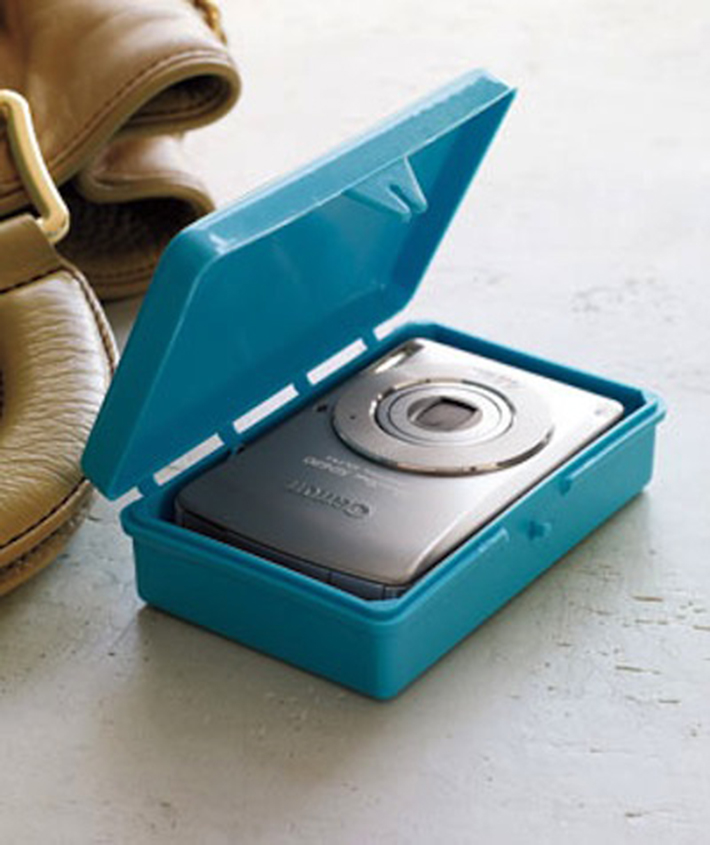 Real Simple
45. Here's another great traveling tip for your jewelry. Place rings and earrings in one of those daily pill boxes to keep them safe and organized.
Indulgy
46. Cheap plastic toothbrush stands work just as well for storing your makeup brushes as they do your toothbrushes.
Good Housekeeping
47. Use a wine cork as a pin cushion to keep all of those needles handy and organized.
Real Simple
48. Store and organize small, miscellaneous craft and office supplies using ice cube trays.
Home Made Simple
49. Use the sticky party of a Post-It note to get in between the tiny cracks of your keyboard.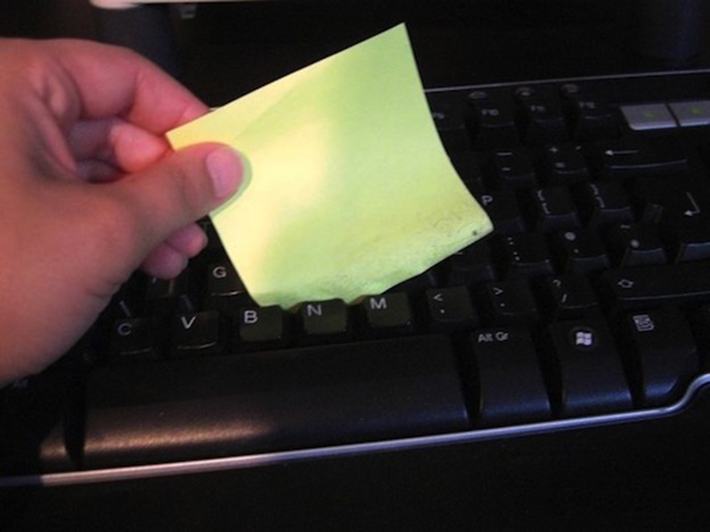 Lab Minions
50. Use binder clips attached to the lip of your desk to keep your computer cables and phone chargers organized.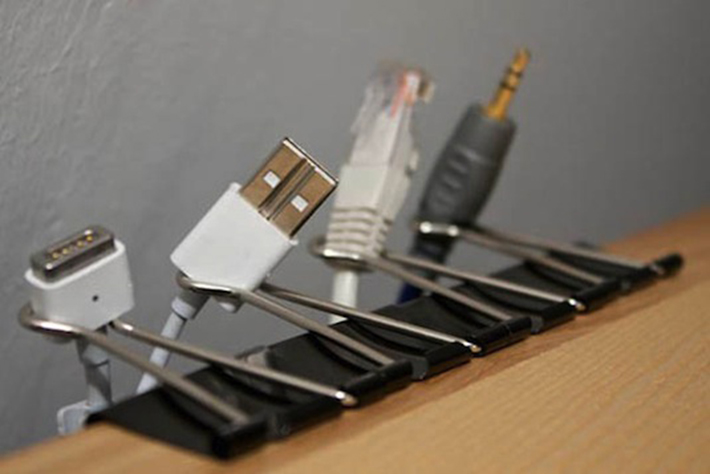 Twanis
51. Label your things with your return address labels in the unfortunate case that they get lost or left behind.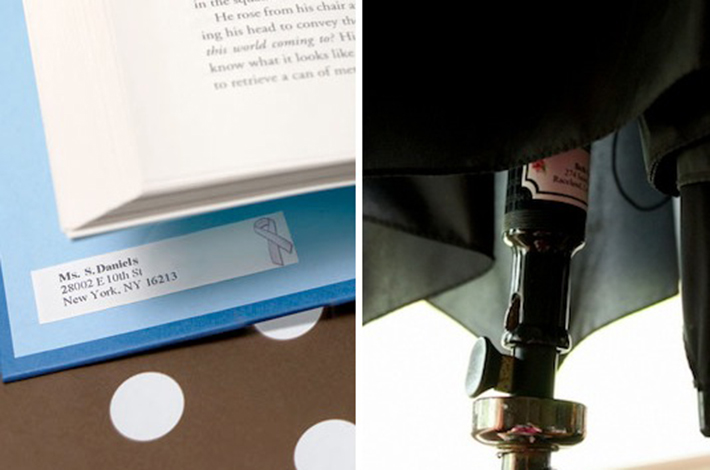 Real Simple │ Beth Celestin
52. Drop a few frozen grapes in your wine to keep it cold without watering it down.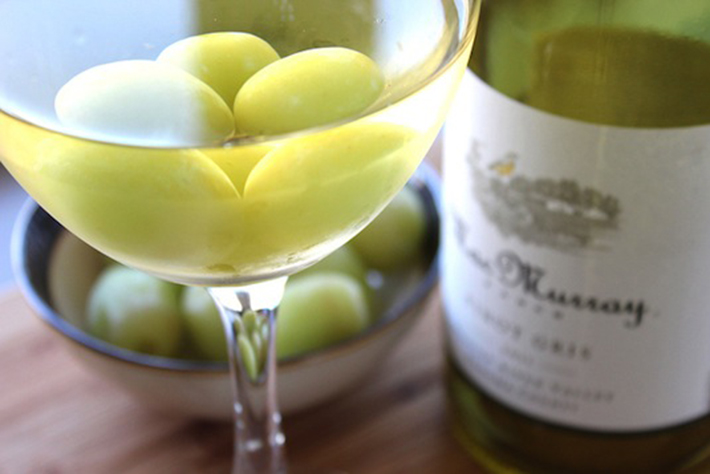 Vanilla Extract
53. When cutting the corn off of the cob, place it in the center of a bundt pan for a secure hold. This way all of the corn falls into the pan, too.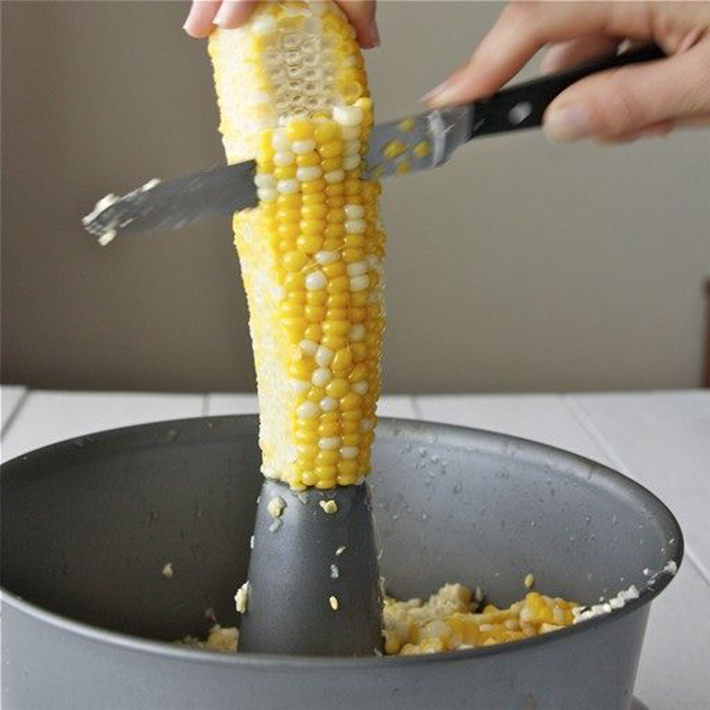 Dishing The Divine
54. Prepare individual scoops of ice cream in a muffin pan filled with liners so when it's ready to be served, you can take it out of the freezer and easily serve it along with other desserts.
Real Simple
55. Use hanger clasps as bag clips to keep the chips fresh for later.
Adrienne's House
56. Pringles cans are the perfect size and length to store the uncooked long pasta while keeping it fresh.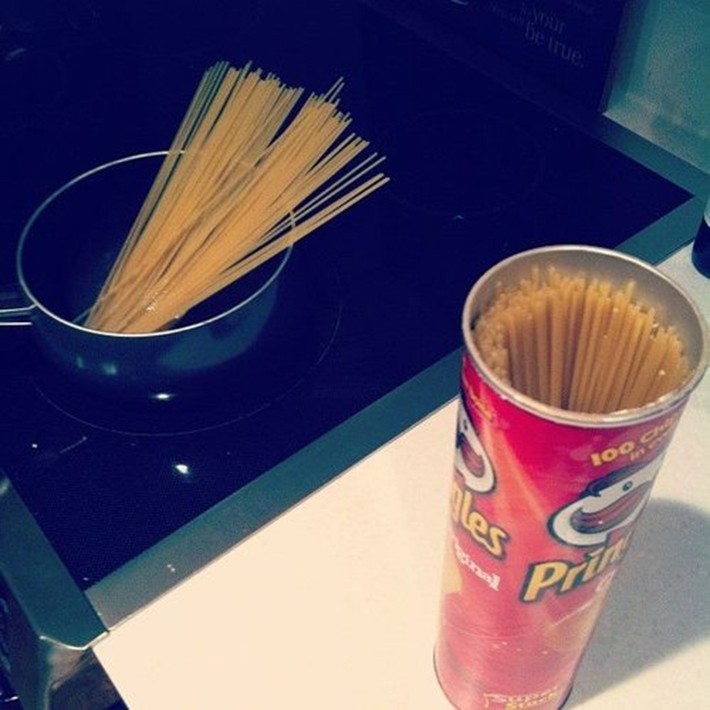 Lifehacker
57. The aluminum soda tab makes for just as good of a hook as any!
Apartment Therapy
58. Use paper tubes to store your cords and cables.
Apartment Therapy
59. Legos as a key holder? Brilliant, right? And there's no drilling required if you use the Lego bricks to connect to your keys.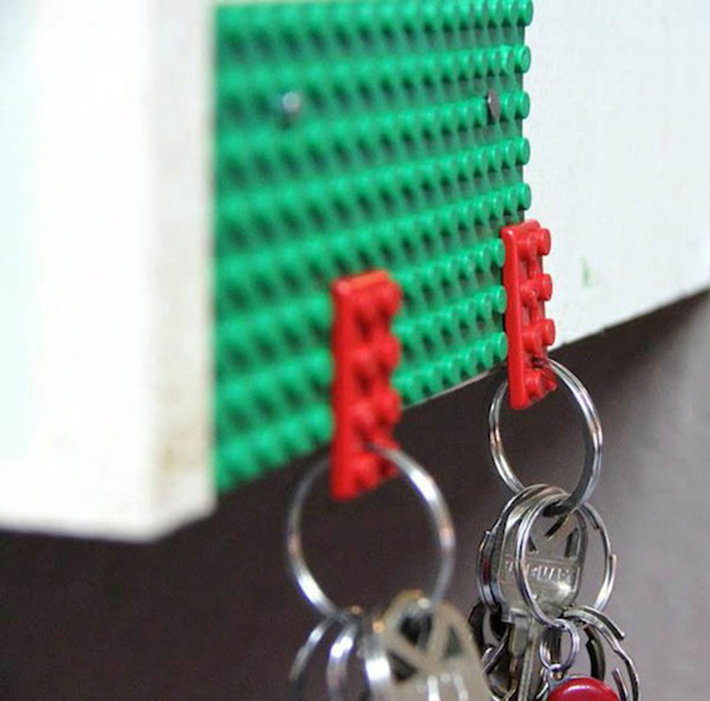 Wendy Janelle
60. Place a bunch of skewers together in a box to hold your knives. This way you can stick them anywhere and it will work for any and every size.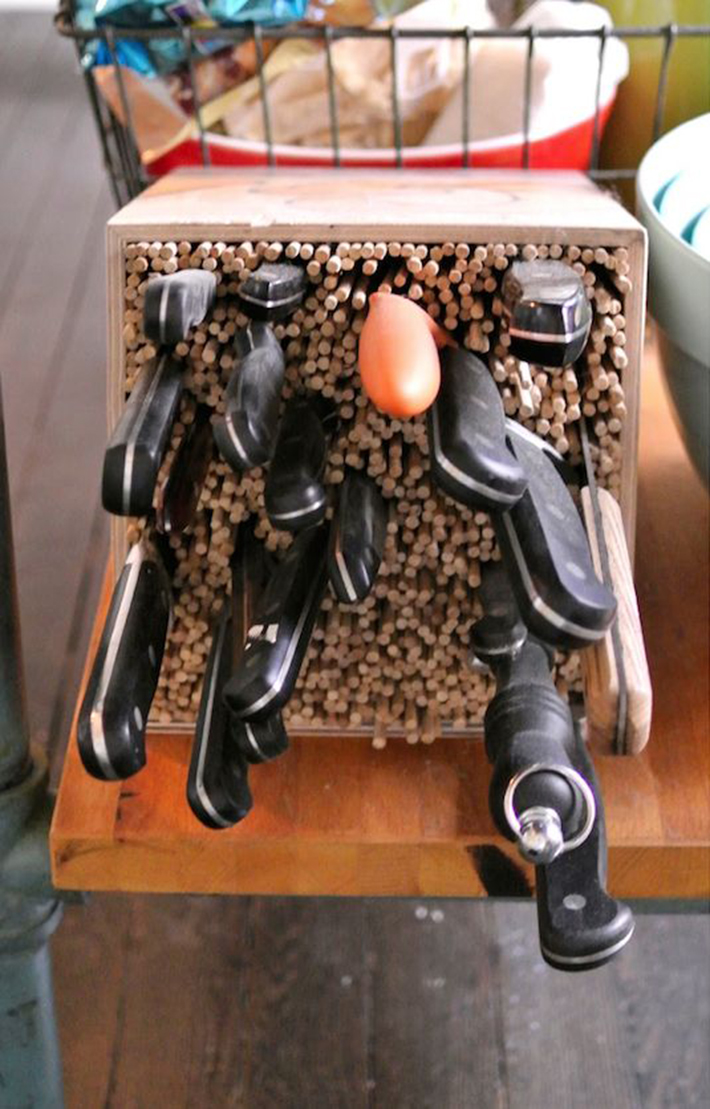 Farm Fresh Therapy

Via Listotic