The year 1917 marked the end of over 300 years Romanov dynasty. Chaos, anger and death were sweeping through Russia and Tsar Nicholas II saw no end to the bedlam. He finally bowed to the chaos and relinquished the royal throne on March 15, 1917.
It was the end of the centuries-old rule of the Romanov family. It was also the beginning of the "weaving of the complicated net of death" of The Romanovs. They were later bayonetted and shot by drunken assassins. The slaughter of the Russian royal family shook the world. We track the last days of The Romanovs, from 1914 to 1918, in this photo collection.
The Romanovs visiting a regiment during World War I. From left to right: Anastasia, Olga, Nicholas II, Alexei, Tatiana and Maria. Behind them are Kuban Cossacks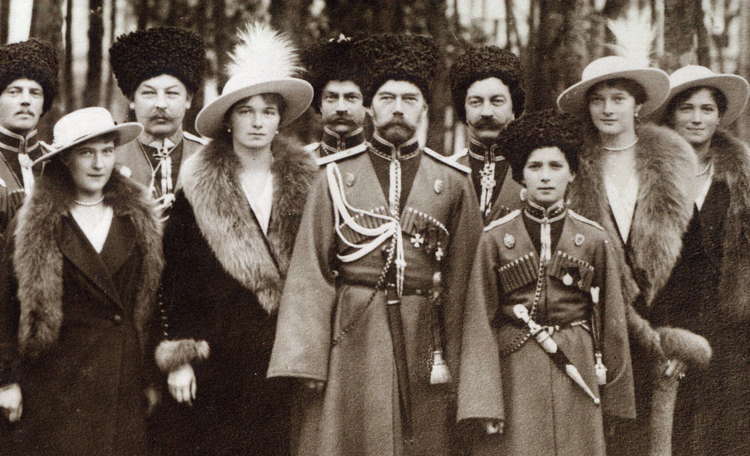 Flax factory in 1905


This photo was taken sometime between 1915 and 1916. Revolution would soon sweep through Russia, and mark the end of the centuries-long dynasty. From left to right: Maria, Anastasia, Olga, Nicholas II and Tatiana.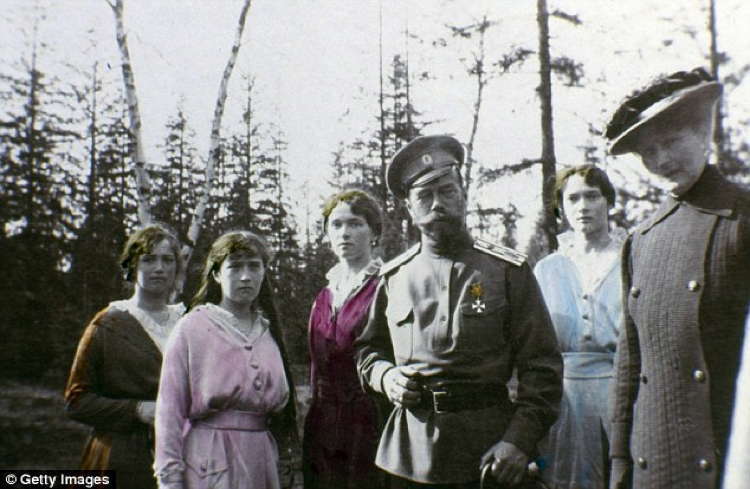 Maria, Olga and Tatiana, just one or two years before they were exiled and later executed.
Olga Romanov poses on the beach, one or two years before her killing.
[wp_ad_camp_1]
Anastasia and Maria Romanov visit wounded soldiers during World War One
Anastasia makes a face with false teeth.
Maria, Olga and Tatiana Romanov pose with their brother Alexei at the beach
Anastasia (left) and Maria visit wounded soldiers during World War I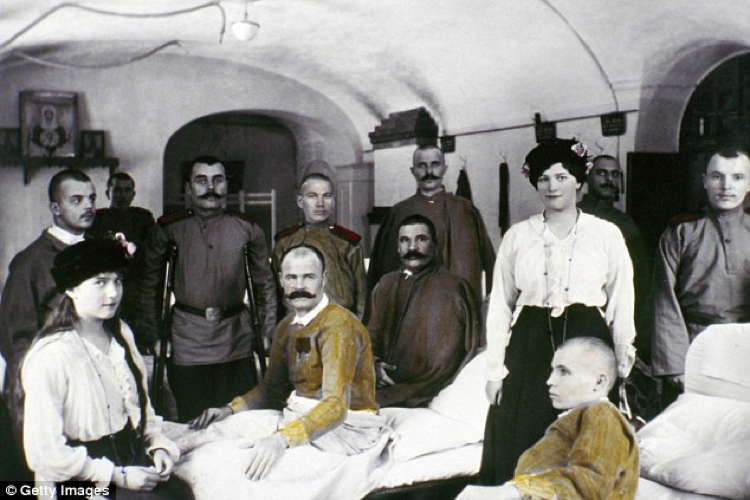 Sisters pose at a palace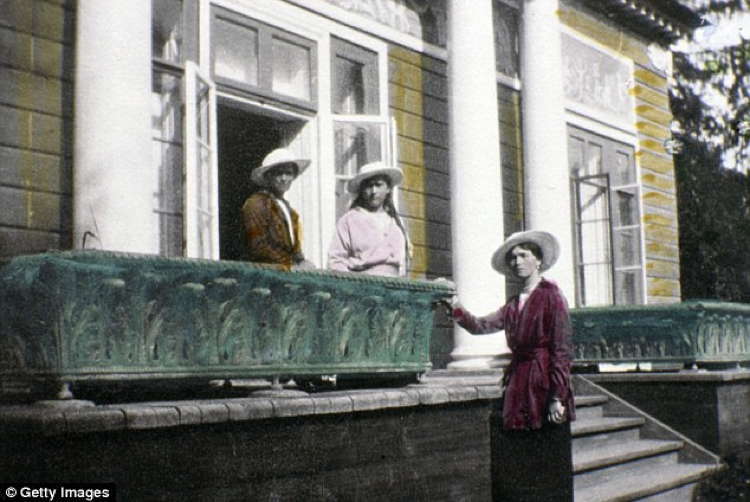 Tatiana with an unidentified man, sometime between 1915 and 1916
The Romanovs at a beach sometime between 1915 and 1916
The family sits in a carriage sometime from 1915-1916. Maria, who inherited her father's love of photography, likely colored this photograph
Tsar Nicholas II, 1915-1916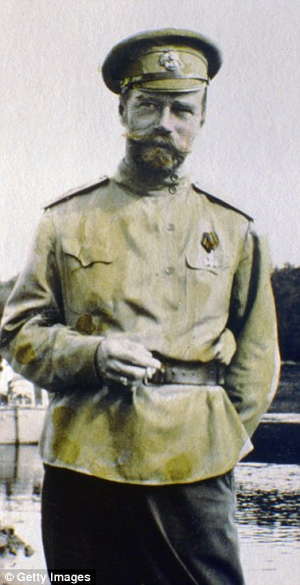 In 1915, the Romanovs pose before a dock
Olga Romanov lies in bed
Youngest daughter Anastasia makes faces with false teeth sometime between 1915 and 1916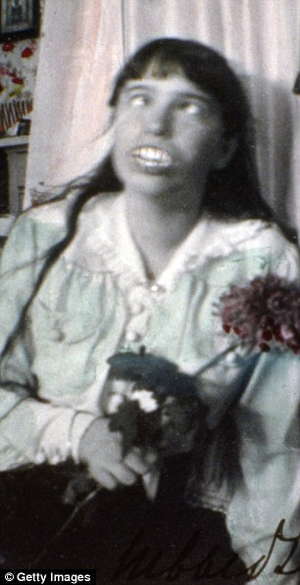 Olga and Anastasia enjoy quiet time with their mother in 1916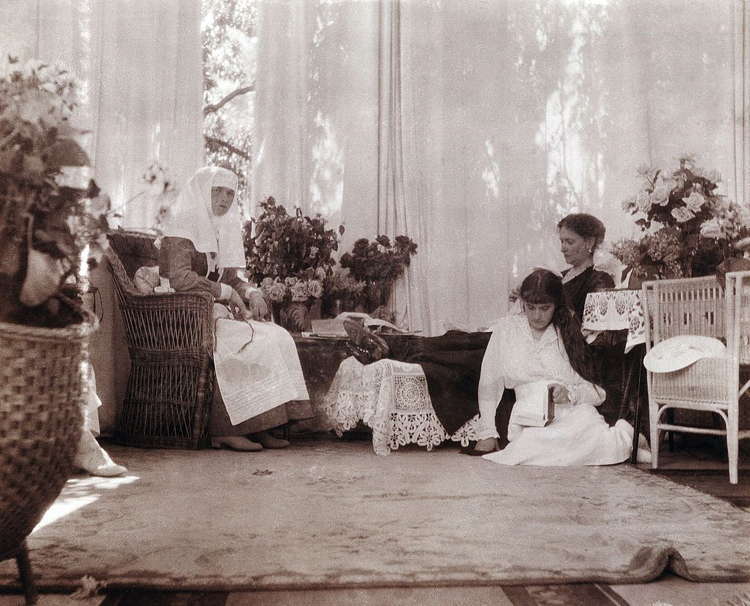 Tsarina Alexandra on the Standart royal yacht, 1914
War breaks out in 1914, and Alexei (left) is pictured playing a war game with his tutor's children
The Tsar, Crown Prince Alexei and his tutor walk an elephant near their palace in Tsarkoye Selo, 1914. In Tsar Nicholas' journal, he writes "Took the elephant to our pond with Alexei today and had fun watching him bathe." Following the 1917 revolution, the zoo was closed
From left to right: Olga, Alexei and Tatiana. This photo was taken in 1914, four years before their July 1918 execution
Alexei and Nicholas II play on the banks of the Dnieper River in 1915
In winter 1916, Alexei poses with his dog, Joy. While many claim that the Bolsheviks executed the dog along with his family, the Siberian Times reports that Joy escaped after an executioner took pity on him, and was later taken to Windsor
The Tsar and Alexei on a boat in Finland
During World War I, the Romanov sisters would pay visits to soldiers, wounded and not
Sisters Tatiana and Olga worked as nurses during World War I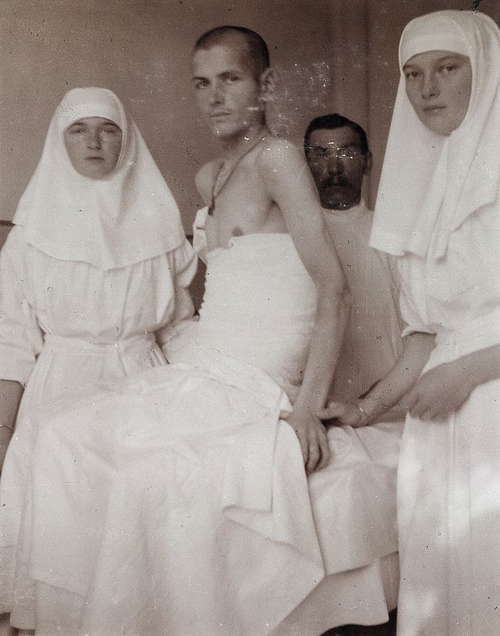 Nicholas II inspects the scene and porridge near Mogilyov, where the Russian military was headquartered during World War I, in 1916
In 1917, the Romanov sisters came down with the measles and had to have their heads shaved. From left to right are Anastasia, Tatiana, Olga and Maria
Tatiana with a shaved head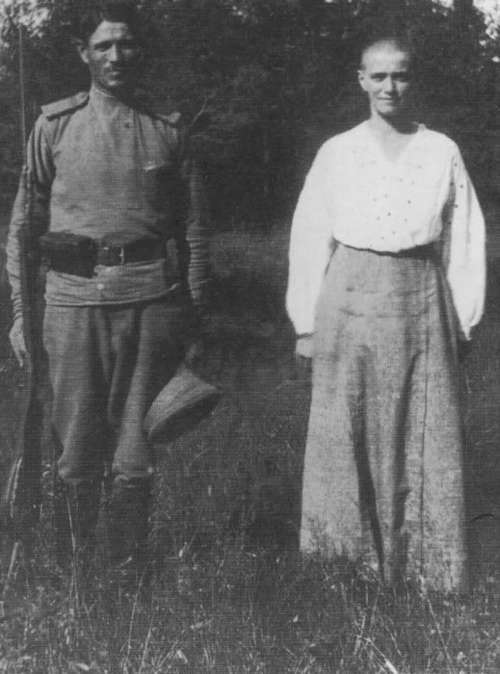 Nicholas II meets with daughter Anastasia, after she shaved her head due to a bout with measles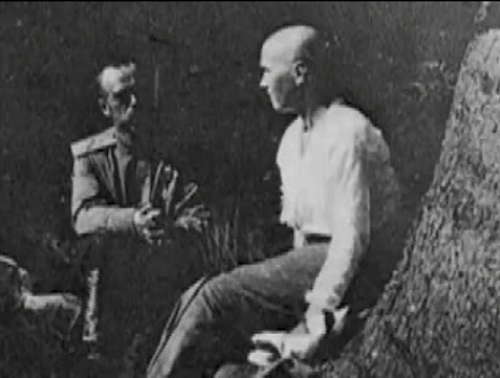 A photo of the sisters as they recover
After being imprisoned at their first home in Tsarskoye Selo, the interim Kerensky government evacuated the Romanovs to Tobolsk, western Siberia in 1916
Some questioned the Kerensky government's motivations behind the decision to send the family to Tobolsk instead of Crimea
Romanovs at their home in Tobolsk
Alexei, seen here while in Tobolsk, would take care of the poultry
Nicholas, sometime between 1917 and 1918, would engage in simple manual work, such as cutting wood
For a time in Tobolsk, the children continued their studies as normal. From left to right: Maria, Olga, Anastasia and Tatiana
From left to right: Olga, Maria, Anastasia and Alexei, 1917
Anastasia and Maria make playful gestures while held in captivity
The Romanovs sit in Tobolsk, western Siberia, sometime during 1917 and 1918
During the family's last Christmas together, Tsarina Alexandra wrote to her lady in waiting, Sophia Karlovna Buxhoeveden
Tatiana and Olga sit with their mother in 1918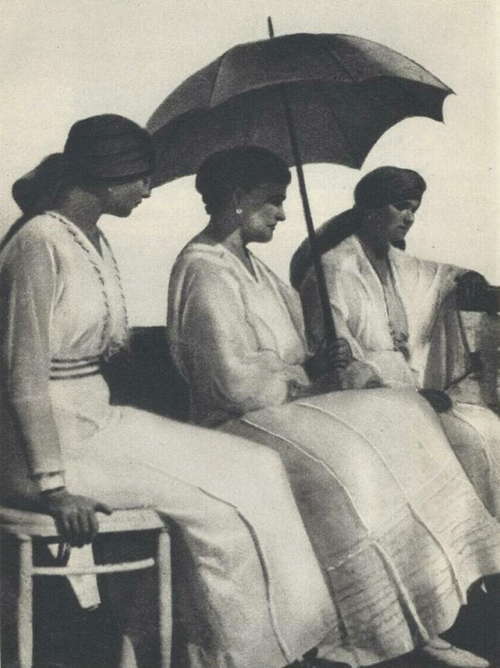 Alexei and his mother take what is likely the last photo of the two in 1918
The cellar of the Ipatiev House, where the family was systematically killed