Electric cars are not a recent innovation. In fact, electric cars gained popularity in its inception for their ease of operation, less smell and noise than a gasoline-powered car.
An average electric car during this time had a top speed of about 20 miles per hour. They were primarily used by affluent drivers to get around cities. Electric car companies marketed the cars particularly to women because many people believed during this time that driving one is so "ladylike".
An electric car being charged (c. 1900)
IMAGE: LIBRARY OF CONGRESS
"Electricity is the thing. There are no whirring and grinding gears with their numerous levers to confuse, no dangerous and evil-smelling gasoline and no noise." — THOMAS EDISON
Thomas Edison poses with his first electric car, the Edison Baker, and one of its batteries (c. 1895)
IMAGE: GENERAL PHOTOGRAPHIC AGENCY/GETTY IMAGES
Men ride on an electric car designed by Siemens and Halske outside of Berlin, Germany (1882)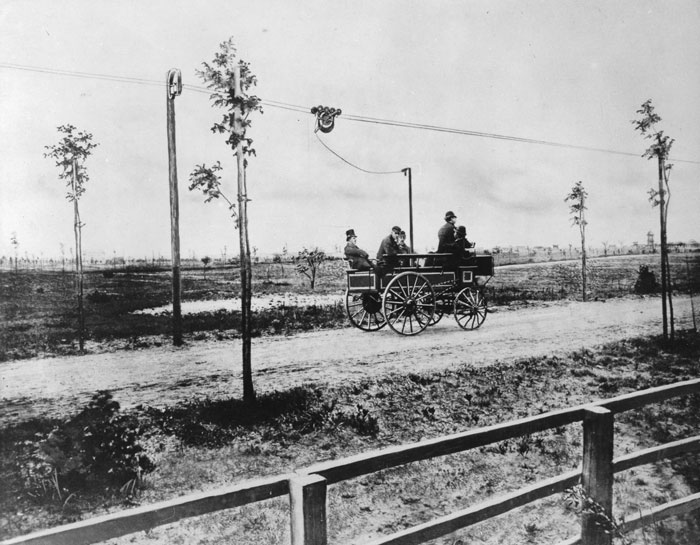 IMAGE: ULLSTEIN BILD/GETTY IMAGES
[wp_ad_camp_1]
Nikola Tesla's electric car
A Columbia electric car (c. 1899)
IMAGE: NATIONAL MOTOR MUSEUM/HERITAGE IMAGES/GETTY IMAGES
Roger Wallace drives his electric car (1899)
IMAGE: NATIONAL MOTOR MUSEUM/HERITAGE IMAGES/GETTY IMAGES
Camille Jenatzy drives his self-designed electric car near Paris, France. He was first person to exceed 100 kilometers per hour (62 miles per hour) in a car (1899)
IMAGE: HULTON ARCHIVE/GETTY IMAGES
Electric cars of the New York Edison Company line up in Manhattan (1906)
IMAGE: BETTMANN/CORBIS
An electric street sweeper cleans the roadway in Berlin, Germany (1907)
IMAGE: ULLSTEIN BILD/GETTY IMAGES
Electric vehicles recharge at a power substation (1909)
IMAGE: SCHENECTADY MUSEUM; HALL OF ELECTRICAL HISTORY FOUNDATION/CORBIS
In 1910s, the sales of electric cars reached a tipping point as more and more homes were connected to electricity. In the U.S., 38% of cars were electric at this time. But the electric cars's popularity slowed down significantly with the discoveries of more petroleum sources, expanded road infrastructure, the invention of the muffler, which all contributed to a substantial price drop and affordability of gasoline-powered cars, which had longer range and power than electric cars.
An advertisement for an electric car (c. 1910)
IMAGE: CORBIS
"Now it is possible for an owner of an electric to install his own charging plant in his stable." — NEW YORK TIMES, C. 1910
A Mercury Arc Rectifier Charging Set powers up an electric car in a garage in Cleveland, Ohio (c. 1910)
IMAGE: SCHENECTADY MUSEUM; HALL OF ELECTRICAL HISTORY FOUNDATION/CORBIS
A woman uses a hand-cranked battery charger to charge her electric Columbia Mark 68 Victoria automobile. The Pope Manufacturing Company made the car in 1906 and the charger in 1912
IMAGE: SCHENECTADY MUSEUM; HALL OF ELECTRICAL HISTORY FOUNDATION/CORBIS
A Detroit Electric car drives on a mountain road between Seattle and Mount Rainier, Washington (c. 1920)
IMAGE: INTERIM ARCHIVE/GETTY IMAGES