San Francisco's Cliff House Hotel at its most dramatic (c. 1890)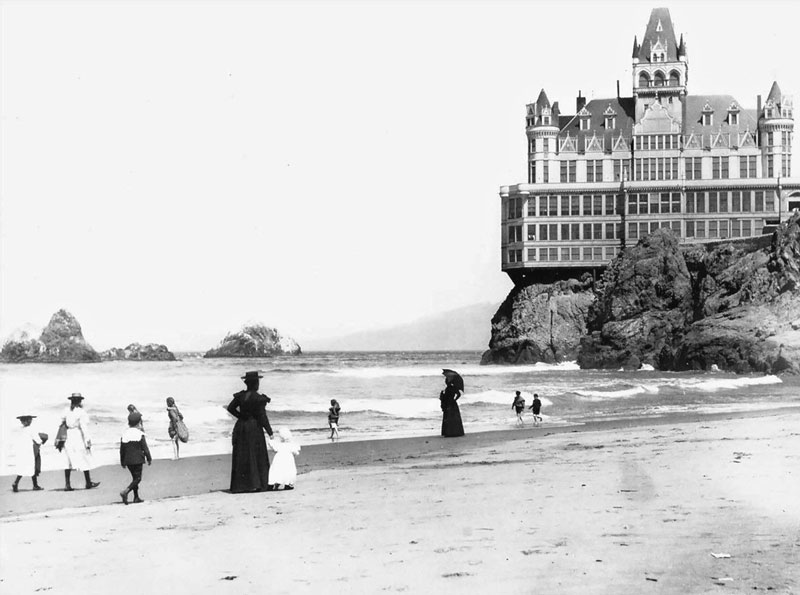 IMAGE: JOHN POPE
The Cliff House was first built in 1858 in west San Francisco. Since then, it has been rebuilt five times for various reasons — such as remodeling the hotel or restoration.
The third rebuilding of the Cliff House was done by Adolph Sutro, a successful mining engineer. It was the most photographed incarnation of the house. Sutro built the seven-story mansion in Victorian style, an elaborately decorated structure dubbed the "Gingerbread House."
The Cliff House was the scene of a number of historic events, including several shipwrecks. The most notable one was the wreck in 1887 that caused damage to the second Cliff House when the dynamite on the ship exploded. The historic first ship-to-shore transmission, using Morse Code, was received here in 1899 and in 1905; the first radio voice transmission was sent from the house to a point a mile and a half away.
The now famous House on the Cliff survived the earthquake that struck San Francisco in 1906 with only a minor damage. But, unfortunately, it burned down to the ground the following year. Sutro's daughter began the reconstruction of a new Cliff House restaurant in 1908, but on a vastly smaller scale.
IMAGE: YALE UNIVERSITY BEINECKE RARE BOOKS & MANUSCRIPT LIBRARY
"The Cliff House should be condemned, removed and a concourse providing some slight shelter substituted, thus opening to the view the sweep of the headlands to the north and the ocean from Cliff House road." — REPORT ON A PLAN FOR SAN FRANCISCO, DANIEL H BURNHAM, 1905
c. 1902

IMAGE: YALE UNIVERSITY BEINECKE RARE BOOKS & MANUSCRIPT LIBRARY
[wp_ad_camp_1]
Beach walkers near Cliff House (1902)
IMAGE: CORBIS
"Select a table next to one of the western windows and order a breakfast that is served here better than any place we have tried. This breakfast will consist of broiled breast of young turkey, served with broiled Virginia ham with a side dish of corn fritters. We have discovered nothing that makes so complete a breakfast as this." — CLARENCE E. EDWARDS, 1914
c. 1900

IMAGE: CORBIS
View taken from the Parapet at Sutro Heights, Adolph Sutro's estate above the Cliff House.
IMAGE: PHOTO BY W.C. BILLINGTON/UNDERWOOD ARCHIVES/GETTY IMAGES
"At the time of the disaster of April 18, 1906, one of the first reports that went out was that the Cliff house had slid into the sea, and to many whose lives were not bound up in the town itself the news semed more vital than that of the destruction of San Francisco." — SAN FRANCISCO CALL, VOLUME 102, NUMBER 100, 8 SEPTEMBER 1907
c. 1902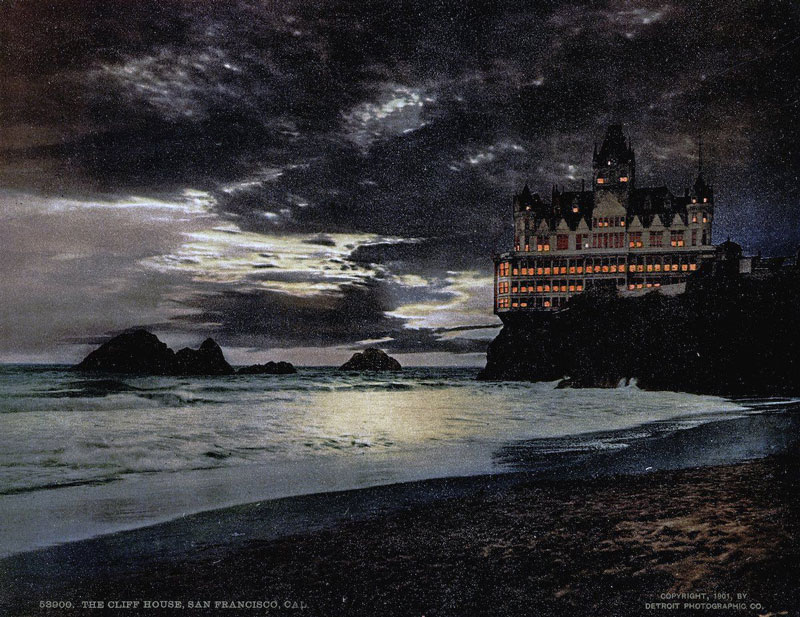 IMAGE: YALE UNIVERSITY BEINECKE RARE BOOKS & MANUSCRIPT LIBRARY
The Cliff House hotel burns (Sep. 1, 1907)
IMAGE: LIBRARY OF CONGRESS
People play on a beach by Seal Rocks and the Cliff House, in San Francisco, California (Aug. 8, 1956)
IMAGE: B. ANTHONY STEWART/NATIONAL GEOGRAPHIC/GETTY IMAGES
Ocean Beach and Cliff House in San Francisco (c. 1995)
IMAGE: ROBERT HOLMES/CORBIS