Restaurants which allow me to have a lunch out with my dogs have a special spot in my budget. Something I'm almost certain other dog owners would agree with.
Lucky for us, (slightly) crazy dog ladies and gentlemen, there are restos which do not only allow our dogs to stay with us while we eat, they go as far as making special menu items just for our furbabies. Check out 15 of these amazing, pet-friendly restaurants!

1. In 'N' Out
What they have: Pup Patty
A plain hamburger patty (minus salt), put in its very own doggy bag. Perfect for your furry best friend!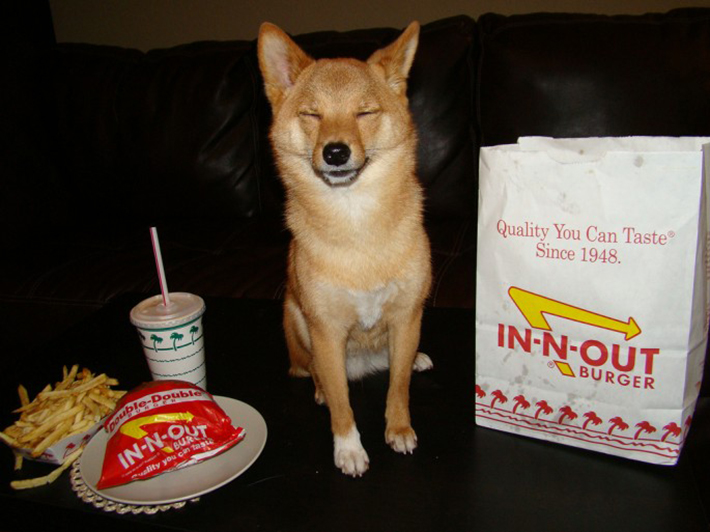 Flickr

2. Moss Beach Distillery
What they have: A full doggie menu!
Located in Moss Beach, CA, this fun restaurant has a full doggie menu with everything from kibble to a $16 skirt steak! Now that's a fancy treat.
Moss Beach Distillery

3. Sonic
What they have: Treats
The pet-friendly Sonic Drive-In is set up so that you order and eat in your car or eat at their outside dining area. If you have your furbaby with you, Sonic will often bring your dog a treat so you won't have to eat alone.
Scottiemom

4. Starbucks
What they have: Puppuccino
It's an espresso-shot-sized paper cup full of whip cream just for your doggy! But since some dogs are bothered by dairy, you probably shouldn't give your dog this sugary treat every day. But for special occasions – go get your good boy/girl one!
Fun, Love and Craziness
[wp_ad_camp_2]

5. Tim Hortons
What they have: Timbits
This famous coffee chain in Canada and the US, offers sugar-free doggy version of their famous bite-sized donuts, Timbits.
Igor Pug Dog

6. Chick-fil-A
What they have: Treats
Many Chick-Fil-A locations give treats to dogs who come by the window (drive thru) – all you have to do is ask.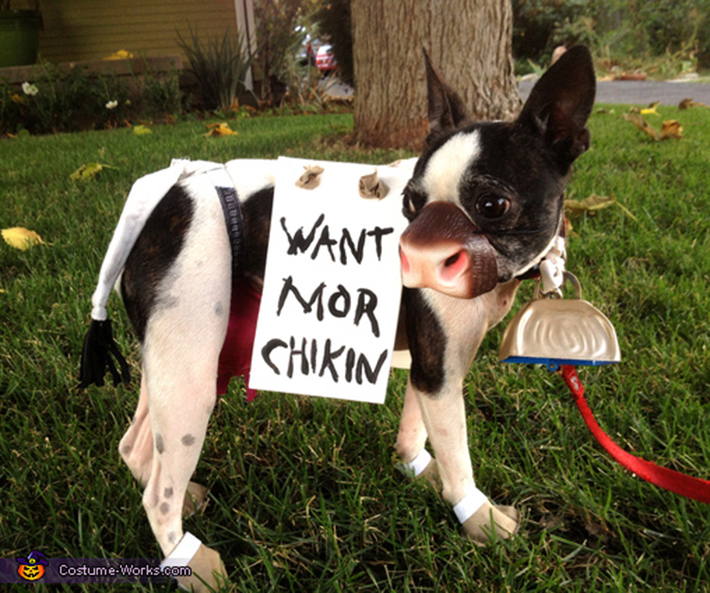 Costume Works

7. Dairy Queen
What they have: Pup Cup
When you ask for a "pup cup" at DQ, your dog will be treated to a free small vanilla soft-serve ice cream cup topped with a dog treat.
sonyadawn │ drkelbel

8. Handel's Homemade Ice Cream and Yogurt
What they have: Frosty Paws & Dogsters
The ice cream chain offers Dogsters, a vet-approved dog treat available in peanut butter and mint flavors. In Handel's Redondo Beach, California location, they serve Frosty Paws – a dog ice cream made with soy.
Handel's Ice Cream

9. Johnny Rockets
What they have: Cut-up burger patty and water
If you sit in the outdoor patio areas at Johnny Rockets, you can ask for a cut-up burger patty and water for your dog. In Southern California's Victoria Gardens restaurant, Johnny Rockets even teamed up with a local dog bakery to put together a 20-item menu especially for doggies. The menu includes Pupcakes and Lickety Split Ice Cream.
CharleneC

10. Sprinkles
What they have: Doggie Cupcakes
Time to visit Sprinkles with your dog! They have special doggie cupcakes that are sugar-free and topped with yogurt frosting.
baileyinthecity │ toyangxoxo

11. Culver's
What they have: Milk bones
Culver's have a tradition of offering milk bones to dogs coming through the drive-thru. In some locations, their milk bone comes on top of a scoop of vanilla ice cream.
Ralph Dog

12. Lazy Dog Cafe
What they have: Beef and rice
Patrons at the dog-friendly and dog-loving Lazy Dog Cafe are encouraged to sit in the outside patio and share meals with their doggies and mingle with other doggies. They serve cut up piece of beef and a generous serving of rice for your pooch.
arachellybelly

13. Rocks and Brews
What they have: Doggie menu
If you're craving for some American comfort food, get your pooch to come along. Chances are, he'll love one, too. And Rocks and Brews might just be the place for you and your dog. They have a doggie menu and will even bring in a bowl of water for your pup.
Bring Fido

14. Shake Shack
What they have: Canine Cuisine
In Eastern United States, the Shake Shack restaurant chain offers a delectable canine cuisine for your dog. Menu items inlcude the Pooch-ini (ShackBurger dog biscuits), the Bag O' Bones (peanut butter sauce and vanilla custard), and a bag of five ShackBurger dog treats.
beanthere_donethat │ reubendubrow

15. Tin Shed Garden Café
What they have: Doggie Love Night
This café in Portland, Oregon, has doggie items right on the menu. Every Tuesday is "Doggie Love Night" at the Shed where your order comes with a free doggie item for your furry friend.
Tin Shed Garden Café

Via 22Words