In Ghana funerals aren't just a time for mourning, but also a grand celebration. They believe that when a loved one dies, he or she moves on into another life. That's why they've to make sure to give them an awesome send off.
The usually brightly colored coffin represents the kind of life the dead person lived – his profession in life or a precious thing he loved. From a giant fish, a beer bottle to stiletto shoe or the bible, there's something special for everyone depending on personality, profession and budget.
The history of this tradition is relatively new. It traced back over 50 years ago when a Ghanaian angler died and was buried in a coffin shaped like a fish. It started the trend that has continued to this day.
The prices for these awesome coffins start at $400 to $600. For international orders, the price is between $1500 and $2000, or even more.
Here are some of the top fantasy coffins to die for in Ghana:
1. This would be a perfect choice for a basketball fan.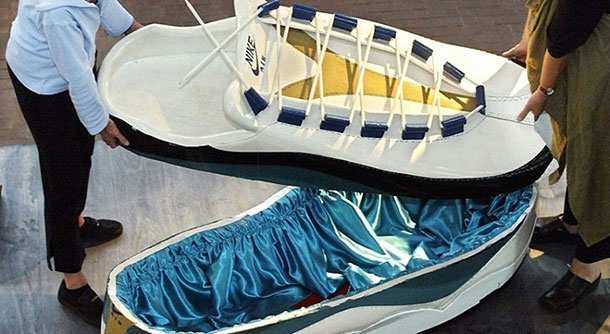 2. Which one is you? A fish or the spice?
3. You can't rush these things.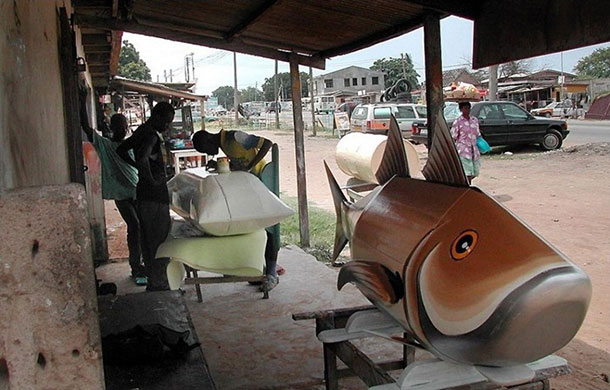 4. Dracula will love these for a variety.
5. Your favorite drink?
6. This is nice for a salesman.
7. Welcome to the showroom. Take your time.
8. The good ol Nokia.
9. This one isn't finish yet. Please come back later.
10. For a businessman, this would be perfect.
11. The lion would be best.
12. The rooster please!
13. If you like traveling the world in the after life, go for the airplane.
[wp_ad_camp_2]
14. How about this butterfly?
15. For the musician.
16. I don't know what this bird is. Eagle you say?
17. This would be my second best option.
18. If you like fancy cars, well…
19. If you own a gasoline station.
20. A prawn? Whatever. It's nice.
21. Now this is some stylish crab.
22. Great choice for a mechanic.
23. Or a carpenter.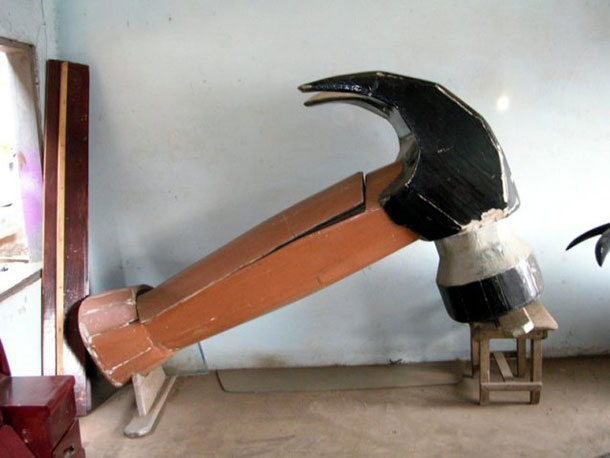 24. Wish comes true for a drunkard.
25. Perfect for an electrician.
26. A fireman will love this.
27. Many people will choose this.
Here's a video to complete your viewing experience.