Every day we are treated with images of people, thousands of people, crossing vast expanse of sea, crawl through international borders, or die from suffocation inside human smugglers' vans.
And who can forget the image of that a young Syrian boy lying lifeless on a beach in Turkey while trying to get to Canada with his family?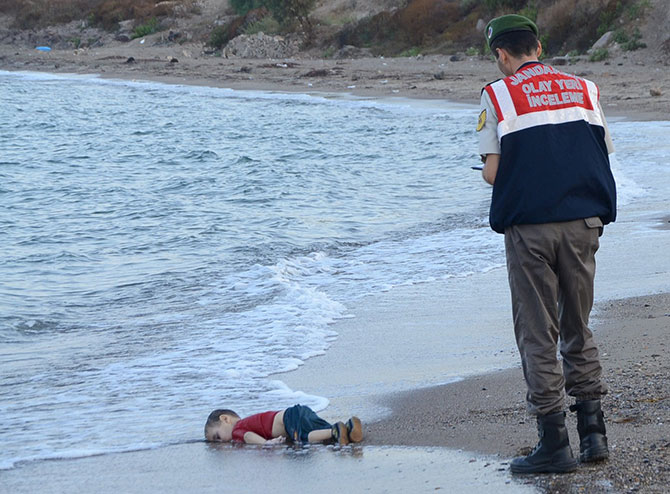 theguardian.com
Though it gripped the entire world, but his case was not peculiar. Every day people die while fleeing their country to escape hunger or death due to civil unrest at home.
But that boy awakened the world because he was too young to die from something he did not understand.
But is this the first time such a huge Diaspora has happened?
No!
Barely 73 years ago, had it happened, too. The characters may have changed but the cause is the same – man's greed for power.
The following pictures depict the results of such greed – the hardships, the misery, the loss of homes, of loved ones, of one's identity, of life – they all are the same then as now.
The irony is that we have never learned. We have forgotten. And because of that, we are now paying a very heavy price.
1.    May 17, 1945: Betty Malek, one of numerous child refugees brought from Belgium to England after the Germans seized Antwerp in 1940.
2.    1945: German refugees crowding a train as they tried to leave Berlin at the end of the war in 1945.
3.    Aug. 10, 1944: A girl and her grandmother wait in a schoolyard as they prepared to leave Saint-Pois during the battle for Normandy.
4.    1945: What is left of 150 refugees fleeing Lodz, in Poland, and heading for Berlin. They are following a railway line hoping to be picked up by a British train.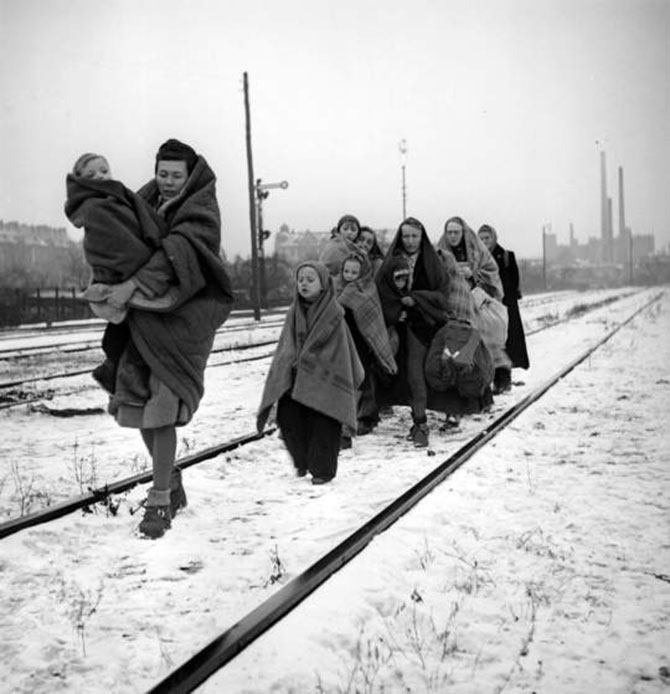 5.    Jan. 2, 1945: Refugees in La Gleize, Belgium, waiting to be transported out of town as it was recaptured by the Americans during the Allies' thrust in the the Belgium-Luxembourg salient.
6. March 20, 1945: Refugees from Eastern Europe queue for food at an Allied Forces refugee camp in Germany.
7.    1945: Refugees and people who have been bombed out of their homes moving through the destroyed streets in Germany after the war. Two Soviet soldiers can be seen on the left, patrolling.
8.  1945: Dutch children refugees arriving at Coventry Station in the U.K.
9.    Oct. 25, 1945: A group of German refugees fleeing from the Russian zone, in the first few weeks after the end of the war.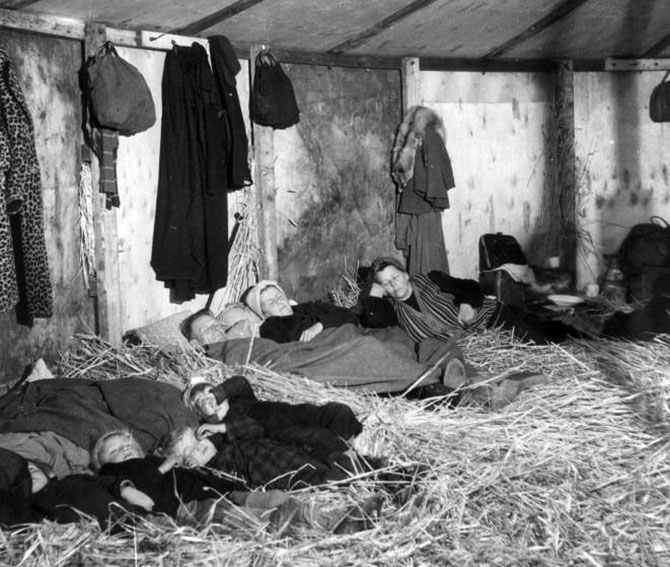 10.    March 3. 1945: German refugees crowding the market square at Juchen, Germany after it was captured by the U.S. Army.
[wp_ad_camp_2]
11.    1945: German refugees, exhausted and homeless huddled in a city municipal building for shelter.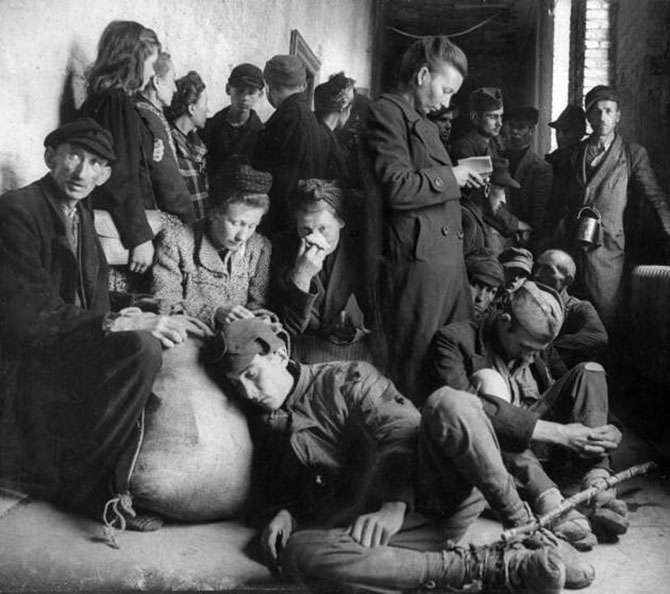 12.    March 11, 1945: Dutch children refugees arriving in Tilbury, Essex, England. The small paper parcel under the boy's arm is all his luggage.
13.    1944-45: Refugees from Eastern Germany.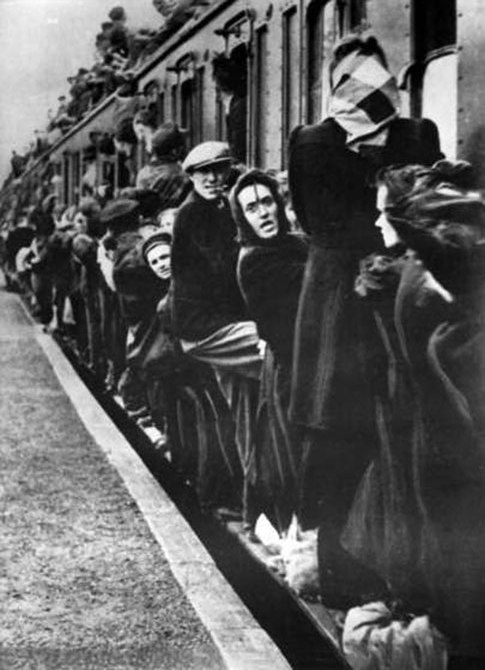 14.    Oct. 24, 1944: German civilian refugees preparing to leave Aachen, Germany as the battle draws to a close.
15.    1945: Women and children, all refugees, standing by the roadside.
16.    1944: Swiss Jew. Eva Bass, a former nightclub singer in Paris, entering refugee camp at Fort Ontario with children Yolanda and Joachim. She carried them on a 60-mile trek through battle lines until they reached an American transport ship, Henry Gibbins.
17.    Oct. 15, 1944: German civilian refugees walking through the streets of Achen, Germany to seek safer areas, away from the combat zone.
18.    1944: A Civil Affairs Refugee Camp in France.
19.    Dec. 15, 1945: War refugees walking through Berlin with their belongings.
20.    Feb, 20, 1945: A Frenchwoman and two children with their belongings in a baby carriage in Huguenot, France. They are starting to find safer areas when they heard that the 7th U.S. Army was pulling out of town.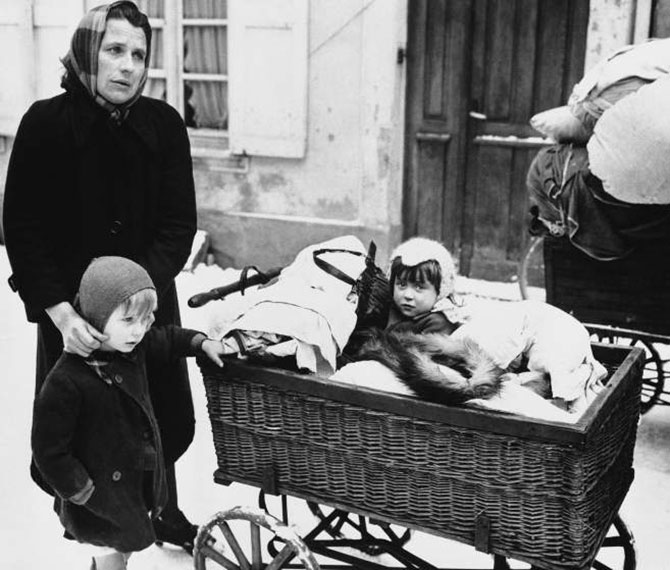 21.    January 1946: An attendant with white brassard (front, r), accompanying a newly-arrived refugees through the refugee camp in Bebra, Germany.
Note: Please share so that we, together, shall do our part to prevent such misery to ever happen again.